Registered User
Join Date: Nov 2007
Location: Texas
Posts: 6
Any ideas as to what could be wrong with my car?
---
I have a '95 Mercury Grand Marquis.
Sorry this will be long .. but here's what's happened:
5/28 ~ I was waiting behind another car in the drive-thru pharmacy. As I was wating, all of a sudden the whole car shook, once. Everything seemed to be fine, until it was my turn. The car wouldn't go. I shut it off, restarted it & the finally the car went lunging forward & it was shaking & sputtering. Decided to forget about the prescription & just pulled ahead. Sat there for a moment trying to decide whether I should park it there & call a tow truck or drive it home. I only live about a mile away & had all 3 children with me, so I drove it home carefully with the flashers on. It shook & sputtered about half of the way & then seemed "ok". Parked it in the driveway. I opened the hood to see if there was anything noticeably wrong, & the only thing different was the fact that I was missing a cap on the coolant resevoir (not the actual radiator -- the plastic bottle where you check fluid & fill it up). Got ahold of my Dad & had the car towed to his friends shop.
My Dad's friend had it for a few days, changed the fuel filter, spark plugs & a few other little things but really couldn't find anything wrong with the car. Car seemed to be running fine but then just up & quit on my Dad as he was driving it back to his house (I was going to pick it up there later that evening). He'd been driving the car for about 45 minutes & was almost home. After waiting about 10 mins he got the car started back up & drove it the rest of the way to his house (about 2 miles). Towed the car back to his friends shop.
Had the car diagnosed (check engine light had been on -- EGR sensor code -- since shortly after I purchased the car in October, but hadn't put the required part on because he said it wasn't absolutely necessary), then replace the entire EGR system, checked the fuel pressure (38lbs), etc. Thought everything was fixed & fine, again.
6/5 ~ Husband drove it home & it ran great all the way. We went out later that evening to run a few small errands. When we came out of Best Buy, the car wouldn't start. After about 6 tries, it finally started & we came home without any further problems.
6/6 ~ Drove the car around all morning/afternoon doing various errands & things with our children. Car seemed to be running great. Then the check engine light came back on, but everything else seemed to still be fine. About 45 minutes later (though we'd been out & about ALL DAY), the car just up & quit in the middle of the expressway. It just wouldn't "go". Luckily my hubby was able to coast it onto the little side area before it completely died. Tried to restart it, no luck. Got the children out & across the on ramps safely & called to have it towed. While we were waiting for the tow truck to arrive, hubby went & tried to start the car again since it'd been sitting for at least 15 minutes. Wouldn't start. Had the car towed to Pep Boys this time (they've done other work on the car in the past so I am very confident in them).
6/7 ~ Pep Boys had the car all day. No idea what's wrong with it, said it's "running like a top". Explained the situation to several different techs, several different times since I kept calling every few hours to check the status. They were letting the car idle/run for awhile to see if they could get it to quit or show any problem.
6/8 ~ Pretty much the same as yesterday. When I last talked to one of the techs at 1:15pm, they were in the middle of looking at it & would call me as soon as they found out something. It's 4:13pm & I've yet to hear back.
Any ideas??
I'd love to just go get the car back .. but I can't have it stranding myself & my children again & again.
---
Stephanie ~ '95 Mercury Grand Marquis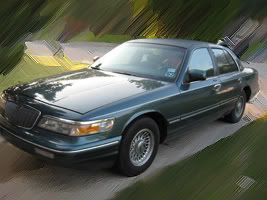 Re: Any ideas as to what could be wrong with my car?
---
Hi MercMomof3.

Im going to move your post to the Ford Crown Victoria | Mercury Marauder | Grand Marquis section.

Thanks,, James
Registered User
Join Date: Jun 2005
Location: Webster, NY
Age: 43
Posts: 49
Re: Any ideas as to what could be wrong with my car?
---
it sounds like you have kept the car pretty mechanically sound. the only things you have not replaced that could cause the issues you mentioned are:
-bad iac
-bad egr
-vacuum leak
-for problems starting, check the wires leading into the starter. they tend to get loose.

on your model year car, check the connector attached to the egr for a vacuum leak. they tend to crack with age. let us know how it goes.
Registered User
Join Date: Nov 2007
Location: Texas
Posts: 6
Re: Any ideas as to what could be wrong with my car?
---
Thanks for your response!

To continue with what seems to be a never-ending saga...

Pep Boys basically just wasted my time & claimed they couldn't find anything wrong with the car. My Dad went & picked it up for me & it quit less than 2 miles down the road.

My Dad & the tow truck driver (guess you could call them friends, somewhat) did some tests to it & came to the conclusion that it was the fuel pump. Friend of tow truck driver suppossedly fixed it (kind of a fishy story so we're not really sure what he did -- but we're going to find out) & my Dad kept the car for a few days to make sure that was the case. All was going great, he took it out & around running errands all day ... & then the car just quit, AGAIN.

My car is now at yet ANOTHER shop (had it towed there this morning), so I'll pass the info on & hopefully they will be able to fix it this time. They service the police cars for a local school district, so they are pretty familiar with these types of cars.

I am so anxious to get my car back & drive her! LOL
---
Stephanie ~ '95 Mercury Grand Marquis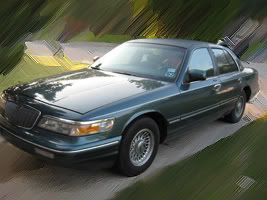 Registered User
Join Date: Aug 2008
Location: Toronto Canada
Posts: 89
Re: Any ideas as to what could be wrong with my car?
---
have your dad change the main fuel filter .it located right rear below door .before axle
Registered User
Join Date: Nov 2007
Location: Texas
Posts: 6
Re: Any ideas as to what could be wrong with my car?
---
It turned out to be the computer (& fuel pump).

Thanks for your responses!
---
Stephanie ~ '95 Mercury Grand Marquis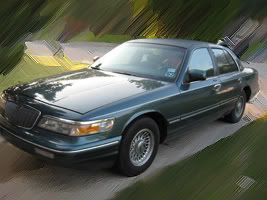 Currently Active Users Viewing This Thread: 1

(0 members and 1 guests)
Posting Rules

You may not post new threads

You may not post replies

You may not post attachments

You may not edit your posts

---

HTML code is Off

---