Registered User
Join Date: Dec 2012
Posts: 1
Bad Power Steering Leak - 95 Crown Vic
---
I hope this is the right area for this post.
I bought a 95 Ford Crown Victoria LX from a friend. It just recently passed 200K miles. It has a lot of issues, but the serious pressing issue right now is the Power Steering Leak.
I can put in half a pint of Power Steering Fluid (with stop leak even) and after only an hour or 2 of driving with around 4 stops of about 30 minutes each, I pull into my driveway fighting my car to turn. The leak has gotten that bad. It wasn't always that bad, but it has gotten much worse. I leave GIANT puddles in my driveway. Doesn't help my driveway is sloped. My engine is COVERED in power steering fluid around where the hoses leave from the power steering reservoir.
I am fairly certain it is the hoses that are leaking, however I am no mechanic in any form or fashion, so I can't be certain. I do have a mechanic friend, but he has serious health issue, so it is difficult to get his help.
Therefore, I am here asking for your help. I have looked at it, and I am fairly certain I saw liquid oozing out of one area in the pipe, here is the best picture I could find of the hose, or a similar one, and circled where the leak seems to be. I can't seem to find what this hose is, or where to buy one.
http://s2.postimage.org/iusplcvvt/Untitled.jpg
(Sorry about the link in it, I found this image on some tutorial for a 97 crown vic)
Additionally, is there any temporary fix for a leak? My mechanic friend said that I could use Transmission Fluid instead of Power Steering Fluid, but I googled and they said it could kill my engine. So I want extra opinions here.
Thanks for any help you can provide.
Re: Bad Power Steering Leak - 95 Crown Vic
---
That circled appears to be a radiator hose with a heater bypass hose T piece; it won't be leaking power steering fluid. If the fluid is there it must be leaking to it from something above it. Nonetheless the power steering fluid may also have damaged that lower radiator hose and it probably should also be replaced before you have a major coolant leak too. See
http://www.carpartsdiscount.com/auto...ml?3593=288227
The power steering hoses are the 2 in the bottom right of that picture. These: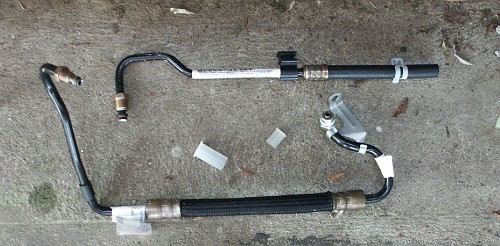 You obviously have been here
http://www.idmsvcs.com/2vmod/steerin...all/index.html
and that actually tells you most of what you need to know if those hoses are and/or the pump is leaking.
---
Regards Blue
Currently Active Users Viewing This Thread: 1

(0 members and 1 guests)
Posting Rules

You may not post new threads

You may not post replies

You may not post attachments

You may not edit your posts

---

HTML code is Off

---