Registered User
Join Date: Jul 2008
Posts: 4
Chuggin' Home
---
Greetings,
One cool day last fall, my aunt fueled my mother's 112k 2001 Grand Marquis at a Philips 66 near her house, and within a few miles, the car started chugging horribly. It couldn't make enough power to keep up with traffic at 35MPH. My aunt had it towed to a reputable shop.
This was quite out of the blue. I'd driven the car off and on for 6 weeks prior to my aunt taking it for a spin, and there was no indication that anything was wrong. Quite the opposite, in my opinion. I really enjoyed driving it on the interstate.
The shop's diagnostic scan found multiple coil failures, specifically, cylinders 4, 5, 6 and 8. That's the last half of the firing order.
The service quote was around $800. Mom can't afford that, so I drove the car off their lot and battled it back to her driveway.
I pulled a plug, found it a little old, so I changed them all for good measure. Just PM, you understand. I didn't expect a miracle fix.
I bought a single Accel replacement coil from AutoZone and used it to verify that the dead cylinders were in fact dead. Interestingly enough, the known-good coil did not cause any audible or visible change in the idle when it was substituted for a suspected bad coil.
I'm tempted to R&R all the coils, but before I do, I thought I'd shop around for opinions.
What could cause the last half of the firing order to scan out with bad coils?
Thanks --
Tim ==
Re: Chuggin' Home
---
Cylinders 1, 2, 5, and 6 are connected on the same ground wire. The others have separate grounds. To check further, I'd switch some of the coils from the other cylinders and see if the problem follows. You can also pull the offending coils one at a time, put a spark plug in it and start it up to see if it gets spark at the plug gap. That will tell you if the coils are alright or not. If it happened right after filling it, I'd check with the gas station and see if anyone else had problems. A station in our town got a bad batch of gas and had to clean several car fuel injection systems.
---
Bert
Registered User
Join Date: Jul 2008
Posts: 4
Re: Chuggin' Home
---
Thanks, Bert. I'm grateful to have you on my side :)

The scan codes reported by the repair shop are P0354, P0355, P0356, P0358 - Ignition Coil "X" Primary/Secondary Circuit. Could plugged injectors cause those codes?
Re: Chuggin' Home
---
They can show up in other situations. Try switching them like I mentioned and see what you find. You can even have everthing connected and disconnect the fuel injector plugs to check for a change in running when you do the switching. The clips break off easily on the injectors, but you can wiretie them in place if they do.
---
Bert
Registered User
Join Date: Jul 2008
Posts: 4
Re: Chuggin' Home
---
I've replaced all four of the coils which are throwing DTCs. No improvement. I've tested those coils with a spark tester and ... no spark. I've moved one of the supposedly faulty coils to a known good cylinder and ... it sparks.

There doesn't appear to be any damage to the wiring or connectors. I've reseated the powertrain control module (PCM) connector to no avail.

I'm starting to think the PCM is bad. Does this vehicle have a separate ignition control module? AutoZone seems to think it does, but I can't find any mention of it in the Mitchell online service manual.
Re: Chuggin' Home
---
Looks like it would have to be something in the PCM or the wiring. Here's the diagram for the circuit.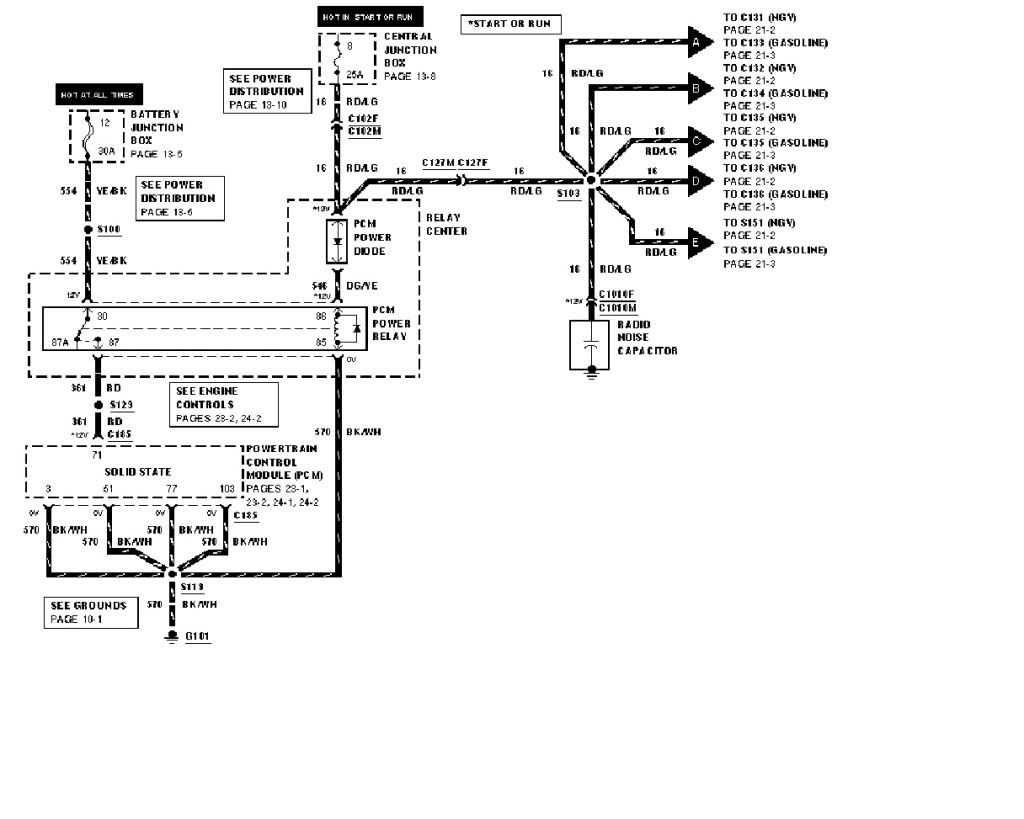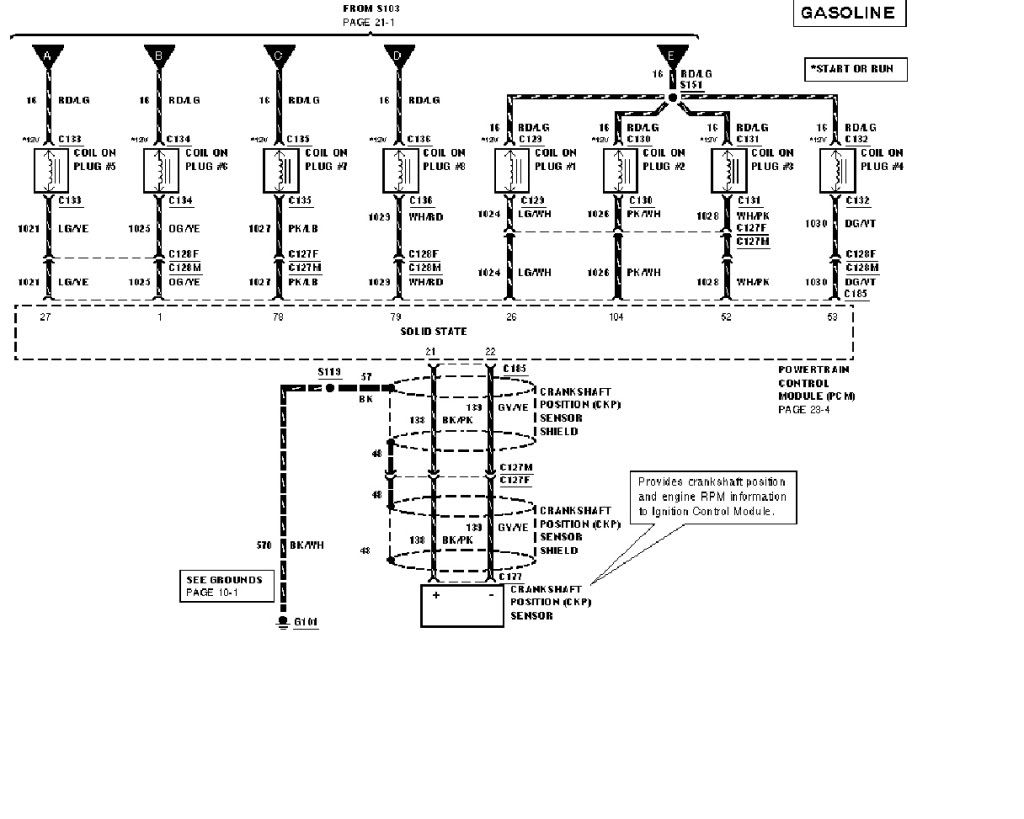 ---
Bert
Registered User
Join Date: Jul 2008
Posts: 4
Re: Chuggin' Home
---
Thanks again, Bert. There's a new AutoZone PCM on the way. Do you know if I'll have problems with the PATS system after I install the PCM? We also have just one working PATS key. Is this something a locksmith can fix in my driveway, or do I have to tow it to a Ford dealer for service?
Re: Chuggin' Home
---
I know that it you change the PATS module, you have to have it programmed to the PCM. I'm not sure the other way around.
---
Bert
Currently Active Users Viewing This Thread: 1

(0 members and 1 guests)
Posting Rules

You may not post new threads

You may not post replies

You may not post attachments

You may not edit your posts

---

HTML code is Off

---