OT : Mitsu replaces Probe GT
---
Sadly, my Probe past away :( (you can still see it at
http://www.nepoprobes.com
as the Sept. 2000 feature or at
http://www.wnyimports.com
)
But here is the new ride to carry the rims you all love to love (or hate
)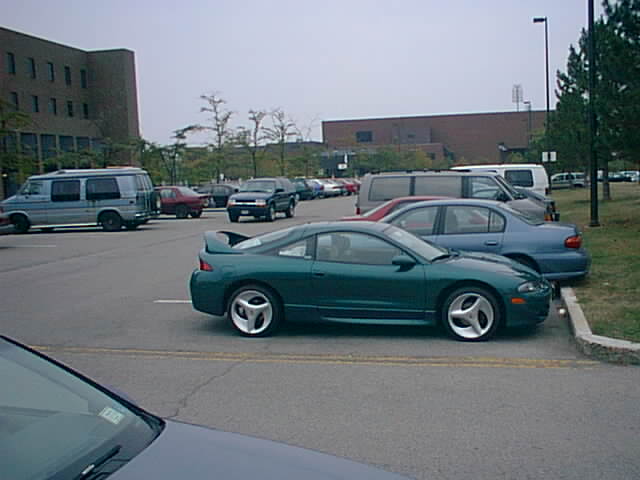 Still a lot of work to be done, and UPS is taking their sweet ass time getting me my parts (i.e. Tokicos, Eibachs and much much more). However it probably doesn't matter because I may wait till winter is over before I put most of the new parts on. The few mods I currently got through with include new piping for the intercooler to replace the factory restricted crap, and a blowoff valve from a 1st gen DSM (which sounds quite nice :wink: and will handle more boost when the time comes)
EfiniMx6 did a photoshop of how it will look once the new suspension stuff comes in. Check it out.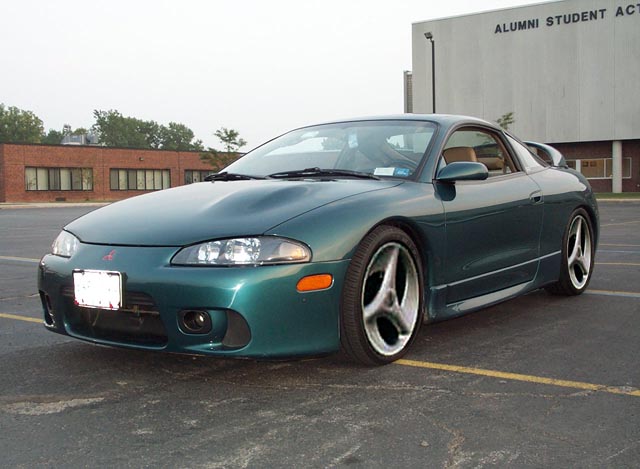 Post comments if you'd like.
Those are some snazzy wheels. Looks nice and clean to me. :thumbup:
---
I have a full tank of Unleaded...
1994 PGT
5 liters and 12 cylinders of fury....
---
Thats a very nice Eclipse! Honestly I never really liked those rims on your Probe but on the Eclipse they look great! As much as I hate to see an old Probe owner get an import (or anything else but a PGT) I have to say thats one nice ride! Congratulations!

P.S.: Is it just me - and if not than its probably just the PS - but the second pic looks very weird to me with the front raised up and the back slammed? :rolleyes:
yeah, that does look like a PS to me too...and Im not sure about the rims....I cant decide if I like them or not :lol:


:thumbup: to bewst!
---
Mike
95 Probe GTa ~ KL-ZE
FlaPOC
I like the rims too but aren't they on backwards?
---
If we could just find out who's in charge, we could kill him.

I've got a lot of ideas. Trouble is, most of them suck.

A small town is any place too poor to have its own insane asylum.
ewww, those rims gotta go...

:thumbdown to 3 spokes.....
I like em because I've never seen ones just like those on another car.
---
I have a full tank of Unleaded...
1994 PGT
5 liters and 12 cylinders of fury....
---
Yeah backward rim alert! LOL Props for uniqueness, though!
No the rims are not on backwards
You guys just love saying that, I know....
The second pic was a PS, but the real deal (Illuminas and eibachs) Will be here Friday, so I will tak a real picture of it lowered :)
Just got done putting in the CAI today, and the new Magnecores and NGKs. Got new Brembo rotors and Metal Matrix pads and installed those last week.
Now I just need that exhaust to get here....
---
Currently Active Users Viewing This Thread: 1

(0 members and 1 guests)
Posting Rules

You may not post new threads

You may not post replies

You may not post attachments

You may not edit your posts

---

HTML code is Off

---