Calling all West Aussies - GP Race Track and Theme Park Petition
---
Got this in an email today
Hi everyone,
The State Government has put out a media release on Wednesday 3rd Sept
saying that they did not support a $350 million Tourism and Events
facility being built on the Eastern end of the Old Midland Railway Workshop and
Livestock Sale Yards site in Midland. The site was selected by the
developers because of it's proximity to the International Airport, proximity to
Perth, it would be on the bus and rail links and was close to the Swan Valley wine
and tourist area. If approved we would see the first race meeting held in 2006.
The Queensland Government however in conjunction with a couple of shires
are bending over backwards to persuade the developers to take the project over
there. As if they don't have enough tourism attractions already?
We need to get together to show the State Govt that the people of
Western Australia do not want to lose this facility to another state. I need to
get 100,000 signatures in support on petitions in 7 days or we will most
likely lose it to QLD.
I had already collected some 3500 signatures in support of the project
on a previous petition in just a few days from people in Midland without much
effort at all. Thanks to the support of Business people.This is a
completely new petition so those that signed the previous one can sign this one!
The precinct will include the following.
A 4.5km International Standard Motor racing circuit.Racing from V8's to Superbikes and more.
A Theme Park like Disneyland.
One of the top 3 Motor Racing Museums in the world.
A Function centre.
A Television, Communications and Information Technology Precinct.
A huge 200 room Hotel Resort.
An educational precinct with university accredited courses.
The possibility of a multi function Football, Soccer, Rugby and other sports stadium to seat 60,000
A permanent home for Rally Australia.
A permanent home for The Hopman Cup.
A permanent home for the V8 Supercars.
and more.
The whole thing is privately funded and requires not even 1 cent of Govt support.
It will also provide jobs for 5000 West Australians for generations to come.
I have attached a petition and a flyer for you to print off and place on
your counter. Please get as many signatures as possible. When you have a sheet
full please fax it to each of the 5 people mentioned on the petition. Print
off some more and keep getting more signatures. Make sure you put the date and
time sent in the box. I need to get the originals so that they can be hand
delivered to the Premier, so once faxed please post the originals to me at
PO Box 56 Midland WA 6936.
We have one shot at getting this facility for West Australia so please
give it your best shot. This will put Western Australia on the map for
international tourism and motor racing. We need to get as many people as
possible getting these petitions out to the community, clubs etc and
signed so that we can achieve the desired effect. Please forward this email to
people in other industries or to friends who are involved in clubs etc.
This project shouldn't take a lot of effort if everyone does their bit.
The developers are going to get a lot of press coverage this week so the
timing is going to be perfect.!
Click on the attachments and print them off. They are both word documents.
I have no financial involvement in this at all. I am as passionate about
getting it for the State of WA as I'm sure you will also be.
Regards and get lots of signatures,
Eddie Peters
The Honda Shop Midland.
I've uploaded the document files for everyone:
http://www.iinet.net.au/~gileno/Petition Rothgards.doc
http://www.iinet.net.au/~gileno/Petition Flyer WA.doc
Thanks guys.
---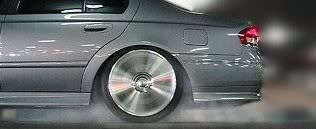 Xtreme 275.6 rwkw, 12.93 sec quater, Phoon CAI, Siemens Injectors, StealthFX BOV with
XBOX
entertainment.
---
Last edited by XF Falcon; 09-09-03 at

08:01 PM

.
Re: Calling all West Aussies - GP Race Track and Theme Park Petition
---
Hell yeah.. I'm onto it mate
Re: Calling all West Aussies - GP Race Track and Theme Park Petition
---
Sound like a great plan for WA hope it happens.
---
Ben
Re: Re: Calling all West Aussies - GP Race Track and Theme Park Petition
---
Originally Posted by honer
Hell yeah.. I'm onto it mate
What he said
.. be a pitty if we miss this. Nearly lost telstra rally aust last year.
---
TPC Mod/henchman
previous rides;
1st car EA Fairmont Ghia, extractors, exhaust
2nd EF GLi, 'custom' interior, extractors, exhuast
3rd EA Fairmont 5spd, low'd, extractors, exhuast, head
work, 3.45LSD, EL dash, interior+ El ECU
4th EB2 Fairmont, EL dash and interior, BBM, LSD etc etc
5th EB Fairmont Ghia 5L. All leather, lowered, exhaust etc
Currently Active Users Viewing This Thread: 1

(0 members and 1 guests)
Posting Rules

You may not post new threads

You may not post replies

You may not post attachments

You may not edit your posts

---

HTML code is Off

---