The Third Power
Join Date: May 2001
Posts: 1,332
Fast BA
---
Caught a small pick of a nice looking BA running in super stock in dragster australia, thought I would hunt for some more pics, not sure if its been posted before
Running at the Australian Nationals @ Willowbank
Re: Fast BA
---
Looks like a highly accurate glass body there, I wonder what they took the mould from? I've heard of hire cars being used but they don't hire XR8s do they?
Re: Fast BA
---
Looks pretty good!!
Re: Fast BA
---
the rear looks AU'ish from that angle.
---
1995 EF II Falcon GLi: Heritage Green, 4spd Auto, AUII 17" Rims, Custom BA Front Bar, Lowered, Gas Research LPG, Clear Indicators, JVC MP3 Headunit, Phoenix Gold 6.5" Splits, Coustic 481QE Amp, Clarion 12" sub, Leather Seats, Power Window Conversion, 3.45 LSD, Pacemaker Comp Extractors, 2.5" Exhaust, Mandrel Bent Intake, High Flow Filter, Wade 1004 110 cam.
In Progress: BA XR Side Skirts, BA XR Rear bar, BA Shifter Handle.
Re: Fast BA
---
And that's a GT bodykit, not XR8. I doubt many people would hire GTs.

There are a couple of really nice looking BA Falcon speedway saloon cars cruising my local speedway track (Baypark in Tauranga). They look fantastic. I had a small chat with one of the guys involved with the Bayside Structural Engineering team about a month ago, he took the mould off his own XR8. It's a great looking car, and very competitve. I'll try to get some photos next time I'm at speedway.
Re: Fast BA
---
awww i cant see the first pic at work, but the second one looks sweet :)
when they take moulds of their cars, do they cover it in vaseline or something first? hehe
---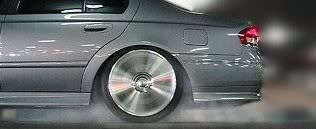 Xtreme 275.6 rwkw, 12.93 sec quater, Phoon CAI, Siemens Injectors, StealthFX BOV with
XBOX
entertainment.
Re: Fast BA
---
No that is the 2005 BA Mk3 prototype.
Apparantly someone whinged that HSVs were quicker on the 400m.

Trooly Rooly.
---
Revelations 13:18
Here is wisdom.
Let him that hath understanding count the number of the BEAST:
for it is the number of a F6 Typhoon; and its number is 0217.
Re: Fast BA
---
Mike - you're right, there's not much GT-specific visible in the photo though.

LOL at flappist... I hope the handling is still okay though!
Re: Fast BA
---
Ya I just felt like being a wanker outback
The Third Power
Join Date: May 2001
Posts: 1,332
Re: Fast BA
---
Originally Posted by EFFalcon
the rear looks AU'ish from that angle.
I thought they all did.
The WH Statesman TD mould was taken from the owners new WH
looks a treat and @ 6.12sec very nice ride
Currently Active Users Viewing This Thread: 1

(0 members and 1 guests)
Posting Rules

You may not post new threads

You may not post replies

You may not post attachments

You may not edit your posts

---

HTML code is Off

---