Ferrari Drop Their Pit Crew!!
---
It has been reported that the Ferrari F1 Team fired their entire Pit-Crew
Yesterday. The announcement was followed by Ferrari's Decision to take
advantage of the Australian Governments "Work For the Dole" Scheme and hire
unemployed youths from the Punchbowl area.The decision to hire them was
brought on by a recent documentary on how unemployed Lebanese youths in the
Punchbowl area can remove a set of car wheels in less than 6 seconds without
proper equipment. Where as Ferrari's Existing crew can only do it in 8
seconds.This was thought to be an excellent yet bold move by Ferrari
Management.As most races are won & lost in the pits; Ferrari would have an
advantage over every team. However Ferrari expectations were easily
exceeded, while during the Crews first practice session; not only were "da
boyz from da bowl" able to change the tyres in under 6 seconds but within 12
seconds they had resprayed, rebadged, and had signed the vehicle over to the
McLaren Team. Mclaren was rumoured to have paid the record sum of 5 fuzzy
dice.The Lebanese community was heard to say that the acquired Fuzzy Dice
will look really slick on their Supped up excels and probably pull them some
chicks.
Funny that it is true in a way, though instead of signing it over to McLaren they would probably stip it down and sell the parts on the black market.
---
I'm a happy camper!
ahahahahahhahhahaha
---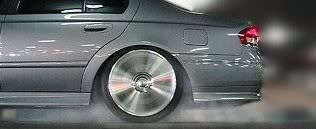 Xtreme 275.6 rwkw, 12.93 sec quater, Phoon CAI, Siemens Injectors, StealthFX BOV with
XBOX
entertainment.
Registered User
Join Date: Sep 2001
Location: ACT
Posts: 594
RAOFL
---
-- NISSAN X-TRAIL AUSTRALIA'S MOST POPULAR COMPACT SUV --

-- Webber + Williams = 2005 Champs --
Currently Active Users Viewing This Thread: 1

(0 members and 1 guests)
Posting Rules

You may not post new threads

You may not post replies

You may not post attachments

You may not edit your posts

---

HTML code is Off

---