Australian Ford Member
Join Date: Jun 2001
Location: Melbourne, Australia
Age: 67
Posts: 1,120
What is the silliest big scene in a movie?
---
A contender has to be in the big closing scene in The Gauntlet where Clint Eastwood and Sondra Locke are in the bus between two lines of police on opposite sides of the street all firing into the bus as it goes along the street. It's not like there'd be any chance of any of the police bullets hitting the police standing on the other side of the street, is it?
How about Mission Impossible. The scene where the helicopter crashes behind the train in the rail tunnel. That whole scene looked so fake it wasn't even funny. They could have done such a better job with that.
---
Stacy94PGT
My first car was a 67 Mustang Coupe, 2nd one was a 67 Cougar XR-7, 3rd one was a 66 Mustang Coupe. Why did I get rid of these cars for ? I know why, because I'm stupid, stupid, stupid.
My next Ford.....
Australian Ford Member
Join Date: Jun 2001
Location: Melbourne, Australia
Age: 67
Posts: 1,120
Actually they're intentionally silly scenes, but two rippers are the Life of Brian scenes where Pilate says "W" for "R" and the crowd keeps giving him "R" words, and the scene where Pilate is talking about Biggus Dickus with the sniggering guards in the background.
Join Date: Feb 2001
Location: Rocklyn
Posts: 7,750
Although I loved the movie the scene with the jump jet in "true lies" springs to mind
Mark VII Member
Join Date: Jul 2001
Location: Storden MN
Age: 52
Posts: 47
We have a movie over here called Water World. Toward the end of the movie Keven Costner saves the little girl by tying a rope to his leg and bunjie jumping out of a ballon. HaHA how did he just happen to find a bunjie rope the right lenght in the ballon to save the little girl ( just in the nick of time of corse) I frist saw this movie in the theater one day when I was board. When they got to that part everybody in the theater went " sure, right" Of corse your not spose to talk in a movie theater but nobody could help it. It just came out of all of our mouths because it was so bad and fake looking.
Join Date: Feb 2001
Location: Rocklyn
Posts: 7,750
Yeah that movie was canned big time.
ST6
---
Final scene in Star Trek VI: The Undiscovered Country. They all come up to the front and strike a pose while being applauded. CHEESE!!!
Silliest in a bad way or a good way??? Good way, the entire car chase scenes from blues brothers!! The mall scene has me in tears every time!!!
I love it !!!!!!!!!!!!! the
Blues Brothers Pileup !!!!!!!!!!!!!
HA HA HA
:crazy1: :crazy1: :crazy1: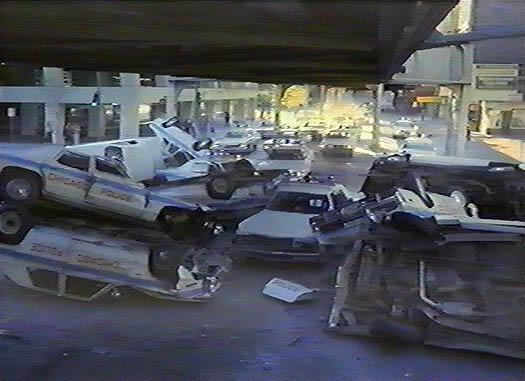 Currently Active Users Viewing This Thread: 1

(0 members and 1 guests)
Posting Rules

You may not post new threads

You may not post replies

You may not post attachments

You may not edit your posts

---

HTML code is Off

---