XF extractors
---
anybody know what the going price is for a set of extractors for a 4.1 carby XF? what brands are cheap and decent? is it true that i will notice the extra 'umph' with them on?
Re: XF extractors
---
Mine were lukey ones, cost $250 by memory and with the 2.5" exhaust made quite a bit of power difference, seemed to rev a lot more freely and gets up to top end a lot faster. I priced up some genie stuff but it was a lot more expensive. Ive heard pacemaker ones are good too.
Im curious what others have put on theirs and how much of a difference it all made.
---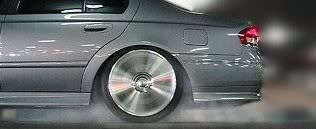 Xtreme 275.6 rwkw, 12.93 sec quater, Phoon CAI, Siemens Injectors, StealthFX BOV with
XBOX
entertainment.
Re: XF extractors
---
thanks for the reply. i forgot i even posted this to start with....ahhh the joy of being drunk!! well thats good cause i have some long lengths of 2.5 stainless already and also 2 peices of 3 inch stainless which might be long enough if joined and taking into account mufflers and stuff (courtesy of my old work Nestle!!). extractors will be the go then!!
---
HSV
Herpes Simplex Virus

GAME OVER!
Re: XF extractors
---
Mate they go on Ebay for under $50 all the time.
Currently Active Users Viewing This Thread: 1

(0 members and 1 guests)
Posting Rules

You may not post new threads

You may not post replies

You may not post attachments

You may not edit your posts

---

HTML code is Off

---