Registered User
Join Date: May 2014
Location: Chesapeake, Virginia
Posts: 2
1993 Bronco
---
Just introducing myself but I also have a couple questions. I just picked my Bronco up this morning with 164k on it. I know to do all the regular maintanence on it like the smart plugs and change the oil. But I have one problem. How do I get a build sheet for free? I found a place to get them based on the VIN and it was 17 dollars for a basic build sheet. I just got rid of a dodge and you could get the build sheet from dodge for free. Unless theres another place to get the info I need, I really need the build sheet before I do any modifications. The main info I want is the fuel tank size, axle ratio, and just all the options it has.
Thanks, in advance
Tommy
And a pic.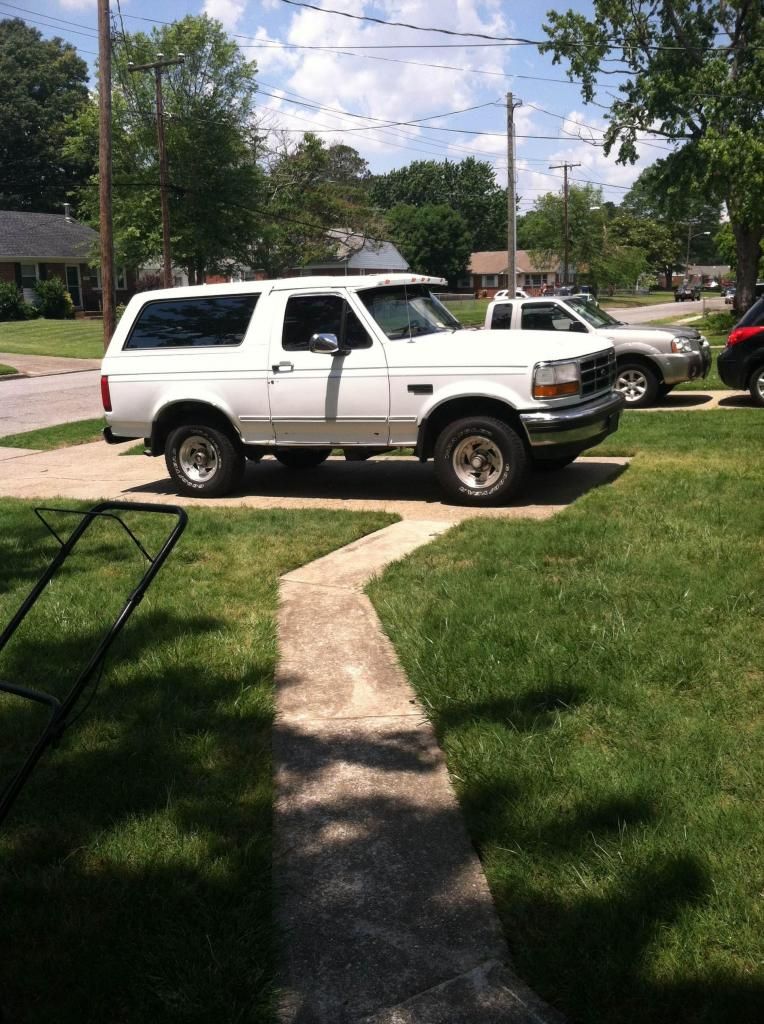 ---
1993 White Ford Bronco XLT, 5.0 V8
Re: 1993 Bronco
---
Welcome to the forums , looks nice .
Registered User
Join Date: May 2014
Location: Chesapeake, Virginia
Posts: 2
Re: 1993 Bronco
---
Is there a way, other than a build sheet or jacking up the rear end and spinning the tire, to find the axle ratio?
Sent from
AutoGuide.com Free App
---
1993 White Ford Bronco XLT, 5.0 V8
Re: 1993 Bronco
---
Look at the rear diff cover or front axle. Rear cover should have a tag attached to one of the bolts. Front axles tend to have a sticker. Start by looking there.
Sent from
AutoGuide.com App
Re: 1993 Bronco
---
Welcome! Looks good. This is from another site:
"Online, go to
the Ford site's "Contact Us" link
and hit the "Ask Kate" hypertext. In the new window, at the end of the first paragraph, "click here". Then click "Ford", then "Email". (Yeah, it takes a while to get there! Then you fill out the form, (Subject is "Vehicle Parts/Accessories") and in the last field repeat your VIN and include all the codes from the bottom line of your VIN sticker from your door jamb. Then ask for the build sheet & wait about 3 weeks for them to do the research, and you should get a list of all the stuff they built on your truck."
---
Ever notice that there's so many high performance parts available for GM products?

Did you ever think that maybe they NEED them?

Re: 1993 Bronco
---
You don't need a build sheet, and Ford's records before ~'98 leave a lot to be desired anyway. Almost everything that would be on a build sheet can be found by reading the various labels on the truck. Click this & read the caption:

Currently Active Users Viewing This Thread: 1

(0 members and 1 guests)
Posting Rules

You may not post new threads

You may not post replies

You may not post attachments

You may not edit your posts

---

HTML code is Off

---