Registered User
Join Date: Dec 2005
Posts: 1
1991 Taurus rear quarter glass
---
Any know it all out there that can give a few pointers on R&Ring the rear quarter glass on my 1991 Taurus? Some punk busted it out to gain access and jack my $69.00 Kenwood deck. Would it be possible to get one from my auto recycler and reinstall on my car? Or am I going to need a new rubber gasket?
Re: 1991 Taurus rear quarter glass
---
You'll need a glass shop to do it. Here's the instructions and pictures.
Quarter Window
Removal and Installation
1. Remove angel wing quarter trim panel.
2. From inside vehicle, use a screwdriver to remove spring retainers and with pliers break off plastic clip from quarter window module.
3. Using a 914mm (3 foot) length of single strand steel music wire (smallest OD available), cut urethane seal around entire edge of quarter window.
WARNING:
SAFETY GLASSES MUST BE WORN.
a. Force wire through seal at bottom of window module.
b. With one technician holding end of wire inside vehicle, other technician should work wire around edge of module flange to cut seal.
4. If glass is shattered, cutting urethane seal is also permissible.
a. Insert blade of Dual-Handle Knife D81P-42006-B or equivalent into urethane seal.
b. With knife handle extended, yank knife blade around entire edge of glass.
5. Remove urethane from flange as close to sheet metal as possible, using a razor blade or utility knife.
6. Using a clean brush, apply Urethane Metal (Body) Primer WSB-M2G234-C or equivalent to any sheet metal that has been exposed along the window opening flange.
NOTE:
A minimum of 30 minutes is required for primer surface to dry.
7. Using a lint-free cloth, wipe the 10mm (3/8 inch) wide glass track on inside surface of window module with Urethane Glass Cleaner WSB-M5B280-C or equivalent.
NOTE:
Wipe off cleaner immediately after application, before it flash dries.
8. Using a clean brush, apply Urethane Glass Primer WSB-M2G314-B or equivalent to the 10mm (3/8 inch) wide glass track on inside surface of the window module. Allow five minutes dry time for the primer.
NOTE:
Thoroughly shake and stir Urethane Glass Primer WSB-M2G314-B to ensure uniform pigment mixing.
9. Apply a bead of high viscosity Urethane Adhesive WSB-M2G316-B or equivalent in the track on the inside surface of the window. The bead of adhesive should be triangular with a 8mm (0.32 inch) base and a 14mm (0.55-inch) height (bead size large enough for proper sealing with no objectionable expulsion).
CAUTION:
Allow all glass parts installed with urethane ample time to cure.
10. On Sable Sedan, install spacer as shown.
11. Position glass and moulding to flange and press retaining tabs into flange to engage.
12. Install spring retainers. Install angel wing quarter trim panel.
[IMG]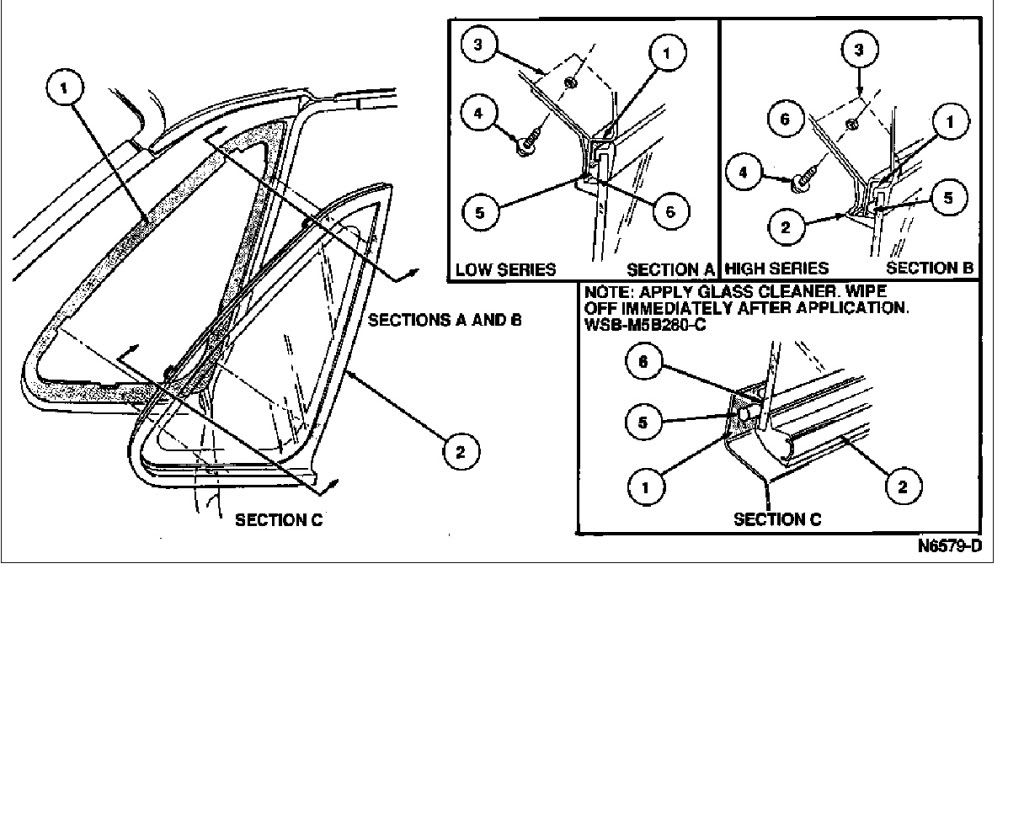 [/IMG]
[IMG]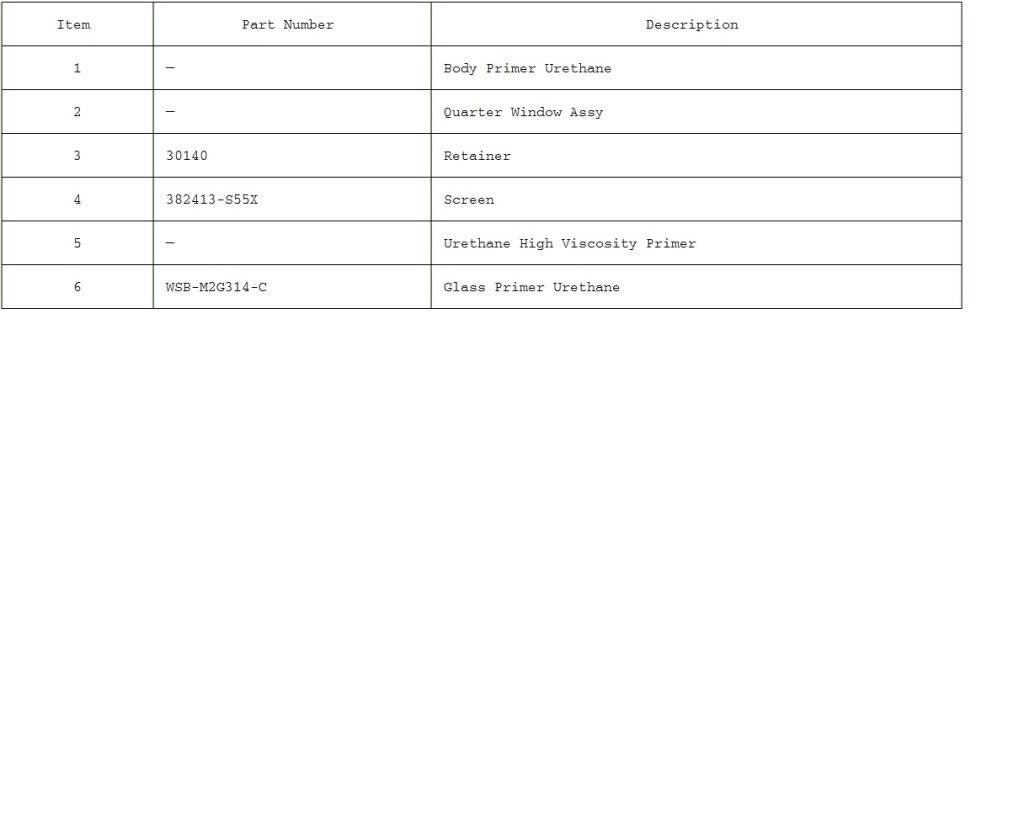 [/IMG]
---
Bert
Currently Active Users Viewing This Thread: 1

(0 members and 1 guests)
Posting Rules

You may not post new threads

You may not post replies

You may not post attachments

You may not edit your posts

---

HTML code is Off

---