Registered User
Join Date: Jan 2007
Posts: 1
94 ford taurus - info needed b4 taking ownership
---
Hello Everyone,
It is likely that I will soon become the proud owner of a 1994 ford taurus gl 3.0 liter v6. I'm not sure how many miles may be on it, but it is coming from my grandpa, so i don't expect it to have more than 75k. Any advice or information would be appreciated. I will be commuting to work 27 miles each way, fwy, and want to make sure that I won't be stranded if I decide to accept the car on good faith. Again, any info or advice you can provide would be great!
(PS I have already searched your awesome forum and found out about the heater core, transmission issue, and something to do with a wire when it won't start correctly, so that all makes sense.)
Thank you =)
Registered User
Join Date: Jul 2006
Posts: 20
Re: 94 ford taurus - info needed b4 taking ownership
---
well if your grandpa was driving it i cant see that anything could be too severly wrong with it. the Taurus is a dependable car. people contradict that but they truely are. My SHO had a clogged EGR valve,oil leak,horrible fuel pump, leaking antifreeze, almost no tranny fluid and still started and drove (when first bought) now it has no running problems. I think that you will overall be pleased with the car.
---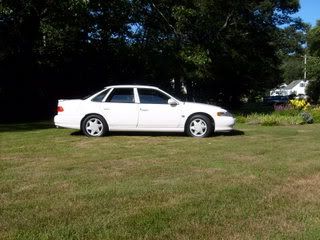 94' SHO
Currently Active Users Viewing This Thread: 1

(0 members and 1 guests)
Posting Rules

You may not post new threads

You may not post replies

You may not post attachments

You may not edit your posts

---

HTML code is Off

---