Registered User
Join Date: Jan 2007
Posts: 2
Idle problem on 93 SHO
---
Idle problem with a 93 SHO. Idles fine when engine is cold. With warm engine, rpm drops, stumbles, vasilates between about 500 and 900 rpm, will finallly die. Restarts ok. Does not matter whether in gear (automatic) or not. A 335 and 336 code regesters.
Any help appreciated.
tnurn
Registered User
Join Date: Dec 2006
Location: NJ
Posts: 13
Re: Idle problem on 93 SHO
---
Vacuum leak....
Re: Idle problem on 93 SHO
---
It could be that the EGR is bad or the EGR passages could be clogged. Pull off the EGR valve and check with a hand vacuum pump,make sure that it is working properly. Also check and clean the EGR passage.
Registered User
Join Date: Jan 2007
Posts: 2
Re: Idle problem on 93 SHO
---
I think you are on to it with the EGR. Just tapping it seems to have at least temporarily fixed or affected the condition. Thanks.
tnurn
Re: Idle problem on 93 SHO
---
EGR valve? My 93 SHO mtx does not have one. I don't have my book with me to check the codes, but here where I live Shucks Auto parts will run the codes for free and give a readout of the problems. When I did the last 60k tune-up I had the fuel pressure checked and was told that it was getting low, and when it started to idle like you talk about, I was to replace the fuel pump, which I did. The problem did go away with the new pump.
---
Allen D
64 Galaxie, 66 F100 4x4, 80 Bronco, 90 Areostar,
68 F350 Crew Truck, 93 SHO 93 MTX,93 SHO ATX
Registered User
Join Date: Jul 2006
Posts: 20
Re: Idle problem on 93 SHO
---
335 (O) EGR feedback signal is/was out of range - EVR or PFE
336 (O,R,M) PFE sensor signal is/was was high - ">PFE
these are what your codes are refering to. it is the EGR i would unclogg it, there is a passage in the intake where you have to unscrew one end and clean it out. it is common for them to get clogged. seeing how it is difficult to get to i took the whole intake off and cleaned the whole intake out along with the EGR passage.
by the way i got the codes from here:
SHO Phoenix Project
---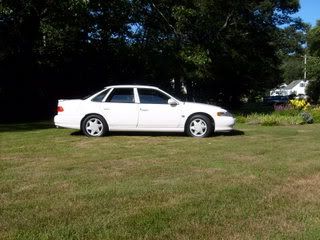 94' SHO
Currently Active Users Viewing This Thread: 1

(0 members and 1 guests)
Posting Rules

You may not post new threads

You may not post replies

You may not post attachments

You may not edit your posts

---

HTML code is Off

---