Registered User
Join Date: Aug 2010
Posts: 32
Need some opinions/answers
---
Okay well I am helping my sister with her 1998 Ford Mustang. She seemed to notice her car running hot at idle. I told her to check the anitfreeze(which means for me to check it) I did and she was low. Like I couldn't put my finger down the radiator and touch the antifreeze low. Well I decided to look in there with a flash light and noticed a brown color floating atop of the antifreeze, my guess is either oil or rust. I took a long screw driver and just retrieved some of the liquid on to the screw driver and saw this: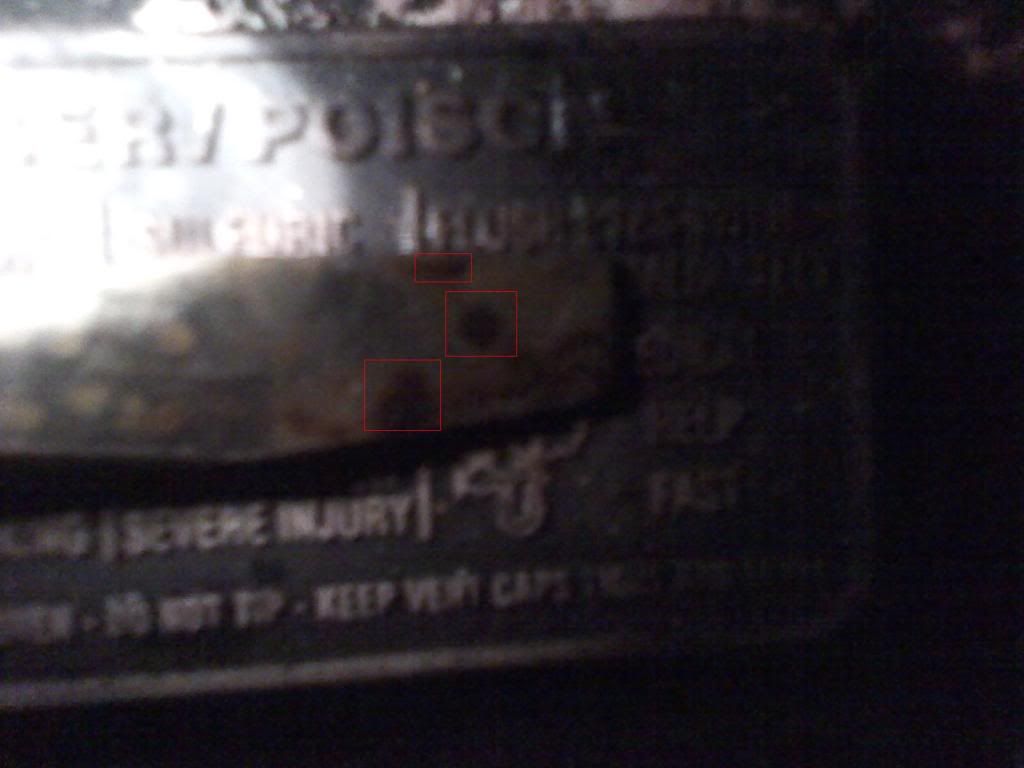 The red boxes are the concerning part. I checked her oil and her filler cap and there are no signs of coolant or water in the oil. So this is what is puzzling. So I filled up the radiator. I poured in a lot, and it just kept burping it down. Until finally, after more than 3/4 a bottle of anti freeze it stopped(including filling the reservoir).
If it is oil then my guess is a cracked head gasket or a cracked head. She freaked when I told her this.
Just note that the antifreeze didn't have an 'oil' smell to it.
Any thoughts?
Thanks!
Re: Need some opinions/answers
---
It's hard to tell with the small spots. Run it and watch the gauge. If it doesn't get hot, drive it a short ways and see if it stays normal. When it cools down, check for what might be in the coolant. If it's oil, it'll be milky brown and stay mostly on top. If there's enough of it. it will feel oily between your fingers. See what it does with that and post back. Get a better picture of it if you can.
---
Bert
Registered User
Join Date: Aug 2010
Posts: 32
Re: Need some opinions/answers
---
Yea I will get a better picture. It's dark here and i was using a flash light for the light. The stuff did have an 'oily' feel to it.

Thanks Bert
Re: Need some opinions/answers
---
If I'd have gone to night school, I'd have been able to see it better.
---
Bert
Currently Active Users Viewing This Thread: 1

(0 members and 1 guests)
Posting Rules

You may not post new threads

You may not post replies

You may not post attachments

You may not edit your posts

---

HTML code is Off

---