The EA2 Pig
---
not much of a bus, but good enough.
Looking good..

like the ED front grill.:s2:

all you need now are some nice mags...
---
FPV - Tickford Club of NSW
http://www.fpvclub.com
Nice lookin falcon mate!
I love seeing pictures of sideways fords.
Where was that photo taken.. im thinking of getting myself a similar photo
---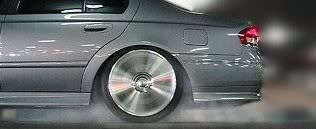 Xtreme 275.6 rwkw, 12.93 sec quater, Phoon CAI, Siemens Injectors, StealthFX BOV with
XBOX
entertainment.
BOF nice looking EA.! Especially the sideways photo :s6:
The pic was taken out bush in WA, as for getting some mags, I had a set of 5 spoke on it, then my brother brought his fist car, an XF and she needed a tart up so my mags are on loan to him for a while.
Looks great mate, like the way you doneup the car by colour coating the door handles and mirrors. Grill looks pretty cool as well.
Only queues of an EA are the shape of the mirrors.
---
Motor May 2001 Quote: "Believe it or not, there are actually a bunch of weirdos out there who reckon a six cylinder is the dux gutz. Bugger it: I'm one of them" :s5

AUII Late Ed XR6 HP T5 Venom- Full Tickford Body Kit, 17in Wheels, Herrod Bi-plane Spoiler, Momo Steer/Gear, T-Series Interior Options, Premium Stereo and a very light-tuned 4.0L I6

(FPV-Tickford Club of NSW Member and Co-Founding Member of 3FB Inc, Ford Forums Food Bandits)
Currently Active Users Viewing This Thread: 1

(0 members and 1 guests)
Posting Rules

You may not post new threads

You may not post replies

You may not post attachments

You may not edit your posts

---

HTML code is Off

---