ED's Post Pics Here
---
Hi Guys,
Just Wanted To Share A Few Of My ED Fairmont Around And See Some Other ED's Out There. I Haven't Done Much Exterior Yet...... Ive Got The Kits Just Haven't Got Aroudn To Painting And Fitting, Anyway Share The Pics.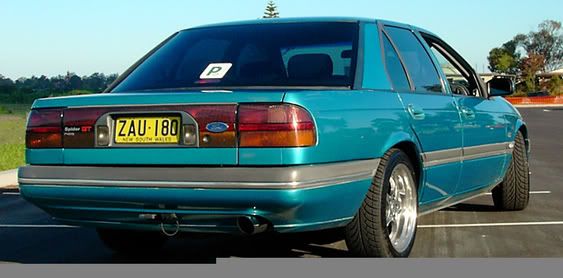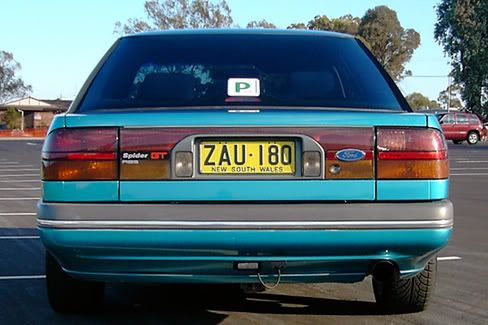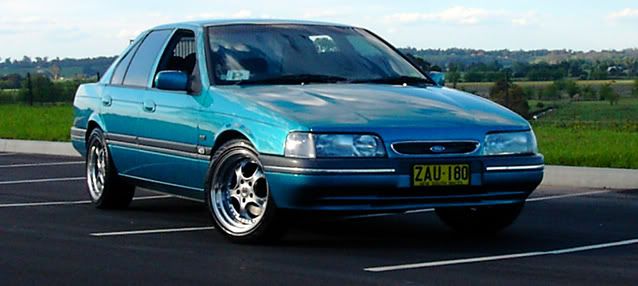 What Ya Think?
Sik EA bro
Join Date: Jan 2004
Posts: 732
Re: ED's Post Pics Here
---
sexy colour, sexy rims. is them ef/el door handels?
---
aussie aussie aussie OI OI OI!
Re: ED's Post Pics Here
---
yeah i got elmirrors on it also but took off for pic as mirrors are two different colours lol
Re: ED's Post Pics Here
---
Nice badges
very well done :)
Colour looks fantastic in those pics, almost looks non factory
Looks great :)
---
1995 EF II Falcon GLi: Heritage Green, 4spd Auto, AUII 17" Rims, Custom BA Front Bar, Lowered, Gas Research LPG, Clear Indicators, JVC MP3 Headunit, Phoenix Gold 6.5" Splits, Coustic 481QE Amp, Clarion 12" sub, Leather Seats, Power Window Conversion, 3.45 LSD, Pacemaker Comp Extractors, 2.5" Exhaust, Mandrel Bent Intake, High Flow Filter, Wade 1004 110 cam.
In Progress: BA XR Side Skirts, BA XR Rear bar, BA Shifter Handle.
Re: ED's Post Pics Here
---
Sweet ride moit! But you mofo, you stole my idea with the badge!! Please tell me where you got it done and a rough $$$ if you wouldn't mind.

Cheers
---
Originally Posted by Sundeep
Eh Yagz, suck my left teste mate I'll have boost for $1k, even if it is only 1 pound.
Check my ride,
HERE
The Guy You Love To Hate
Join Date: Mar 2004
Location: VICTORIA: The Revenue State
Posts: 1,510
Re: ED's Post Pics Here
---
Hey that is real nice. I know someone whos got a pretty clean ED, ill get em to chuck up a few pics.
---
Welcome To Victoria, Home Of The Speed Camera
Just another Eseries...
Re: ED's Post Pics Here
---
i think it looks really nice. the rims look mad. only thing it needs to be a little lower. and take the p plate out of the middle i reckon it looks stupid there. but yeah very clean.. .nice paint and nice rims.
---
EBII WAGON 5SPEED MANUAL DRIVER
Re: ED's Post Pics Here
---
it aint to shabby i aint going to low it anymore cause then i will be to low when i get around to putting the kit on
Re: ED's Post Pics Here
---
Nice Ride But Whats The Go With Typing Like This?
---
1988 EA Falcon Pearl Green
Head gasket replacement count - 1

Re: ED's Post Pics Here
---
Looks nice mate, very straight clean lined car.
---
RIP 88' EA Falcon S pack
92 EB Fairmont - Retired POS!
Currently Active Users Viewing This Thread: 1

(0 members and 1 guests)
Posting Rules

You may not post new threads

You may not post replies

You may not post attachments

You may not edit your posts

---

HTML code is Off

---