Registered User
Join Date: Apr 2005
Posts: 18
Finally got pics of the Mustang
---
Finally got the new motor in the mustang a month ago. Only just worked out these photos to!!
289W - blueprinted and balanced
Solid camshaft
Harland Sharp roller rockers
Chrome moly pushrods
Twisted Wedge alloy heads
rebuilt 600 Holley
9" diff, C4 auto, stall converter, B & M shifter
Leather interior & CD player
15 x 7 Weld Drag Lites with 225 tyres
Colour - Lamborghini Diablo Yellow (Super fly yellow)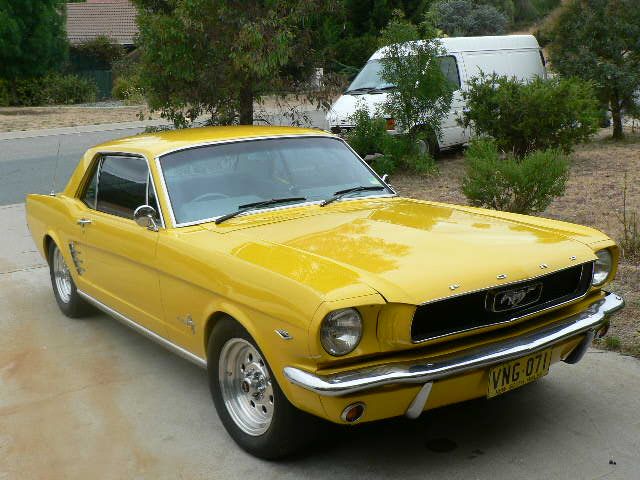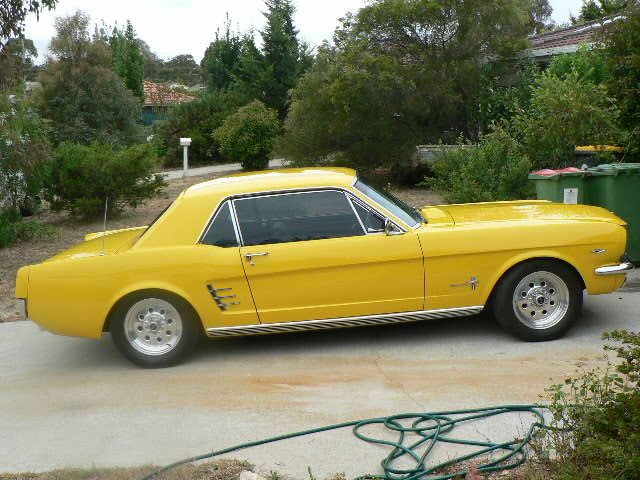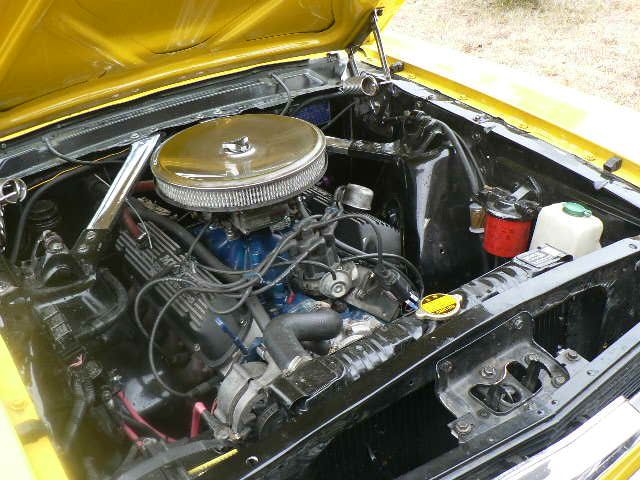 Registered User
Join Date: Dec 2003
Posts: 138
Re: Finally got pics of the Mustang
---
nice , real nice
Re: Finally got pics of the Mustang
---
Really nice car, nice engine build. Interesting to see the RH drive. Actually it is the first I have seen. How much are Harland Sharp rockers in Australia?

How many bodies are in the trunk or are you waiting to get new springs?

That's a cool shade of yellow.
Re: Finally got pics of the Mustang
---
Love it.

Very nice job you have done.
---
Lance
71 429SCJ Mustang
Registered User
Join Date: Apr 2005
Posts: 18
Re: Finally got pics of the Mustang
---
Ohio XB

The Harland Sharp rockers cost me $450 (about US$335). I went with them because not many of the other brands sold here in Australia were particularly suited to the Twisted Wedge Alloy heads. A set of Yella Terra Platinum rockers (Australian made) would have suited but was a little out of my budget at about $950 (US$710). I was just lucky to get on to one of our aftermarket parts suppliers who stocked the Harland Sharp rockers. Do you have much knowledge on them? What kind of a reputation do they have in the States? I will probably cringe, but how cheap are they in the States?

No dead bodies in the boot, it is just that low!!! It has air shocks in the back and that is set on high. I can actually drop it another inch at the back. It can be a bit impractical at times but i like the ride height. It only has about 15cm (6") clearance and your butt sits only 30cm (12") above the road.
Re: Finally got pics of the Mustang
---
Would you believe you paid less than I did?
I got GT-40 X305 heads for my wife's Mustang. They take pedastal, bolt on roller rockers. They cost me $500 from Summit Racing.
They probably don't have as much of a reputation among street enthusiast as Crane or other big names, but that is due to marketing I believe. Harland Sharp is THE guy that designed the roller rocker in the 1960's. Now there are other members of his family that have the business and I toured the plant (30 minutes from me) when my son was working there. They constantly test their rockers against the competition. I saw the bodies of both laying on the floor and in a bucket at the station where they do their testing. They use 2024 aluminium that not all manufacturers use. It is a higher grade and stronger material than 6061 which is quite popular. They will also custom design rockers for a specific application, street, race, or whatever. After touring the plant and talking with the people that run it I will only buy their rockers.
One thing the company President showed me were the "knock-offs" of their designs. Some by Chinese companies, some by names such as Crane. The similarities, or should we say exact replicating, is obvious. If people want to copy your product you must be doing something right.
Ever been to their website?
http://www.harlandsharp.com/
Check it out, it's an interesting read. After I get a better picture of the wife's car I will be sending that to them for their "Customer's cars" section.
Re: Finally got pics of the Mustang
---
WOW

Looks amazing Ohio ! ! !
Re: Finally got pics of the Mustang
---
Here's a quick exerpt from the "History" page in the site. I was wrong, he invented the Roller Rocker in the 1950's. He was originally a Tool and Die Maker.

"1950's
Harland Sharp was born and raised in Marion Ohio and moved to Cleveland
where he became a tool and die maker. In the late 1950's, a local racer approached Harland with an interesting rocker arm problem. It just so happened that the introduction of
larger than stock cams were causing the pushrods to
break through the stock rocker arms. With a solution in mind, Harland went to work in his garage and designed
the first high performance rocker arm. Initially made from rectangular bar stock, there was a pad or shoe for the
roller tip and a plain or bronze bushing, and it became an overnight
milestone to increased engine performance and reduced friction."

Of course there is much more after this.
Registered User
Join Date: Apr 2005
Posts: 18
Re: Finally got pics of the Mustang
---
Ohio XB

When the parts suppliers told me of Harland Sharp rockers i did have a look at the website because i hadn't heard of them before. I must admit the site gave me a bit of confidence in the product before i decided to purchase them. It was still a bit of a risk with the name being relatively unknown here in Australia. I am relieved now to know they have a good reputation there in the States.
Currently Active Users Viewing This Thread: 1

(0 members and 1 guests)
Posting Rules

You may not post new threads

You may not post replies

You may not post attachments

You may not edit your posts

---

HTML code is Off

---