how not to park a car photos
---
here`s a photo of sisters old car mazda 808.
she drives a lot better now she drives a ford .
fark mate, she did a good job of getting it up there... she must have been going at a decent speed? :)
---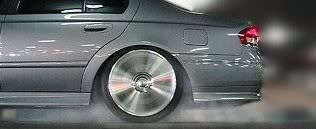 Xtreme 275.6 rwkw, 12.93 sec quater, Phoon CAI, Siemens Injectors, StealthFX BOV with
XBOX
entertainment.
No More Shaggin Wagon
Join Date: Jun 2002
Location: Port Augusta. SA
Age: 32
Posts: 286
She would of have to reversed it along the top of the wall to get it like that....wouldn't she.
I wonder what made her stop the car begining to go on a 45 degree angle or the bang when the back wheel went off the end of the wall.
---
1996 EF2 XR6 Manual
hope you gave it a service while she was up on the hoist...!
---
A HUGE THANKYOU TO THOSE THAT ATTENDED THE
2004 FORD FORUMS CHRISTMAS CRUISE!!!
IT WAS THE GRAND FINALE` OF VIC CRUISE EVENTS FOR 2004 - LOOK FORWARD TO CATCHING UP WITH YOU ALL IN THE NEW YEAR!!!
CLICK
HERE
FOR THE REVIEW THREAD
1994 ED XR8 SPRINT
1980 ESCORT PANEL VAN
2003 FAZDA SP20
YAMAHA FZR BIKE
"FPV & XR owners club" & "Ford Four Car Club" member
she use to reverse at hi speeds out the drive way missed the letter box by cm`s no dents in floor pan or sides.
Currently Active Users Viewing This Thread: 1

(0 members and 1 guests)
Posting Rules

You may not post new threads

You may not post replies

You may not post attachments

You may not edit your posts

---

HTML code is Off

---