Some pics of my poor falcon
---
Geez mate that is so sad, my TC Cortina was written off in the same fashion, by someone who took their eyes off the road to light a damm cigarette.

Hope the Falc and the Esky can get fixed. Was the other driver insured, what excuse did they provide?

chin up
Steve
That's some failry massive carnage - especially for the back of the XY -

how fast was the clown going? what car was he in - if it was a commy it had to be hate attack!!! - he saw two beautiful ford's perched in the street and had to take them down!!

hope the clown was insured. good luck with it all!
Ouch! At least nobody was hurt (in your cars anyway)

My sympathy for your loss.
---
Territory - WHEELS COTY
he just said he wasn't paying attention, he hit 3 cars in total, side swiped a 2000 VW Passat, then slammed into the arse of the falcon and the falcon slammed into the esky, the guy must have been doing at least 60 when he hit because he didn't even brake, think he was on drugs or something coz he was pretty out of it, the car he was driving is a 1980 XD Falcon, it's in some of the pics and there is hardly any damage to it compared to what it caused
AAAAAAAARRRRRRRGGGHHHHH!!!!!!!!
What a shame... at least no one was hurt... i know what it feels like to get your car get destroyed but someone else :dead: 2 less classics on the road
hope u find another mate.
---
LSUG (Leaf Spring Users Group) Durability Tester and Restorer.
Delete striped BAGTs look like (*)(*)less models!!!!
yeah I've already got another falcon I was fixing up, Pearly XF is prolly gonna be a bit more upset, I sold the falcon to him last week, giving his money back though
Registered User
Join Date: May 2002
Location: Qld
Age: 68
Posts: 502
---
Mate, what a bummer, damn but thats a mess.
---
FORD RULES OK
Fuk man, sorry to hear about it!

That fool who smashed into your car doesnt deserve to be driving the XD. If he doesnt lose his liscence, put him in a pink excell i say.
---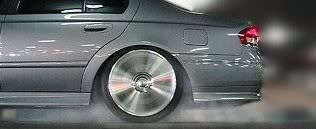 Xtreme 275.6 rwkw, 12.93 sec quater, Phoon CAI, Siemens Injectors, StealthFX BOV with
XBOX
entertainment.
that is a horrible sight... i feel so sorry for you (and pearly xf)
---
PVTXR01
Currently Active Users Viewing This Thread: 1

(0 members and 1 guests)
Posting Rules

You may not post new threads

You may not post replies

You may not post attachments

You may not edit your posts

---

HTML code is Off

---