Tire confusion
---
So I got stuck the other day pretty good
Tires are too small haha and I gotta get off these winters there like mint haha
What is the biggest tire that will fit on my 1993 ranger's stock 15 inch rim.
stock height and everything.
I will be putting a body lift on soon when I got the money.
Wouldnt mind it if you explained what all the numbers on the tires mean
I know the R is for radial and the 15 afterwards is rim size.
Re: Tire confusion
---
Not for sure how big you can go on your Ranger, but I can offer you this.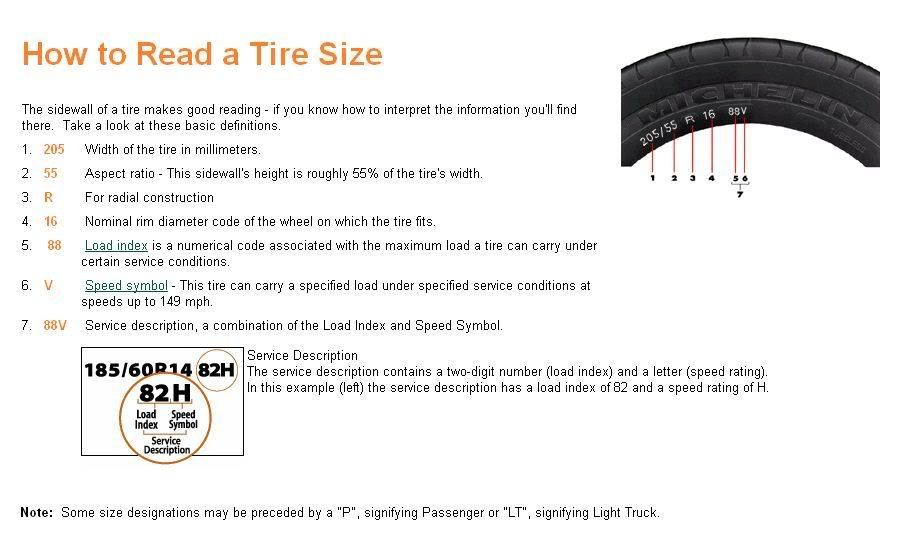 Re: Tire confusion
---
Yeah thanks that tire chart has opened my eyes haha
thanks
Re: Tire confusion
---
This is a good tool to measure sizes against your stock size once you know the max height you can go with with the body lift.
Tire size calculator
will tell you how much your speedo will be off with the different tire size.
Also, one thing left out that a lot of people don't know about, is when the tire was made (well, for those that care about safety). I'd describe it but I'm a bit lazy today, and the tirerack.com has a good page on it WITH pics:
Tire Tech Information - Determining the Age of a Tire
---
'11 Ram Quad Cab 4x4 SXT 5.7L HEMI (stock); 48,500m
'06 Pontiac G6 GT 3.5L 220hp; 64,000m
'12 Chrysler 200 Limited 3.6L 283hp; 28,000m
'99 Taurus 3.0L 2V Vulcan 145hp; 154,300m - Traded
Amsoil in all vehicles!
Currently Active Users Viewing This Thread: 1

(0 members and 1 guests)
Posting Rules

You may not post new threads

You may not post replies

You may not post attachments

You may not edit your posts

---

HTML code is Off

---