Perth Meet - Quit Motorplex
---
Ok guys heres the low down, there are a whole bunch of us heading down to the Kwinana Speedway this Sunday (31st August 2003) for some legal drags (and possible a burnout session - not too sure).
Costs: $30 to race (includes $5 license and $12 insurance levy), $11 to spectate, $5 for Children 5-15, under 5 free and family 2+3 is $27.
If we get alot of interest from you guys then I may be able to arrange for our own club staging lane to ensure we race each other.
I have word also that the Tickford/FPV club are going down there so should be a great turnout for us Ford peeps! I need to ring the guy with numbers and if there are enuf then he'll give us a lane......
The plan is to meet at Carosel (front of Fast Eddies) at 10.00am and leaving at 10.30am. Competitor entry opens at 11.00 and racing starts at 12.00 (till 4.00pm) for those wanting to make their own way down.
Must have long sleeves, long pants and a racing helmet (motorbike, just an enclosed helmet -*note not bike helmet)
all cars welcome, if there are enuf people when you go through the scrutineers mention the club and you will be put into the E-series club Lane.
Should be a wicked day and all STOCK cars welcome (I drive a stock Fairmont)
Please post a note or e-mail your interest to me at
eaman_82@yahoo.com.au
---
Last edited by EAman82; 08-24-03 at

08:17 PM

.
Re: Perth Meet - Quit Motorplex
---
I'll Try and make it but i will be there on the 7th of Sept with PPCC
(Perth Performance Car Club
), Can't wait 2 see what the BA Turbo runs :s6:
---
420+
rw
hp
Re: Perth Meet - Quit Motorplex
---
see can make it trying to round up the gang
Re: Perth Meet - Quit Motorplex
---
I will pop down to have a look, probably won't drag as I am waiting for a new diff in my BA XR8.
Re: Perth Meet - Quit Motorplex
---
Will definately try and make it. Will bring some helmets. I will meet you in there. I live in Rockingham. So no point going up to Carosel only to come back. Just a small note. Anyone thinking of filling up with petrol near the Motorplex for some strange reason the nearest filling station dosn't sell Premium so dont bother.
Re: Perth Meet - Quit Motorplex
---
I might come down for a squiz.
Experienced Ford Member
Join Date: May 2002
Posts: 1,129
Re: Perth Meet - Quit Motorplex
---
yeah lack of funds is slowin me down a bit but ill be there dunno if racing tho. $FUNDS$
Re: Perth Meet - Quit Motorplex
---
Sounds interesting, dunno if i'll take my car for runs, already done it once there and i dont think my cars gotten any faster on its own :) .. although Id rather enjoy doing burnouts again
Might come down for a look if im free!
---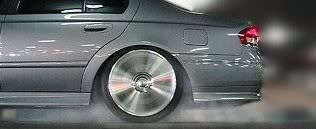 Xtreme 275.6 rwkw, 12.93 sec quater, Phoon CAI, Siemens Injectors, StealthFX BOV with
XBOX
entertainment.
Re: Perth Meet - Quit Motorplex
---
Poorboy Racer - That would be great if you could bring some helmets...cheers

See you up there on Sunday!
Re: Perth Meet - Quit Motorplex
---
Ok, Ill be there with some spair helmets, the weather forcast is good 22 and fine. Worth bringing a pump along. You can pump the fronts up hard (less rolling resistance) and let air out of the rears (for more grip). Also ditch as much weight (spair wheel, jack, wife etc) as possible. There is a pit area you can leave your stuff, spair wheel etc. Looking forward to it!
Currently Active Users Viewing This Thread: 1

(0 members and 1 guests)
Posting Rules

You may not post new threads

You may not post replies

You may not post attachments

You may not edit your posts

---

HTML code is Off

---