This ain't pretty
---
There's no doubt Holden's mighty V8 Supercar team is hot on the track. As for whether they're hot off it, we'll let you be the judge.
Holden's Team of Champions
When you're hot, you're hot – that's the theme for the General's assault on Mount Panorama next week, the same slogan used for the Torana XU-1 campaign back in 1972 that drove Peter Brock to the first of his nine Bathurst victories.
Given Holden's recent domination of the V8 Supercar series, it's a timely throwback.
The Holden Team of Champions – (left to right) Larry Perkins, Mark Skaife, Steven Richards, Jason Bright, Greg Murphy, Jason Bargwanna, Garth Tander, Cameron McConville, Russell Ingall and Todd Kelly – hit the sauna in preparation for the gruelling endurance test.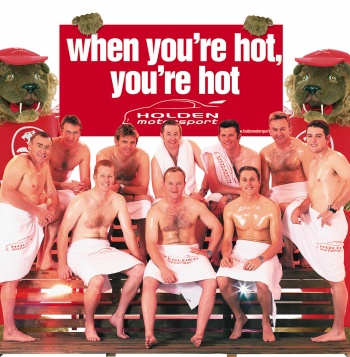 Registered User
Join Date: Jan 2002
Posts: 407
Join Date: Apr 2001
Posts: 2,588
phuck there goes my lunch..
I thought V8Supercar drivers were fit and well built athletes.

They look like a bunch of pensioners.
Underage Ford Member
Join Date: Oct 2001
Location: Perth
Posts: 95
ill bet they had fun oiling each other up for that photo shoot.... hahaha

im going to be sick too
I think this is great - can you imagine how big the room would have been just to fit in a couple of those ego's.

Barg's looks like his feet are hot and that's an interesting sparkle from between Cameron's legs. Also good to see Skaifey is not the centre of attention, actually he is masked a little bit by LP.

I say Ford respond by doing a similar shot incorporating their grid girls, in waist towels of course.:s6: :s6: :s6: I know which poster will sell more
Originally posted by smavid
ill bet they had fun oiling each other up for that photo shoot.... hahaha

im going to be sick too
Typical Holden Supporters...
Not that there's anything wrong with that, if you catch my drift...
---
"When I joined the marines all they gave us was
two sticks and a rock
! And we had to
share the rock
between the whole platoon!"
-----------
H2 pwnz j00 foo.
Ah haha crikey.... I'd just finished dinner too.........

Now if Holden had some Ralph women driving for them.........
---
EUR04D - Ford Focus
The Blue Flame
Mk II Escort RS2000
How much boost?
www.eurofordclub.com
Thanks for 2004, crew.
****starts running to bathroom to Spew**** That definatly is not pretty. i think i'm gonna have to get counselling
---
EF GLi Wagon, auto, Kenwood mp3 headunit, Mauritious BLUE
DAG-Nabit.com
Er, right. Where did you get that article 00 Motorsport? What was the point of it? For publicity or what? Who really wants to see a bunch of fags sitting there in towels? Yes I bet they got themselves all hot for Grech and Crennens pleasure.
---
O.F.R #12
1999 AU XR8
14.594 @ 94.40mph
152.2RWKW (APS dyno)
Switchable Shift Kit, K&N panel filter, Lukey straight thru mufflers, momo gear and steer,
DBA slotted rotors/Bendix ultimate pads (front), Pioneer MP3 head unit and BA XR carpet mats.

Member of the Society Against Stupid SMS Language
Currently Active Users Viewing This Thread: 1

(0 members and 1 guests)
Posting Rules

You may not post new threads

You may not post replies

You may not post attachments

You may not edit your posts

---

HTML code is Off

---