U.S:Passions run deep for mighty Mustang,100,000 to mark icon's 40th birthday
---
Kevin Olson, 52, of Champaign, Ill., pampers his 1965 Mustang 2+2. The pony car began its reign as America's favorite muscle car at the World's Fair in New York City.
Passions run deep for mighty Mustang
100,000 to mark icon's 40th birthday at Nashville bash
By Eric Mayne / The Detroit News
Charles V. Tines / The Detroit News
There are 3,500 pony car clubs from New England to New Zealand and San Jose to Sweden.
Did you know?
Mustang sales reached more than 1 million units -- an unprecedented level at the time -- within 18 months after going on sale in October 1964.
Mustang lore was firmly established when the 1968 pony car starred in the Steve McQueen hit "Bullitt."
The U.S. Postal Service honored the Mustang as one of the icons of the 1960s with a first-class stamp in 1999.
Wilson Pickett's 1966 pop hit "Mustang Sally" firmly immortalized the pony car.
In 1989, Ford engineers considered developing future Mustang models off a Mazda platform -- a plan that was later abandoned.
Ford has produced more than 7,745,907 Mustang cars.
1966 marked the best year for Mustang sales, with 549,436 sold. The worst year for Mustang sales was 1991, with demand reaching just 80,247 units.
There are more Mustang owners and enthusiast clubs -- more than 250 -- than any other model.
The name Mustang was suggested by Ford executive stylist John Najjar. He was an aficionado of the P-51 Mustang fighter plane of World War II.
The Mustang's wild-horse emblem was first visible at Watkins Glen, N.Y., in fall 1962. Crowds on hand for the U.S. Grand Prix Formula One race were treated to an exhibition of the Mustang I two-seat prototype driven by Dan Gurney.
A little more than a month after its April 17 debut in New York, the Mustang was already on the racetrack serving as the official pace car for the 1964 Indianapolis 500.
Sources: Ford, Detroit News research, Motor Trend
NASHVILLE, Tenn. — It was a stunning, successful follow-up to the Edsel, perhaps the biggest flop in Ford Motor Co. history.
It survived the 1970s oil embargo and the 1981 recession — and narrowly avoided becoming a rebadged version of the front-drive Ford Probe.
Through it all, the Ford Mustang has survived, outlasting rivals like Chevrolet Camaro and Pontiac Firebird, and earning a special place in America's cultural landscape.
So it will be more than a birthday bash this weekend when about 100,000 loyal Mustang owners from across the world celebrate a milestone in the history of one of the auto industry's most cherished icons.
Forty years ago Saturday — at the World's Fair in New York City — the Ford Mustang began its reign as America's favorite muscle car — winning the hearts of drivers young and old.
Only a few models — the Chevrolet Corvette and Ford F-150 pickup truck among them — have endured as long and connected with generation after generation of buyers.
The original Mustang's trend-setting design — a long hood and short rear deck — so captured the middle class public's imagination that dealers took 22,000 orders the first day it hit the market.
Sleek and affordable, sales reached more than 1 million in its first 18 months on the market. It has since adorned postage stamps, pop songs and lunch boxes. Rival copycats have come and gone.
Four decades and nearly 8 million Mustang sales later, the "pony car" still enjoys cult status as the singular obsession of more than 3,500 car clubs from New England to New Zealand, San Jose to Sweden.
A 1960s-era Mustang remains one of the most sought-after collector cars in the world and generations of admirers have never lost their love for the car.
"The brand belongs to all the owners rather than Ford," said J Mays, Ford's group vice president in charge of design.
Passion runs high
With Mustang passion still running high among enthusiasts for generations, the automaker's designers and engineers held their collective breath last year when they unveiled a pair of concept cars — one coupe, one convertible — that hinted at the next-generation model, due out this fall.
The response has been positive. Ford, in the middle of a critical financial recovery and product renaissance, is relieved.
"I love it," Mustang fan Tim Grahl of Redford said of the new Mustang design. "I've been all over that car. I even sat behind the wheel. I really love it."
It's high praise from the president of the Mustang Owners Club of Southeast Michigan. At age 29, he's just one year older than the venerable 160-chapter Mustang Club of America.
"They don't like us to say that," laughed Grahl, who belongs to a two-Mustang family. He owns a '77 Cobra II while his wife, Nancy, owns a '78 Rally 2+2 with a T-roof.
Once a month, Grahl's group meets at a restaurant in Garden City, where they share an enthusiasm that has permeated America's cultural landscape.
Consider Mustang Sally. The '60s-era blues-rock tune has become a barroom anthem. Fast forward to 2000. A '67 Shelby Mustang starred in the movie, "Gone in 60 Seconds."
To Michele Moreland, a parts clerk at Classic and Performance Mustang of Englewood, Colo., the Mustang's popularity can be traced back to "the Steve McQueen movie."
She's referring to "Bullitt," a 1968 film that featured a Mustang and a Dodge Charger in one of cinema's most memorable car chases.
While not a car buff, Gilbert Herdt, an anthropologist and instructor at San Francisco State University, said the wild pursuit filmed in his home city is etched in his memory, reinforced by landmarks he occasionally sees while chauffeuring himself around the City by the Bay.
"That was a great scene," Herdt said.
And it illustrates why Mustang remains so popular.
Making a statement
Cars are "an identity statement," Herdt said. "And the kind of car you have, whether it's a Volkswagen or a Ford Mustang or a Jaguar, is a very strong identity statement."
Cool. Confident. Distinctive. "It lunges at you," said retired Ford design manager Gale Halderman, whose renderings evolved into Mustang's classic profile.
There may be thousands of Mustangs on the road, but owners often see them as expressions of their personality, explained Darren Beasley, a 37-year-old finance manager who traveled to Nashville from Regina, Saskatchewan.
"When Ford originally sold these cars, their catch line was 'To be designed to you,' " said Beasley, who's owned 13 Mustangs over a lifetime. "You can customize it, do anything from a six-cylinder, plain Jane, daily driver to something crazy fast, a Shelby, that type of thing."
The Mustang has spawned an enormous after-market accessory business. The Specialty Equipment Manufacturers Association lists dozens of companies that produce and distribute components to accommodate Mustang customization.
Bob Wille was part of a nine-member engineering team that designed the new car's interior. Between Wille and his engineering colleagues at Ford, they own 10 Mustangs, and didn't forget the Mustang they designed is a starting point for owners.
"It's like an artist's canvas," he said.
Charles V. Tines/ The Detroit News
Legendary carbuilder Carroll Shelby, with a 1968 Shelby Mustang GT 500 KR
Charles V. Tines/ The Detroit News
A classic Mustang takes a turn on the Nashville Speedway.
Charles V. Tines/ The Detroit News
Edsel Ford chats with Pam Turner of Florence, South Carolina, about her 1966 289 Mustang convertible.
---
Stacy94PGT
My first car was a 67 Mustang Coupe, 2nd one was a 67 Cougar XR-7, 3rd one was a 66 Mustang Coupe. Why did I get rid of these cars for ? I know why, because I'm stupid, stupid, stupid.
My next Ford.....
Re: U.S:Passions run deep for mighty Mustang,100,000 to mark icon's 40th birthday
---
Ford's famous filly turns 40
By James R. Healey, USA TODAY
Don Frey recalls clearly the horror he felt as he realized what boring cars Ford Motor was planning.
It was the early 1960s. Frey had been put in charge of Ford's product planning. The generation of sex, drugs and rock 'n' roll was about to burst upon the American stage; the Age of Aquarius was dawning.
AP,The 1964 Mustang, top, and its latest incarnation, unveiled by Ford CEO William Clay Ford Jr.
Interactive documentary: Mustang turns 40
And Ford, Frey could see, was planning a staid, somnambulant waltz through it all.
"I realized we were sitting on a powder keg — or an opportunity," says Frey, now 81 and a professor of engineering at Northwestern University.
So Frey pulled the trigger on a project known simply as the "Ford sporty car." It became the Mustang.
The car made Ford Motor rich and Ford executive Lee Iacocca famous, and it ignited Detroit's obsession with the baby boom market, a preoccupation that prevails decades later.
But the inside story is not one of a sharply honed organization coming up with just the thing. It's a tale of rank-and-file perseverance against brass-hat opposition — a car rising from a cauldron of creativity, fueled as much by instinct as by inspiration.
"I had never, ever been associated with something like that. I think it was the most exciting car that I worked on at Ford," says Joe Oros, design director for Ford-brand products back then. His team's long, low, lean European look beat offerings from two other Ford studios to become the winning Mustang design — but Oros had to compromise on air scoops, taillights and other details to slice $15 off the cost for the bean counters' OK.
Reaction, especially to a car done fast and on the cheap, "was just unbelievable," says Oros, 87, now a sculptor living in California.
Buyers stood in line for Mustangs
The car was launched 40 years ago on April 17, 1964, opening day at the New York World's Fair. It was dubbed a 1964½, though its vehicle identification numbers made it officially a 1965. The coupe started at $2,368, and the convertible, $2,614. The prices were similar to those of the far less exciting Chevy II and Dodge Dart, small economy cars.
People stood in line at dealerships to pay full sticker price or more for a Mustang. They were wowed not only by Oros' design, but also by the then-unusual array of accessories that meant your Mustang needn't be like your neighbor's.
"I will never forget this. The first 500,000 units went out the door at an average of $3,500, 50% more than the car's base sticker, because they (buyers) loaded them up," Iacocca, 79 and semi-retired in California, told Mustang Monthly in an interview published in the magazine's May issue. As head of the Ford brand during Mustang's gestation and birth, he kept the project under wraps so Ford executives, burned by the failure of the 1958-60 Edsel, couldn't say no to another radical idea. Then, when the idea was well along, he had to sell it to Chairman Henry Ford II.
It took five tries, Frey says. Finally, the blunt-spoken Ford "came over to me in the styling studio and said, 'Frey, I'm tired of hearing about your f——— Mustang. I'm going to approve it, and it's your ass if it doesn't sell."
It sold.
Ford worked the original Mustang factory in Dearborn, Mich., for all it was worth, cranked up a second plant in San Jose, Calif., and the next year added a third in New Jersey to keep up with demand. Ford surpassed its goal of selling 417,000 the first 12 months.
A 'pony' like no other
Mustang is not the longest-surviving marquee model from Detroit. Chevrolet's Corvette has been around since 1953. Jeep, now a DaimlerChrysler brand, has sold a civilian version of the World War II mechanical mule since 1945.
But Mustang, which quickly got the obvious nickname "pony" and begat a genre of imitators called pony cars, was the only one meant for the masses. Designed as a low-price, high-style car that, in a radical departure for the times, would attract women and men equally, Mustang's appeal was immediate. It has created a legacy of Mustang anecdotes no doubt greater than the number of people who ever owned a Mustang.
Frey's favorite came in a letter from a Texas janitor shortly after the car was launched: "I've been courting this 5,000-acre widow for years. I finally got her in my red pony. Thank you, thank you, thank you."
Iacocca, in the Mustang Monthly interview, recalled that during the early months, before Mustang was a sanctioned project, the team members did their normal jobs at Ford, then met on Mustang business at the Fairlane Motel at night and in a Ford storage room by day, "because they weren't allowed to be working on a car that wasn't approved."
Frey's colleague in product planning, Hal Sperlich — who later developed the minivan for Chrysler after Ford rejected it — used the chassis and other parts of the Ford Falcon economy car as a foundation for the Mustang, holding down costs by using a model already being produced. Today, they call that platform sharing. Then, they called it necessity.
"The whole project was bootlegged. There was no official approval of this thing. We had to do it on a shoestring," Frey says.
Race to the assembly line
Once the project came out of the closet, Ford Motor's three styling studios competed to design the Mustang.
Oros told his crew, "We're not going to design a macho car. We're going to design something that ladies would love to drive and men would, too."
The sporty car would use Italian styling touches for excitement.
• Elegant, narrow bumpers, instead of the fat ones popular at the time, would wrap around, almost to the wheels.
• Delicate grillwork would jut out at the top and slant back at the bottom to give the car a dashing, forward-thrusting look instead of the fat lip imparted by the protruding bumpers of the time.
• A hefty emblem — a galloping horse, as it turned out — would adorn the grille, as on a Maserati.
• The sides would have air scoops to cool the rear brakes and add visual excitement. Those scoops lost their function to cost cutting before production began, but decorative imitations survived.
Stylist Gale Halderman, on his own weekend time, came up with a sketch Oros liked, and Mustang's look evolved from there.
Oros was primed when Iacocca, of Italian descent, visited the studio. "I told him what we were doing: Italian front bumper, Italian look, Maserati-type grille. Well, he really brightened up. ... When he got excited, which he did, his cigar started twirling. And it started twirling."
Iacocca was non-committal, but Oros went with his gut, telling his crew: "Well, fellows, you saw him. Let's get to work."
Suspecting the other Ford studios would paint their models eye-popping colors, Oros insisted on using white, to stand out against what he called the "Easter eggs."
The Oros design won, although there was a dicey moment when Chairman Ford bopped his head on the roof getting in and asked for more room. That was late in 1962, and Oros, Frey and their teams had a lot of work and little time. Iacocca wanted a showy start by unveiling the car at the 1964 World's Fair 18 months away.
Automakers only today are approaching 18-month development times. Mustang's was so quick because it happened outside channels, avoiding what Frey calls "administrivia."
Frey, pleased that Oros' design fit the cheap-to-build Falcon chassis but had enough room for all the planned features, started trolling his contacts at Ford purchasing and manufacturing.
"I was operating as a lone wolf in what I called the blue-chip system. I'd done favors for people in assembly, so they'd say, 'Yeah, we'll do it for you.' " They showed him what tweaks to make and parts to use so the car would be easy and inexpensive to manufacture.
"You can do it twice as fast for half the money" when unshackled from corporate procedures, says famous hot-rodder Carroll Shelby, who had created the Ford-powered Cobra sports car and watched from the outside as Mustang came together. Iacocca hired him to develop high-performance versions — on his own, outside Ford's system — that gave first-generation Mustangs credibility with enthusiasts.
Grilled by executives about marketing studies and break-even points, Frey, having no such data, had to shrug. A market research chief bailed him out, telling the bosses later that the break-even point was 86,400 a year.
"He made the number up," Frey says, still delighted at the invention. "The Edsel had market research out the wazoo. Mustang didn't. We just knew what we were doing."
The gunslinger approach caught up with Frey.
"I never filled out the paperwork. At Ford, that's a court-martial. They called me in after (Mustang had been on the market) six months and said, 'Frey, where's the paperwork on this car?' I just said, 'Mustang speaks for itself: 1,100 a day, gross profit of 400 or 500 bucks each,' " he says. "Mustang made two-thirds of Ford Motor Company's profit the first year it was on sale."
Ford sold 1 million Mustangs in 24 months, a blazing start for a new model, then and now.
Peaks and slumps
The car has had its close shaves. In the 1980s, it almost became a small, front-wheel-drive, import-style, sporty car — a design Ford instead launched as the 1989 Probe coupe and discontinued after the '97 model.
In the 1990s, Mustang was on deck to be discontinued, judged unworthy of the expense of redesigning it to meet toughening fuel economy, safety and anti-pollution regulations.
Reprising the original approach, a small core of Mustang enthusiasts at Ford worked in an old warehouse away from Ford headquarters to redesign, on their own, a Mustang cheap enough to keep it in production. That version was launched as the 1994 model and remains today.
"The '94 is when we changed back to what I thought the Mustang should look like," CEO Bill Ford says. He bought the first one.
In fact, he says, "I've owned virtually every one since 1979." He got that one from his dad as a graduation present, "painted a glorious show color, a metallic green. But it was never intended for extremes of temperature. I took it to northern Michigan skiing and the next morning, the paint was coming off in strips," he says.
"I almost cried."
The fifth generation begins with the 2005 Mustang, on sale in late summer or early fall. It uses wholly different hardware, adopts import-brand manufacturing techniques and looks more like the original Mustang than ever. And it has Bill Ford's strong support — no need for stealth and subterfuge.
He believes the car is worth more than its profit. "The Mustang's always made money, but its importance has always been way beyond financial. It's a halo car for other products. Its contribution to the company always has been greater than its sales," he says.
"If you have a brand, an icon, like Mustang, and you treat it like just another vehicle, you're making an enormous mistake."
---
Stacy94PGT
My first car was a 67 Mustang Coupe, 2nd one was a 67 Cougar XR-7, 3rd one was a 66 Mustang Coupe. Why did I get rid of these cars for ? I know why, because I'm stupid, stupid, stupid.
My next Ford.....
Re: U.S:Passions run deep for mighty Mustang,100,000 to mark icon's 40th birthday
---
Mustang fans gallop to 40th
Last weekend, Mike Berardi took his 1968 Shelby GT350 on a road trip to Columbus, Ohio. Today, Berardi heads to the Nashville Superspeedway in Nashville, Tenn. in a '69 Shelby GT350 to get a real Mustang fix.
Owner got the bug with first muscle car he restored
By Phil Berg / Special to The Detroit News
Photos by Morris Richardson II / The Detroit News
If you passed Mike Berardi on the street, you'd never guess he's an addict, let alone his vice.
Mustangs.
At last count, he had a dozen.
Last weekend, the Canton resident took his 1968 Shelby GT350 on a road trip to Columbus, Ohio. Today, he heads to the Nashville Superspeedway in Nashville, Tenn. in a '69 Shelby GT350 to get a real Mustang fix.
More than 4,500 'Stangs belonging to similarly addicted folks will be in Music City to celebrate the fabled pony car's 40th year. Joining the party will be Mustang legend Carroll Shelby and Ford Motor Co. Chairman and CEO Bill Ford Jr.
Since its introduction in 1964, the Mustang has become an American cultural icon, capturing the hearts and souls of legions of drivers. This weekend's celebration in Nashville, sponsored by The Mustang Club of America, will be a four-day extravaganza honoring the car that essentially defined a generation and, for Berardi and others, became an obsession.
Berardi will arrive in Nashville with his buddy, Mark Storm of Northville, who sampled various forms of Mustangs, including three from the mid-1960s, before settling on a 1970 Boss 302 model two years ago.
"The problem is there are so many to like," Storm says. "If you had to pin me down to my favorite one today, I'd say it's a 1970 Shelby GT500 convertible. Tomorrow it might be the Hertz racer."
Storm's school-bus-orange 1970 Boss 302 is more affordable than a Shelby, but satisfies his craving nonetheless
"It's just raw," he says. "You start it up, and it has the mechanical lifters, so you hear the rattle of the motor, the exhaust. My wife says, Man, that thing stinks.' I think it smells great."
Yes, Storm admits, he's inhaled.
Berardi succumbed to a similar weakness.
"I bought the 1968 convertible because it's turquoise with a white top," he says. "All my life , I've wanted that car.
George Huisman of Walled Lake is addicted to big-block engine Mustangs. He's headed for Nashville with three cars, including his 1969 427, for the racing events.
"I'm kind of surprised but Mustang popularity is really going up," says Huisman, who owns Classic Design Concepts, Inc. in Walled Lake, which specializes in selling Mustang parts.
"Maybe one percent of the world. The Nashville show is above and beyond the regular national meets, a lot of people have made their whole vacation around it."
He says he can tell Mustang people from Chevy Corvette people just by looking at them, even if he can't say how they're different.
Berardi, Storm and Huisman were all introduced to Mustangs while adolescents.
"My very first car was a 1967 coupe that I bought when I was 14 and delivering papers for the Detroit News," recalls Storm, now 42. I bought it with my paper route money for $150. My dad said it would be a great project, and I worked on it for two years, and made it a nice car."
Berardi got hooked in high school, too.
"My first car was a 1977 Mustang II," he said. "That started it."
Once he graduated from college, Berardi bought a 1970 Mach 1 Cobrajet, restored it, and then bought another one.
Huisman, now 44, bought a 1966 GT when he was 15 years old. "Before I had my driver's license, I did a restoration and searched out events around the country where I could find parts. You become acquainted with people involved with that."
All three picked up their habits from older addicts.
"When I worked at a dealership, I got to drive Mustangs," recalls Storm.
Berardi met a man in 1978 who had a 1971 Mach 1.
"It had black stripes, and I'll never forget this car," he says. "I went and bought a couple plastic models and painted them exactly like that."
Huisman counsels people that they don't have to have a car to have a Mustang passion. Berardi tries to set an example for Mustang newbies.
"Sometimes I'll take the GT500 on Michigan Avenue," he says. "One of the new Mustangs will come up next to me, and I kind of take off and hit the gas a little harder, and then a little harder, and suddenly we're doing 85, and then we stop at the next light. They just want to know if the old ones can keep up with the new ones."
It seems an appropriate outlet for a man whose life is consumed by Mustangs.
Last year, he built a 4,000-square-foot building to house his cars. Two nights a week, he reassembles two big-block 1971 Mach 1s. By day, he's a customer service specialist at Ford Motor Co., where he's worked all his adult life. Addicts often find creative solutions to pay for their habits and Berardi is no exception.
"I parted out some cars to pay for the building," he says. "I'm concentrating on selling parts for 1971 to 1973 cars because there are not a lot of reproduction parts available for those. Now I have a hard time keeping up. I only buy a car I know will not lose any money."
Berardi says he never meant to let Mustangs get the upper hand in his life.
"My intent was not to have 15 of these things," he says. "My intent was to have one or two."
Larry Wright/ The Detroit News Online
One of the first Mustangs built, this 1964 1/2 Mustang convertible was fully restored by Phil and Peggy Wolfe of Livonia, Mi. It's number 1875 out of more than 7.5 million Mustangs built since 1964.
Larry Wright/ The Detroit News Online
This 1965 Mustang convertible is owned by Lee Digue.
Larry Wright/ The Detroit News Online
This 1966 Mustang convertible with retractable top is owned by Rick Balish of Dearborn Heights, Mich. Ford commissioned Ben Smith to build 18 of the cars with the lightweight fiberglas top in a feasiblity experiment but rejected the design because it had to be operated by hand. A motorized top would have added too much weight to the car. This is No. nine of the 18 cars built.
Larry Wright/ The Detroit News Online
This 1967 Mustang belongs to Jeff and Vanessa Schembri of Livonia. Its 289 c.i. engine generates 271 horsepower.
Richard A. Wright
This rare 1968 Ford Shelby Mustang is on display at the Volo Museum near Chicago and is also for sale at $74,998. Only 464 of these special Mustangs designed by Carroll Shelby were built.
Larry Wright/ The Detroit News Online
Charlie and Mary Lou Buttigieg of Livonia displayed their 1969 Shelby Mustang. The Blue is the car's original color, but the maize striping was added by the Buttigiegs, both of whom profess to be huge University of Michigan football fans.
Larry Wright/ The Detroit News Online
This 1969 Mustang Mach 1 belongs to Mike and Linda LaRue of Chatham, Ont.
Larry Wright/ The Detroit News Online
This 1970 Mustang convertible belongs to Thad Pruitt of Ann Arbor.
Larry Wright/ The Detroit News Online
This "Grabber Lime" green 1971 429 Super Cobra Jet is owned by Anthony and Dorene Smith.
Dewey G. Norton
This 1978 Mustang II belongs to Greg Sauve of Taylor, Mich.
Richard A. Wright
Colorful '82 Mustang GT is powered by a Ford 306 V-8 with B.D.S. 671 blower. It is owned by Doug Bunten, of Avon, Ind.
Richard A. Wright
This 1984-1/2 Ford Mustang Limited Edition convertible marked the 20th anniversary of the Mustang.
Dewey G. Norton
AJ Grebinski, after driving his 1988 Mustang GT to and from work for three years, wanted to do something special with it. In 1991 he parked it, disassembled it, had Bob's Pro Fab shop build a tube frame, picked up a crate 351 engine, attached a Paxton blower (17in. MP) and for a little extra kick installed nitrous. Now he can be seen cruising in Allen Park on nice days, secure in the knowledge his Pro Street GT can shut down anything in sight with 9.5/142.
Larry Wright/ The Detroit News Online
Jay Barnabei of Belleville did a frame off on this 1989 Mustang 429 Cobra Jet.
Richard A. Wright
This '94 Ford Mustang 5.0-liter V-8 was second off in the '94 model run. First off was delivered to William Clay Ford.
Richard A. Wright
Rare Sunburst 2000 Ford Saleen S281 Supercharged Speedster is a one-of-a-kind car equipped with every option Saleen offered including the carbon fiber interior.
John Grielick / The Detroit News
05 Mustang GT Coupe concept.
Larry Wright / The Detroit News Online
Saleen S281 supercharged Mustang.
Larry Wright / The Detroit News Online
68 Shelby Mustang Cobra Jet 428 which served as inspiration for the Mustang concept.
Larry Wright / The Detroit News Online
2005 Ford Mustang GT
Richard A. Wright
An early Mustang advertisement.
---
Stacy94PGT
My first car was a 67 Mustang Coupe, 2nd one was a 67 Cougar XR-7, 3rd one was a 66 Mustang Coupe. Why did I get rid of these cars for ? I know why, because I'm stupid, stupid, stupid.
My next Ford.....
Re: U.S:Passions run deep for mighty Mustang,100,000 to mark icon's 40th birthday
---
Happy Birthday Mustang!
The Palm Beach Post
Motor Trend
The first Mustang: Built on March 9, 1964, the white convertible was shipped to a dealer in Newfoundland and purchased by an airline pilot. When Ford realized it had sold a piece of history, the company offered to buy it back. The pilot eventually agreed to trade for a 1966 Mustang. The first Mustang has been on display ever since at the Henry Ford Museum in Dearborn, Mich.
On Friday, April 17, 1964...
- Newspapers reported that President Lyndon Johnson declared the nation's defense and economy in 'good shape.'
- Burt Lancaster was starring in the political thriller "Seven Days in May."
- Publix offered chuck steak for 49 cents a pound and sirloin for 89 cents.
- And Ford dealers took 22,000 orders on the first day the Mustang went on sale. Base price: $2,368 ($13,700 in today's currency)
What's it worth today?
Estimates from the National Automobile Dealers Association for Mustang models in fully restored or excellent original condition with typical equipment:
1964 1/2 hardtop: $22,700
1965 fastback: $28,200
1969 Mach 1 fastback: $31,400
1974 Mustang II coupe: $3,953
Nine cars, six guys, but only five grins.
"I just don't like parking so close," said Don Eddy, wincing at the sight of his pagoda-green pride-and-joy squeezed into the center of a Mustang sandwich.
"Just watching you back up made the rest of us nervous, too," joked one of his pals.
That got a laugh from everyone, including Eddy - and the laughs just kept on coming. These guys never quit kidding each other about their common case of Mustang mania.
"We have a lot of fun," said Ernie Schetzel, past president of Treasure Coast Mustangs and host of a perpetual open garage for fellow Mustang lovers at his Port St. Lucie home. "That's what Mustangs are all about. It's the car America fell in love with."
The love affair started 40 years ago Saturday, when Henry Ford II pulled the wraps off a Mustang on April 17, 1964, at the soon-to- open New York World's Fair. Dealers took 22,000 orders in one day. Eddy, a young Boeing engineer with a wife and three kids, didn't rush, but he didn't dawdle either. He got his slide rule out and did some figuring.
wanted a Corvette, but I couldn't afford it," said Eddy, 69, now retired to Port St. Lucie. "Then I saw the Mustang, and I worked out the numbers. I decided I could afford one, but everybody wanted one. You couldn't find one to buy. So I ordered exactly what I wanted and waited for it to come in."
The car Eddy ordered rolled off the assembly line July 1, 1964: a hardtop with white bucket seats, a 289 V-8 with four-barrel carburetor and an automatic transmission. Plus whitewalls, pin stripes and just about every other option, including air conditioning. The total came to $3,600 - more than half a year's salary. The car arrived at Eddy's hometown Ford dealership in Paoli, Pa., at the end of the month.
"I went down there with my father, and the car was sitting all by itself on top of a car carrier," he said. "There were six guys standing around arguing about which one of them was going to buy it. I waved the paperwork at them and told them to find their own."
Lots of folks Eddy's age have Mustang memories. Eddy still has his Mustang.
"I never believed in getting rid of good machinery if it still runs," he said. "This car has survived three kids, four dogs and I can't count how many cats. The kids still remember: 'Don't slam the doors!' "
At 129,000 miles, the smooth-running engine's never been rebuilt and the paint's still shiny, but the Mustang is long retired from driving anywhere except to club meetings and shows.
"When we moved to Florida, I brought it down in a padded van," Eddy said. "I wasn't going to drive it on I-95, that's for sure."
People ask all the time whether it's for sale. It isn't. "I enjoy this car so much I'd just have to go out and find another one," he said.
The other Mustang lovers parked in Schetzel's yard feel the same way.
"I'm never going to sell my cars," said Peter Jock, 40, who grew up wanting a Mustang. Now he owns three: a 1968 Shelby GT-500, a 1969 Shelby GT-350 and a 1969 Boss 302. The Shelbys are limited- production performance models assembled under the supervision of racing legend Carroll Shelby. The Boss is a factory-built Mustang designed for Trans-Am racing.
"That's the car I wanted when I was growing up," said Jock, who is in the land-clearing business. "I bought one when I was 14 for $1,000." His father, no racing fan, made him take it back. Jock looked for one over the years since and finally found what he wanted just in time to buy himself a present for his 40th birthday.
The 26-year wait was costly: He paid $47,000. His total investment in the three Mustangs is about $120,000, but either of his impeccably restored Shelbys might be worth that much or more. A 1967 GT-500 sold for $189,000 recently at an auction in West Palm Beach.
"My wife cried when I bought the first one," Jock said. "She thought I paid too much. Now when she hears what they're going for she goes, Ahhh!"
What is it that makes other folks go Ahhh! at the mere sight of an old Mustang?
"The car has a mystique," said Chuck Petersen, 67, a retired salesman who's owned a red 1969 Mach 1 for 13 years. "I had a Cougar once. It's basically a Mustang, but it just wasn't the same. I've had lots of cars - big cars, including Lincolns. But there's nothing like a Mustang."
Schetzel, 57, might be the only member of the club who didn't grow up owning or pining for the original pony car. When the Mustang came out, "I thought it was cute, but I couldn't afford one." Over the years, more practical considerations - "buying houses, putting the kids through college" - kept him from thinking about any car as a hobby.
Then, a few years ago, after he retired from his cabinet-making business, he found himself with plenty of extra time. Plus, he had a 2,700-square-foot garage he no longer needed as a work space. It also happened to have an auto-service lift left over from the previous owner.
He thought about getting a muscle car for fun. "Then my wife mentioned that she'd always wanted a Mustang," Schetzel said. That's all the encouragement he needed. He bought one, and then another. And then another. Now he has six Mustangs, including a blue hardtop built in June 1964.
Schetzel not only serves as bull-session host, he's the club's unofficial chief mechanic. He's taught himself to do all the repairs, including body work, necessary to keep 40-year-old Mustangs looking new and running strong. "He's the only one I let touch my Mustang," says Eddy.
At least 20 club members planned to drive together to Nashville this week for a national celebration of Mustang's birthday. Some were planning to travel by van, but Schetzel was determined to take a Mustang - the hardtop, his 1966 convertible or the 1966 Shelby look-alike he converted from a standard fastback. Or perhaps his 1996 Mustang GT convertible. His others, a 1967 coupe and a 1968 fastback, are in mid-restoration.
"No matter which car we take, it'll be a nice trip for all of us and the wives," Schetzel said. "We always have a great time together."
It's nice to have the company of people who can tell an F-code 260 V-8 from a D-code 289. People who can rattle off the 40-or-so minor details that distinguish a '64 1/2 Mustang like Schetzel's from an apparently identical '65.
In other words, Mustang lovers. Schetzel was excited about meeting new ones in Nashville and hopes to meet even more when he gets back. "You can put my phone number in the paper just in case anybody wants to talk about Mustangs," he said.
Horse trading on Day 1
Many dealers had only one Mustang on April 17, 1964, and customers scrambled to get it. A Texas dealer let customers bid. The winner slept in the car until his check cleared. The crowd at a Chicago dealership was so unruly that the police were called and the showroom was shut down.
The original Mustang was well-equipped for a $2,368 compact car, with standard bucket seats, carpeting, full wheel covers and front seat belts. Buyers could pass up the seat belts and save $11. Whitewalls cost $33.90 extra. A push-button AM radio cost $57.51. A V-8 engine added $75. Average selling price was close to $3,000, because buyers wanted options - or wanted a Mustang so badly that they bought whatever dealers had to offer.
Pony party
The Mustang's birthday celebration in Nashville this week is expected to draw up to 100,000 fans from 40 countries. 'This is huge,' said Jim Chism, a Tennessean who's directing the festivities hosted by the 10,000-member Mustang Club of America. 'The Mustang changed the automotive landscape forever.'
Forever's a long time, but so is 40 years in the ever-evolving automotive age. The Model-T lasted less than 20 years. The Galaxie, the Falcon, the Fairlane and other cars that shared showrooms with Mustangs over the years are gone. So are competitors like the Camaro, Firebird, Challenger and Barracuda.
Although the Mustang has many younger fans, it's the Baby Boomers who keep the flame burning, Chism said. 'That's who remembers the original,' he said. When the car first appeared, 'you'd see Mustangs covered with peace signs, and you'd see Mustangs with rebel flags. It still brings all sorts of people together. Now it's transcended generations.'
---
Stacy94PGT
My first car was a 67 Mustang Coupe, 2nd one was a 67 Cougar XR-7, 3rd one was a 66 Mustang Coupe. Why did I get rid of these cars for ? I know why, because I'm stupid, stupid, stupid.
My next Ford.....
Re: U.S:Passions run deep for mighty Mustang,100,000 to mark icon's 40th birthday
---
The Auto Channel
Mustang 40th Anniversary Get-Together in Nashville - Pictorial
Photographs Courtesy of Ford
More than 5000 Mustangs and 100,000 enthusiasts gather at the Nashville Superspeedway April 15, 2004
Edsel B. Ford II and Steve Lyons, Ford Division President, drive into the opening ceremonies
Mustang legends Carroll Shelby (L) and John Force drive into the opening ceremonies
Mustang legend Carroll Shelby waves to the media and enthusiasts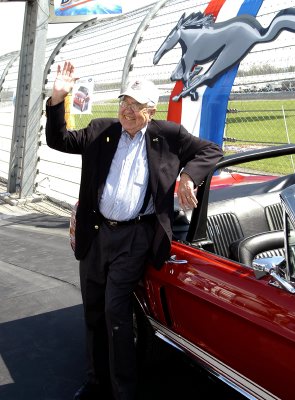 Mustang legend Carroll Shelby waves to media and enthusiasts
Edsel B. Ford II drives into the opening ceremonies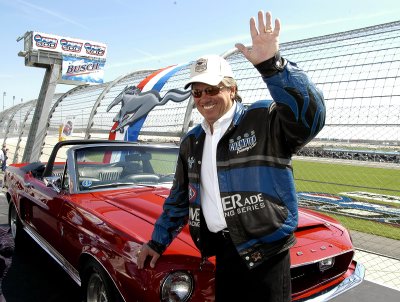 Mustang legendary drag-racer John Force waves to the crowd
Mustang legends John Force (L to R), Carroll Shelby, Edsel B Ford II sign autographs
Enthusiasts and media participate in a panel discussion with key Mustang executives and legends from the past and present
Mustang enthusiasts check out the heart of America's car, the engine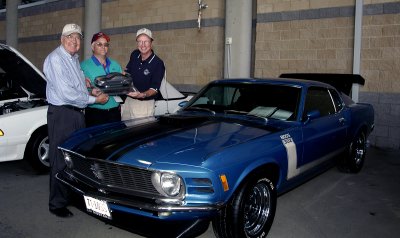 Mustang legend Carroll Shelby (L) and Ford Division President Steve Lyons (R) present "Ford's Choice Award" to David Reynolds, of Blacksburg, VA., and his 1970 BOSS Mustang.
---
Stacy94PGT
My first car was a 67 Mustang Coupe, 2nd one was a 67 Cougar XR-7, 3rd one was a 66 Mustang Coupe. Why did I get rid of these cars for ? I know why, because I'm stupid, stupid, stupid.
My next Ford.....
Re: U.S:Passions run deep for mighty Mustang,100,000 to mark icon's 40th birthday
---
Ford Mustang 40th Anniversary Celebration
Enthusiasts flock to Nashville to celebrate the original pony car
By Todd Lassa
Photography by the author
Motor Trend
Forty years ago, the Ford Motor Company introduced its groundbreaking Mustang sports coupe at the New York World's Fair. Based heavily on lowly Falcon mechanicals, the pretty compact with European-like proportions was revolutionary not for its design or engineering, but rather for the fact that it offered youthful style for a base price of only $2368, a bargain even in April 1964 dollars.
Ford didn't try to recreate the World's Fair to celebrate the icon's anniversary (made more important by the pending advent of an all-new 2005 model). Instead, it chose the Nashville Superspeedway, a roomy, wide-open location more comfortable for the middle Americans who own classic and late-model Mustangs, most of whom were young when the '65 model debuted. It even gave some of the 'Stang cognoscenti the chance to pilot their babies around the big tri-oval superspeedway. And thus women, the larger of the two target markets in Spring of '64, were outnumbered by men, the larger of the two target markets from '67 to '73, when the car got bigger and beefier, with enough room in the engine bay to increase motor size from the original's 289 cubic-inch V-8 to such macho engines as the Boss 302, the 351 Cleveland and even the Cobra Jet 429.
These Mustang faithful began showing up by Thursday morning, when they should have been at work or in school. (Yes, there are a number of young owners, too.) They came from as far away as Australia, Norway, and Holland, the latter of which Team Mustang Center member Nico Dendecker claims has the largest Mustang club in Europe with 600 members. TMC of Holland boasted 120 of those members in attendance in Nashville. "Yeah, it's too much," Dendecker said colloquially, after he bought a pony steering wheel and dash for his '66 289/automatic coupe for just $300, at the flea market. They would have cost ten times that much in the Netherlands, he said.
The Mustang Club of America split the parking lot into two sections, more or less appropriately. On one side were the first four bodystyles, '65-'66, '67-'68, '69-'70, and '71-'73, plus the unloved Pinto-based Mustang IIs. On the other side were the Fox-platform cars, '79-2004. Ford brought in a few other Ford models, plus two '05 coupes, a red GT and a green V-6, from the Detroit auto show. It also brought in Ford Division president Steve Lyons, '05 Mustang design chief Hau Thai-Tang, '65 Mustang designers Gale Halderman, Joe Oros, and the car's father, Dr. Don Frey. And it brought two Mustang gods, funny car pilot John Force and Carroll Shelby. We suspect that by the end of the first day, there wasn't a Mustang on the Superspeedway grounds that didn't have Ol' Shel's signature on its dash or under its hood.
Some are box-stock, while many have aftermarket accessories.
Good weather makes for a perfect Mustang weekend.
Under the shaker hood of a '70 Boss 302.
Mike Bazan, of Shelbyville, Kentucky (not pictured), says his Playboy Pink '66 convertible is one of a handful painted the special color for a promotion in California.
The Mustang II Ghetto. Seven of the '74-'78 models were on display by Thursday afternoon.
This '67 fastback looks stock, but has a 5.0-liter mod engine under its hood.
Jerry Titus' Trans Am coupe mixes in with stock '67s and '68s.
Vinny Lyons, of Rye, New York, has one of the 50 '68 Cobra Jets built for Superstock homologation. Bought new for $3605, he says, "I'm not bragging...I just turned down $60,000 for the car."
This '67 GT is the closest we saw to the '68 Bullitt car.
Fox-platform cars, '79 and newer, are at Nashville in force, but they lack the panache of the earlier cars.
Late-model Bullit Mustangs (and like-equipped GTs) fill their own row.
Will these be collectible when the '05 hits showrooms?
Mustang, Canadian-style.
---
Stacy94PGT
My first car was a 67 Mustang Coupe, 2nd one was a 67 Cougar XR-7, 3rd one was a 66 Mustang Coupe. Why did I get rid of these cars for ? I know why, because I'm stupid, stupid, stupid.
My next Ford.....
Currently Active Users Viewing This Thread: 1

(0 members and 1 guests)
Posting Rules

You may not post new threads

You may not post replies

You may not post attachments

You may not edit your posts

---

HTML code is Off

---