US:Ford Motor Company opens a new automotive safety facility
---
Ford Motor Company opens a new automotive safety facility
The Auto Channel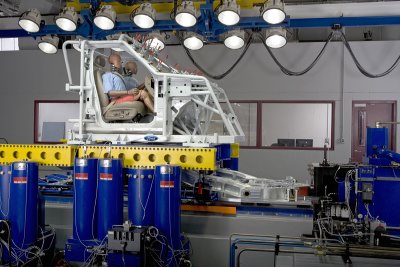 Ford Motor Company uses a velocity generator to simulate head impacts during collisions.
Cindy Bohen, Ford safety project engineer, adjusts a dummy seated in a vehicle buck secured to Ford's new state-of-the-art Servo-Hydraulic Reverse Crash Simulator in Dearborn.
DEARBORN, Mich. – In this Ford Motor Company lab, there's no such thing as a headache. Even after hitting "human" heads against several points within vehicle interiors as often as 15 times a day.
It's all done in the name of safety at Ford's new automotive safety facility, the Certification Test Laboratory, which can conduct some of the most comprehensive occupant protection crash simulation tests in the world.
By simulating head injuries during collisions, Ford is collecting important data used to make safety-related design decisions earlier in the product development process than ever before – long before costly prototype vehicles are ever built.
The Interior Head Impact laboratory is one of 12 labs in the new Ford facility, unveiled today in Dearborn .
"Ford's new safety technology provides our product creation team with data that allows us to deliver to our customers vehicles that are among the safest in the world," said Phil Martens, group vice president, Product Creation, Ford Motor Company. "Including Volvo's safety capabilities and technology, Ford Motor Company is helping to lead new advances in automotive safety."
The new facility is part of the company's current $65 million investment in advanced vehicle testing technology, aimed at delivering more vehicles, safer and of the highest quality, to customers. Other facets of the vehicle testing upgrades include:
* Volvo Arizona Proving Grounds. Ford relaunched its proving grounds in Whitman , Arizona , last year with a $10 million investment. New and advanced features include a 36-bay garage, 2.1-mile straightaway, steering and handling course, lane-change pad, 200-foot vehicle dynamics circle and mini-ride roads.
* Dearborn Proving Ground is undergoing extensive renovation for an all-new track with advanced testing technology. Details will be announced at a later date.
* Wireless engineering. Some 8,000 Ford design engineers now have walkie-talkie style mobile phones and wireless laptop computers, increasing mobility between their office and test track, which are equipped with wireless Internet connectivity.
With the new safety lab, Ford now has the capability to simulate five complex collision scenarios on one crash simulator. Ford's Servo-Hydraulic Reverse Crash Simulator can recreate the way a vehicle pitches, or tilts, forward during frontal impact. Other important tests include frontal impact without pitching, destructive and non-destructive side impact and rear impact simulations. Taken together, these tests provide more comprehensive collision data, faster, resulting in safer vehicles for customers.
"Ford Motor Company's investment in advanced safety technologies has resulted in some of the safest vehicles in the world," said Sue Cischke, vice president, Environment and Safety Engineering, Ford Motor Company. "Our vehicles have earned more NHTSA five-star frontal crash test ratings and more IIHS frontal offset crash test Best Picks than any other manufacturer."
Another important test conducted at the new facility is the Occupant Out-of-Position test. This test provides data used to design air bags and safety belts that help prevent injuries to occupants of all sizes – including children – in a variety of collisions. The 2006 Ford Explorer, for example, has adaptive air bags, which uses inputs from various vehicle sensors to alter air bag deployment depending on the position and size of the occupant.
Together with its operations around the world, Ford has four full-vehicle crash facilities and seven collision simulators testing full-restraint systems in North America , Europe and Japan .
When it opened in 2000, Volvo Cars' new safety laboratory created a new benchmark in safety testing. The crash lab in Gothenburg , Sweden , gives Volvo Cars the ability to recreate a wide range of real-world collisions, including impacts between two moving vehicles of varying weights and under severe conditions. Complex crash tests are possible through a unique test-track design. One track is stationary and one is moveable. The facility was used in the development of Volvo Cars' leading products, including the XC90.
Ford Motor Company, a global automotive industry leader based in Dearborn , Michigan , manufactures and distributes automobiles in 200 markets across six continents. With more than 324,000 employees worldwide, the company's core and affiliated automotive brands include Aston Martin, Ford, Jaguar, Land Rover, Lincoln , Mazda, Mercury and Volvo. Its automotive-related services include Ford Motor Credit Company and The Hertz Corporation.
---
Stacy94PGT
My first car was a 67 Mustang Coupe, 2nd one was a 67 Cougar XR-7, 3rd one was a 66 Mustang Coupe. Why did I get rid of these cars for ? I know why, because I'm stupid, stupid, stupid.
My next Ford.....
Currently Active Users Viewing This Thread: 1

(0 members and 1 guests)
Posting Rules

You may not post new threads

You may not post replies

You may not post attachments

You may not edit your posts

---

HTML code is Off

---