Registered User
Join Date: Jul 2010
Posts: 2
04 Check engine light
---
I have an 04 with just over 12,000 mile on it. I am getting the following codes: P0053, P0059, P2195 and P2197. The first 2 have to do with O2 sensor heater resistance and the other 2 say bank 1 and 2 are stuck lean. What could be causing this? Thanks for your help.
Re: 04 Check engine light
---
P0053- HO2S Heater Resistance Bank 1 Sensor 1
P0059- HO2S Heater Resistance Bank 2 Sensor 1
P2195- Lack of HO2S 1/1 Switch, Sensor Indicates Lean
P2197- Lack of HO2S 2/1 Switch, Sensor Indicates Lean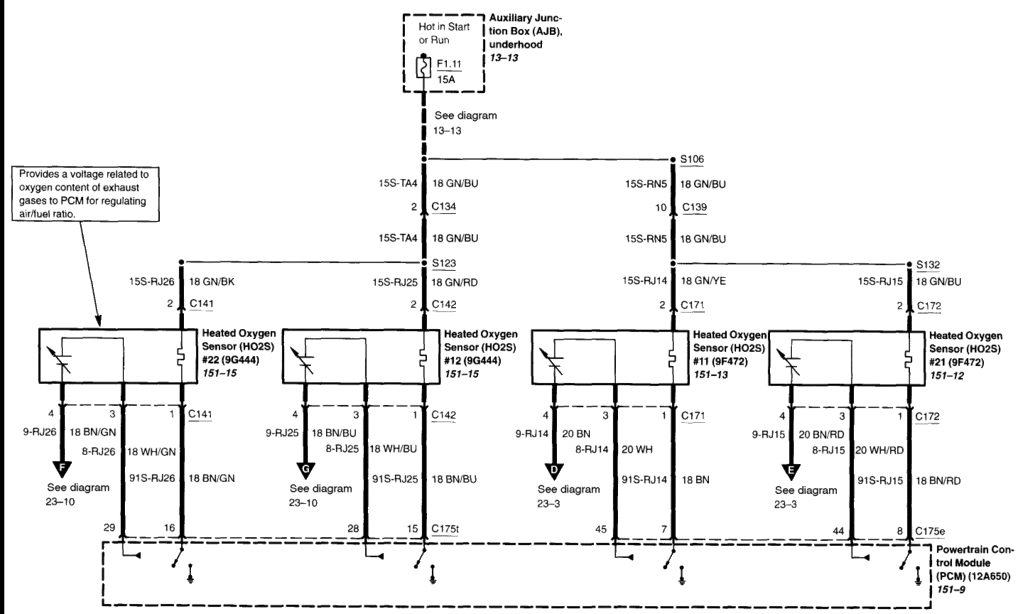 Usually for a Lean code, you check for a vacuum leak, check all vacuum line connections. However, where you have O2 sensor heater failure codes the sensors aren't heating up correctly to accurately read Oxygen content in the exhaust before the cats. You need to check the power to both Upstream O2 Sensors since heater codes set for both of them, they share a couple splices on their feed circuits, and if there is a broken splice these codes will set. disconnect the sensors and turn the key on. Check for power on both sesnor's heater circuits. If neither have power then there is an issue with Splice 106 or Splice 132. I doubt that both PCM control circuits for the Upstream O2 heaters would be bad, so if there is power at the sensors with the key on then you most likely need both Upstream O2 Sensors
---
Master ASE Certified L1 Chrysler Technician- still a Ford fan at heart.
1964 Thunderbird Hardtop- Chantily Beige- 390 FE 4V V8-Uncle's Car
1966 Thunderbird Convertible- Red- 390 FE 4V V8- Uncle's other car- waiting for paint and body work!!!
Registered User
Join Date: Jul 2010
Posts: 2
Re: 04 Check engine light
---
Thanks for the help.
Currently Active Users Viewing This Thread: 1

(0 members and 1 guests)
Posting Rules

You may not post new threads

You may not post replies

You may not post attachments

You may not edit your posts

---

HTML code is Off

---