Registered User
Join Date: Mar 2009
Location: Montana
Posts: 6
Custom Sirus Antenna Install
---
Hello All!
I need some help and hope someone out there can answer some of my questions. First, I own a 2004 Chevy Colorado (I hope no one flames me for this
), and I am trying to do a custom XM / Sirius antenna install.
The other day I saw a Mercury Sable in a parking lot and noticed its Sirius antenna. It was then I knew - that was the antenna for my customization! Very good looking antenna
.
So I went the the Ford/Lincoln/Mercury dealership and spent some time talking to a couple of the parts guys and ended up buying the antenna and the receiver/bracket for the underside.
My questions:
1) Does anyone have a picture(s) of how these antennas are mounted to the car?
- I assume that I cut a rectangular hole - but I notice that you have to be REAL careful not to cut it too big as the bracket from underneath that probably fastens it to the sheet metal around the perimeter doesn't span out very far. Is this how it is fastened or am I missing a part?
If you look at the following picture, it seems that the gap is awfully big - much thicker than the sheet metal on the roof. Am I missing a shim or something?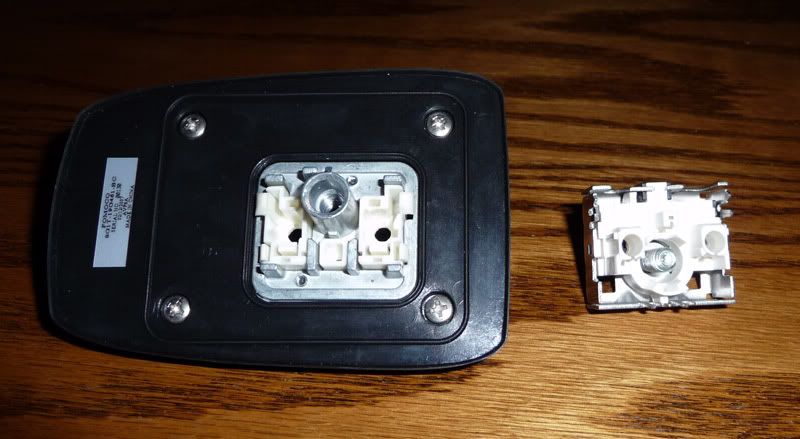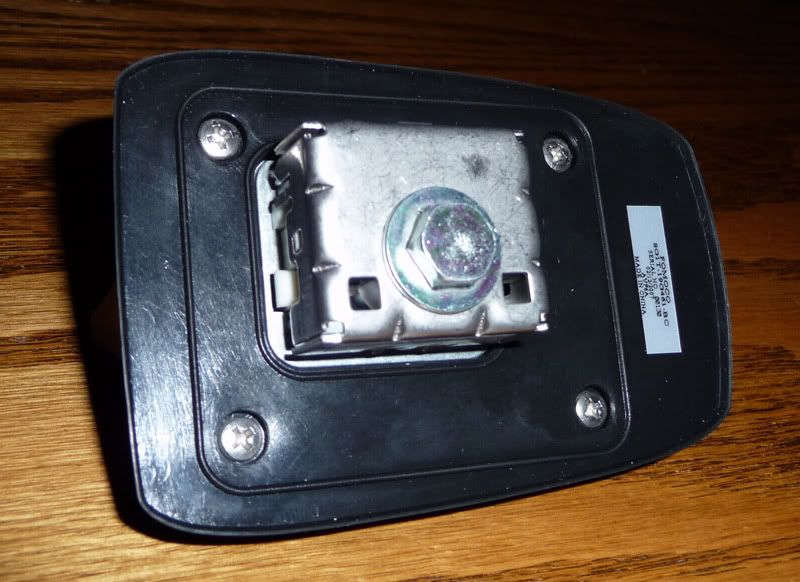 2) What are the parts I need to fill in my antenna?
I need the internal antenna circuit board as well as the wire(s?) that feed down or adapt to the standard mini SMB cable connection.
It seems that the Sirius and XM antennas are one in the same - I have people telling me that I can plug the Sirius antenna into my XM receiver and it works. So if I could just order the internal connections and any outer connections to adapt it, then I would rather do so.
Otherwise I am going to cannibalize my existing GM XM antenna board, take out the white connectors on the Sable antenna, and feed the cabling straight through.
Any help, suggestions, pictures, or direction is welcome. If I saw some pictures (if someone happened to have taken some in the past) it may help me connect the diagram I saw on the parts guy's computer to what I need (since both the parts guys had no idea what I needed!).
Thanks for reading this!
Rob
Registered User
Join Date: Mar 2009
Location: Montana
Posts: 6
Re: Custom Sirus Antenna Install
---
Sorry! I misspelled "Sirius" in the thread title. DOH!!!
Registered User
Join Date: Mar 2009
Location: Montana
Posts: 6
Re: Custom Sirus Antenna Install
---
To quote Ben Stein: "Anyone? Anyone?"

Well, it may be time to hack and slash. I'll glue that thing on if I have to.
Registered User
Join Date: May 2009
Location: Valenica, CA 91355
Posts: 4
Re: Custom Sirus Antenna Install
---
hopefully you DID NOT hack and slash open the roof line of the vehicle to mount this thing.
did the dealership you bought this 'antenna' from claim that it is an actual OEM SAT antenna?
i have installed personally many OEM roof mount SAT antenna on vehicles of all types, from trucks and cars to motorhome fiberglass shells. and have never seen one like this, least of which one that is in 2parts! and one missing the SAT lead coax!

in fact, if you went to a Ford dealership, i'm shocked you didnt get your hands on one of the easiest to install OEM SAT Sirius antenna, manufactured for the Ford Mustang or Ford Edge. which is a single piece antenna, with a 12inch coax pigtail lead, and requires a single 3/4inch hole to be made in the roofline for the bolt shaft on the bottom of the antenna, and includes the mounting nut.
this particular antenna is a Sirius antenna, black in color, but can be adapted to either a Sirius or XM receiver.

if you prefer a color-matched OEM SAT antenna, the OEM XM Honda/Acura line of antenna come in 20 different colors.

for your particular antenna, i dont know what to say, hopefully you didnt pay too much for it, because it seems to me to be missing a necessary coax termination lead, which i would assume is an additional cost, and another headache in the process.

i dont have a picture to post of it, but i do have a Ford Edge Sirius antenna in my possession; mounted this particular type of antenna several times, because of its ease of installation, however, the biggest hassle with doing an oem antenna install, is the removing of the interior roofline fabric. easiest types are in trucks, where the raw underbelly of the roofline can be accessed via the interior dome light housing.

but feel free to email me at the address below in my signature if i can offer any help. brian-
Registered User
Join Date: Mar 2009
Location: Montana
Posts: 6
Re: Custom Sirus Antenna Install
---
Brain! Thanks for the reply! Although I have been under the knife lately, I haven't subjected the truck to its surgery yet. :~D

To be honest with you, the people helping me at the parts counter were pretty much clueless. They had never ordered an antenna like the one I got from them and they didn't even know what I would need in order to complete the assembly as in a Sable.

The good thing is that I already have a 3/4" hole drilled into the roof as that is the way that the GM antenna's are installed too. And I agree about the roof liner thing - I have had it down twice and it is a pain in the neck since so many other things have to be removed.

But as a development, I ordered a refurbished GPS unit last week. I am going to try to hook it up to my existing GM roof antenna (as it has an XM, GPS, and OnStar antenna's within). So if that works and I really wanted to change the whole assembly out, I would have to have something that contains both the XM and GPS.

At this point, it may be best to leave it as it is. The existing GM fin antenna looks a little crooked (for reasons described in my original post), but doesn't look bad from afar - and it contains the necissary internal pieces I need.

But another development - I noticed that the new Pontiac G8's now have a fin antenna (although a bit exaggerated) and it is located on the center-front of the roofline. This means that it doesn't have the curvature slope to the left so I wouldn't have to compensate that offset along with a slight right curvature (I hope you follow what I'm saying - its hard to type in a description like that without illustrations).

So I may just pick up a G8 antenna sometime...

But before, I was seriously thinking about hacking the internal antenna circuit board into pieces and laying them into that Sable antenna. It would have been a nice custom look. Its too bad that the way it mounts is so radically different.

Thanks for your insite! Its greatly appeciated. :~]
Registered User
Join Date: May 2009
Location: Valenica, CA 91355
Posts: 4
Re: Custom Sirus Antenna Install
---
oh, you dont NEED an antenna, you already have an oem gm xm/gps/onstar antenna that is fully functional?
so you can adapt that xm sat antenna lead to your sirius receiver, so mounting another antenna isnt at all necessary.
also, if you plan on using a gps unit for navigation, and you have the 3combo antenna as you say, then even more of a reason to stick with the OEM roof mount antenna.
your gps lead from the antenna will be plugged into the navigation cd rom drive, and the sat lead is plugged into the oem xm sat tuner. you wont have to access the raw antenna leads at the base of the antenna unless you have none of these elements in the vehicle as is.
if you dont have the nav rom and xm sat tuner, but have the proper sat/gps antenna, then you'll need to run leads from the antenna to your external gear in the truck. these would be simple coax extensions at your needed length.
but i say leave the OEM alone and Adapt to IT!
also, here's the sirius antenna i was talking about: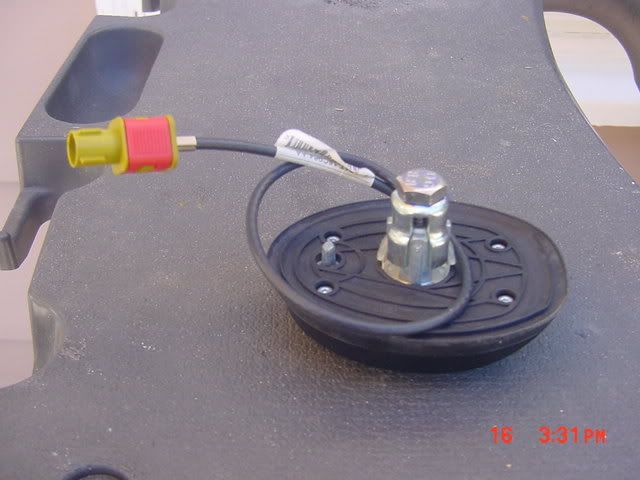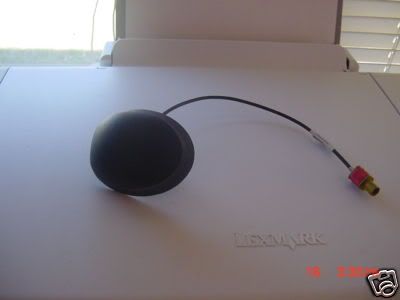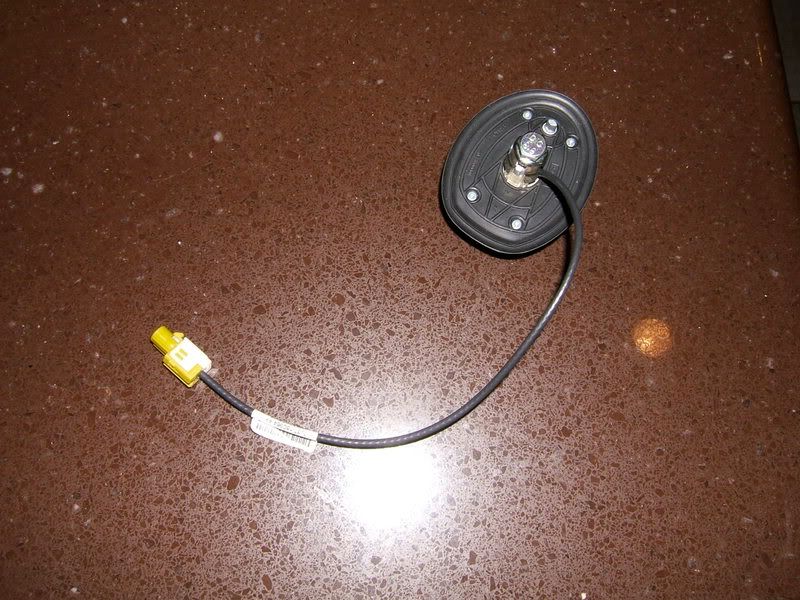 Registered User
Join Date: Mar 2009
Location: Montana
Posts: 6
Re: Custom Sirus Antenna Install
---
Hi Brian,
That's a great looking antenna! Had I been able to find something like that originally, that's definitely the way I would have gone.
But I found this antenna for $6.00 on e-bay which came off a Cadillac - so I drilled a couple of holes and wired it up:
It worked ok, but then a few months later I found a fin antenna like you see on the Silverado's and Suburbans. So I replaced the antenna above with it. I didn't notice until the end of the install that it was supposed to fit on the other side of the cab as the base had a certain tilt for compensation. So I had to shim it up as best I could and try to mask the gap. It doesn't look bad from afar (as seen below), but up close it doesn't look so good.
This is the only picture I have of it (please no one shoot me for posting a Chevy on a Ford site!
):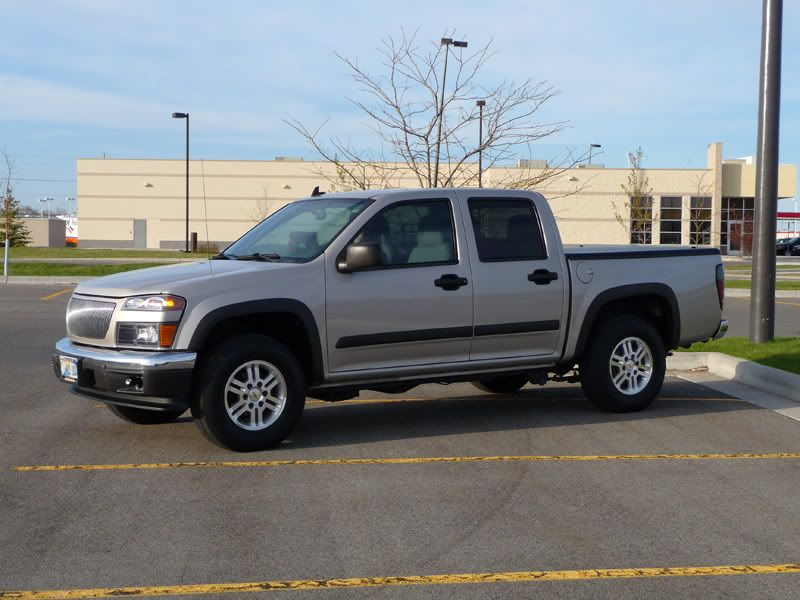 That's when I started thinking about the Sable antenna and though it would look absolutely perfect and be able to fit both the GPS and XM antenna's within in it. It would look killer, but it seems it just a bit too far away from my customization skills.
I had a custom cable fabricated (mini SMB) to terminate the XM from the factory lead to the aftermarket unit and I assume that it will be the exact same for the GPS. I will have to examine the GPS when I get it in to confirm.
Customization rocks
- I just wish I was better at it!
Thanks again for your help Brian. I will try out the GPS experiment and post back my results.
Registered User
Join Date: May 2009
Location: Valenica, CA 91355
Posts: 4
Re: Custom Sirus Antenna Install
---
it looks fantastic!
did you use a step drillbit or a cut-hole saw for the roof penetration? the holes are real clean.
but the gps antenna lead will be a different configuration, in that a different type of connector going INTO the NAV ROM disk drive, or depending on what type of GPS NAV unit you are installing.

BTW- $6! on eBay for that first SAT antenna! thats a deal!
Registered User
Join Date: Mar 2009
Location: Montana
Posts: 6
Re: Custom Sirus Antenna Install
---
Thanks - but I'm glad you can't see a closeup of the fin antenna.
(The first antenna off the Cadillac cost $6, the fin one I replaced it with cost almost $40 off e-bay as well)
For the large hole, I used a large drill bit (can't remember the size), then used my dremmel kit with the sanding bits/drums to widen it out.
But wow, I'll tell you what, if I wasn't messing around with GPS right now, I would go for that style of antenna you have in your pictures. That would be pretty neat color-matched.
Registered User
Join Date: May 2009
Location: Valenica, CA 91355
Posts: 4
Re: Custom Sirus Antenna Install
---
Currently Active Users Viewing This Thread: 1

(0 members and 1 guests)
Posting Rules

You may not post new threads

You may not post replies

You may not post attachments

You may not edit your posts

---

HTML code is Off

---