I Love It Loud!!!
Join Date: Feb 2003
Location: Melbourne
Posts: 30
Labeled CD's in a Sony tuner
---
Ive had this Sony cd player in my car for ages now, and it hasn't had any trouble at all. (I'm the third owner of this thing too!) so i'm impressed at how good it's going for a sony product.
ANywho, i got these "CD labels" as a gift (The kind you can print on) but never had the guts to use them until a mate showed me how good they looked on your (copied) cd's in the car. So I made a few test ones and tried them out - didn't seem to be a problem...
I've labeled ALL my cd's now, so they look like originals but now i think that the player has trouble reading them because of the dry-matt surface on the top of the discs. When I skip a track, i can hear the disc working really hard and then it just plays the middle bit of the previous song. Try again and it does more freaky things, and at worst, it spits the cd out with an error message :(
Do you think it could just be the SONY players that can't handle CD labels?... my friends non-Sony plays them perfectly. Has anyone else had this problem with CD Lables and Sony cd players in their car?
Registered User
Join Date: Mar 2002
Location: Qld
Age: 63
Posts: 58
Sound like your player is getting near the end of it's life.A printed label would have no effect on the players ability to read a cd.
Station-rat
I Love It Loud!!!
Join Date: Feb 2003
Location: Melbourne
Posts: 30
Hmmm, your probably right. I couldnt see how a label would really affect the player from reading the cd... Then again, it still plays smooth non-labeled cd's perfectly.

Hmmm, I'm not sure about how the parts inside a Sony car cd player would work, do they spin from the top or the bottom? (they'd obviously read from the bottom). If it spins from the top, then the actual label is rubbing against a top surface, making the head slow down and causing the playback error... Sony is well known for their "cheap-ass" shortcuts in the making of electrical goods too, so maby its something to do with that?

Another wierd thing: After playing around with it, i noticed that (For example's sake) i skip to track 3 but it stuffs up and goes to the middle of track 2. If i hold down on fastforward and play all of track 2 fast and then let it play normal speed towards the end of track 2 - it goes to track 3 without any problems. funny stuff?

Anyway, its had a good run i guess. If all else fails, I'll take to it with a hammer and really see how this player works inside ;-)
deck could be near the end of its life? If so i recommend pioneer :)

are the labels being put on in exactly the middle of the cd's? maybe its a bit off balance when its spinning?
---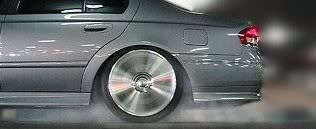 Xtreme 275.6 rwkw, 12.93 sec quater, Phoon CAI, Siemens Injectors, StealthFX BOV with
XBOX
entertainment.
-= Member In Training =-
Join Date: Apr 2003
Location: Adelaide, SA
Posts: 29
Just for interest's sake, in the manual to my new'ish sony head unit, it specifically states NOT to use cd's that have labels stuck to them ...
As the CD spins at different rotational speeds as you progress to the last track on the cd (I think it spins slower the further out on the CD that the track is) then perhaps at around track 2 / 3 on that particular cd, the label is making the CD unbalanced at that particular speed, and the drive motor is unable to keep up the proper rotation speed due to the vibrations. But, skipping through to the middle of a track and then allowing it to continue onto track three works because you have 'skipped over' the section that is most vulnerable to the vibrations.
Huh, even I can't understand what I just wrote ...
P'haps the sony's drive motor's are unable to handle these vibrations as well as other manufacturers motor's ..
just my 2c...
I Love It Loud!!!
Join Date: Feb 2003
Location: Melbourne
Posts: 30
Hmm, you guys may be right. Although i'm putting the labels on straight in the middle, there is no way that I would be getting them on dead-perfect, so maybe they ARE off balance to some degree? I never thought of the balance factor....

Thanks for that bit of info from the Sony manual Shane, i never had a manual with my deck, so maby mine actually said the same thing about labels. And the explanation you gave about rotation speed/skipping tracks/vibration DOES makes sense ;-)

Thanks guys.

Ha, i just tested a few of those problem cds again this morning and now they seem to be playing and skipping tracks perfectly - i don't know what's going on here - by mid afternoon they'll probably start stuffing around again. Ah well...
Only one way to tell I suppose. Try take off one of the labels (making sure theres no crap left on top of the cd... glue..etc) and then try the same CD thats giving you the problems.

If it still does it, theres a good chance the decks on the way out and may not like reading copied cd's any more (if so try an original cd). My playstation was like that, and i had to open it up and adjust the laser for it to work again.. in the case of the deck, probably best thing is to try sell it and just tell the buyer that it wont play copied cd's..etc
---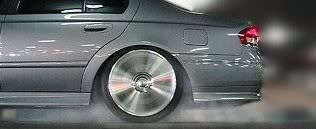 Xtreme 275.6 rwkw, 12.93 sec quater, Phoon CAI, Siemens Injectors, StealthFX BOV with
XBOX
entertainment.
I Love It Loud!!!
Join Date: Feb 2003
Location: Melbourne
Posts: 30
Ha ha, yeah, my old playstation did dodgy stuff like that back in the day :-p Yet another product grudge added to the list of Sony.
Anyway, most of these cd's that i labeled were in my car for at least a year without labels and they were cool, until now... I've tried taking a label off, but it totally kills the cd, they're stuck on real tight. I think I'd better start looking for a new deck,... Pioneer eh? ;-)
Bloke
Join Date: Jan 2003
Location: Altona- Vic
Posts: 4
Whilst the placement of the label on the CD needs to be in the exact middle, a slight variation from that in an audio CD player _shouldn't_ be a big issue. In a PC that spins a disc at 52 times the'normal' speed, this is definately an issue, but not so much for regular audio CD's.

Perhaps something to be aware of is if the label goes all the way to the very inside of the disc. This may cause problems with the way the player grabs the CD and perhaps create some issues. Better labels leave about 10mm between the edge of the label and the inside of the disc.

Another thing to keep in mind is the speed at which you burn the CD. Older players (of which yours might be considering two previous owners) have trouble reading CDR's and from experience I've noticed that some CD's burnt above about 8 speed aren't always readable and cause problems such as those you mentioned in your original post.

If this problem comes back, rip another copy of one of the effected discs, perhaps at 4 or 8 speed, label it, and see how you go.

And finally, as you've discovered, forget about label removal :-]

BigEv
Registered User
Join Date: Mar 2002
Location: Qld
Age: 63
Posts: 58
Are you using the tool to linup the labels when you apply them?
Station-rat
Currently Active Users Viewing This Thread: 1

(0 members and 1 guests)
Similar Threads
Thread
Thread Starter
Forum
Replies
Last Post
tuner problem

xd2ed

Audio And Security

4

06-17-03

05:55 AM

Sony stereo & Ford remote

Kwozzii

Ford Contour | Ford Mondeo | Mercury Mystique | Ford Telstar

2

03-16-03

02:27 PM

EECV Tuner Module

Delta

General Tech

1

09-27-01

06:27 AM
Posting Rules

You may not post new threads

You may not post replies

You may not post attachments

You may not edit your posts

---

HTML code is Off

---