Bad idle after starting, need help.
---
Ok well heres whats been happening for the past month or so in my XF. The engines a recon, 4.1 carby, and its done less than 25,000 K's roughly.
It seems to take 2 tries to start the thing lately. Like if it starts the first time, it just dies as if theres no fuel getting to it. Once it starts the second time, it idles real rough unless I give it a few big revs. This seems to be the only thing to stop if from idling rough and shaking like nuts.
Now it only does this when its been left overnight.. and if i start the car up a second time in the same day, it will be normal and it wont happen.
Also once I start it in the morning, and take off down my street some black smoke comes outa the exhaust (for like 5 seconds). But if I drive off fairly fast then less smoke will come out (maybe only 2 seconds), and then it wont do it again untill the next morning. If i dont take off fast, then the car will continue driving roughly with smoke coming out (usually around first gear only) untill i floor it a bit and then its fine after that.
It seems as if theres maybe something in the fuel system every morning, and its blocking something, and unless it gets a few big revs it wont clear up... i dunno??
Any suggestions people? its
really
starting to shit me off :(
EDIT: Also I just noticed, that most of the rocker cover bolts are hand tight.. hmm that aint normal... :( How tight should I put them on?
---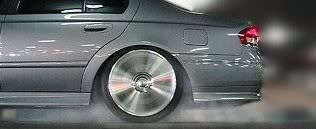 Xtreme 275.6 rwkw, 12.93 sec quater, Phoon CAI, Siemens Injectors, StealthFX BOV with
XBOX
entertainment.
Yeah, definitely sounds like choke considering the problem goes away after you rev it. Automatic chokes can be an absolute pain in the arse, I had one on my Sigma that never ever worked properly. You can get a conversion kit to make it a manual choke. Going back to basics is sometimes the best.

Another thing might be to get the carby overhauled. I had this done to the Sigma and the thing certainly got up and boogied after that I'll give you the tip. Costs around $200-250 I think (that was for a Subaru Leone around 2 years ago, the Sigma was done back in '93).
---
If it ain't broke don't fix it.
Australian Falcon Member
Join Date: Jun 2001
Location: Perth, WA
Age: 35
Posts: 663
Check your temperature sensors too, if its unleaded, it'll have the computer controlled ignition.. if one of these works loose, it'll be a pain to start until its warmed up...
Registered User
Join Date: May 2002
Location: Melbourne, Australia
Age: 39
Posts: 25
Crappy start in morning
---
Oh My God !
This is the same problem I have been having in my 1990 EA Falcon. I have replaced the temperature sensor but still no luck. My next step is to check the Oxygen sensor in the back of the engine.
This is getting done on Saturday (next service). I'll keep you posted to see if this fixes the problem.
The reason I think it's the oxy sensor is that if the morning is not frosty but rather mild there is no problem.

Thanks

Scotty
NX1701 Welcome,

You sound a bit like I used to be - constantly taking the car to get something done because I thought it would fix the problem but it doesn't. Very fast way to spend lots of money. :-(

I offer this little piece of advice to anyone starting out on the road to fixing up a car - what I do now is take it to someone and say "This is my problem - fix it". I tell them to work out what the problem is and then tell me before they do anything about it. This puts the pressure on them to fix it rather than just charge me for something they know is not the problem. Quite often we tend to think we know what the problem is but cars are very complex these days.

Just my 2c.
---
If it ain't broke don't fix it.
Registered User
Join Date: Sep 2001
Location: Perth
Posts: 1,386
My XF kind of does the same thing, thought it was the engine mounts. How nieve!! But with mine, if you don't succesfully start it first pop, it takes a good 3-4 turns to get it started. And then it runs real rough. But if i switch it of, leave it for a min, switch it back on it runs nice and smooth. Pretty weird but hey, it works.

Maybe you should just try and get a good tune up done to your carby and see how that goes. Try a carbon clean maybe? Has anyone had this done aand reccomend it?

Cheers
Matt
---
EL driver...
my XF was like that for ages um didnt really do anything gave it an absolute caning for a week now it doesnt do it

starts straight away runs great i allways warm it up before doing anything
Registered User
Join Date: Jun 2002
Posts: 146
Is your XF running on Lead Replacement Petrol. If so it is possible that this may contribute to your problem. It is a fact that this fuel does not ignite or burn as well as the old super (leaded) fuel. I dont think the fuel is the complete cause of your problems but if you have any carby, choke or electrical problems the LRP will definately compund the problem.

Have you checked your ignition timing? It may need adjusting after 25000Km. Also check the condition of your plugs, if they appear to be fouling up then try using hotter plugs.

You can check your auto choke operation by removing air cleaner top to see if choke butterfly is closed. The chock can be adjusted by turning the magneto (green plastic cover) at the rear of the carby.
Thanks for the input fellas.
To answer some questions.. yes its unleaded.
NX1701, let us know how it goes after saturday :)
xf_xr6, ive used a carby cleaner maybe 4 months ago (spray). It cleans it up beautifully on the parts i could see. It didnt do a noticable difference to my car, but on my mates daihatsu charade it bloody worked brilliant!
V8Uteman351, it always gets a caining.. so that rules out that posibility
XAXEXF, i re-did the timing a while back, and i set it to about 12 by memory... coz the book said 10+/- 2... and ive been told the car wil be a bit faster if its slightly advanced.
I'll try looking at the auto choke tomorrow.
Just a quick question.. when the cars fully cold, how closed should the butterfly be?
---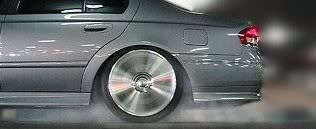 Xtreme 275.6 rwkw, 12.93 sec quater, Phoon CAI, Siemens Injectors, StealthFX BOV with
XBOX
entertainment.
Currently Active Users Viewing This Thread: 1

(0 members and 1 guests)
Posting Rules

You may not post new threads

You may not post replies

You may not post attachments

You may not edit your posts

---

HTML code is Off

---