No More Shaggin Wagon
Join Date: Jun 2002
Location: Port Augusta. SA
Age: 32
Posts: 286
Fuel Filter XF
---
Just a Quickie.
Where abouts is the fuel filter on a 1985 XF Falcon Wagon.
My cars been a bit wierd lately and I think its running out
of the good stuff sometimes. So its either that or the fuel pump
or something.
Thanks
---
1996 EF2 XR6 Manual
it's on the passenger side right near the firewall, at the bottom
If its a carby then it may not have one. they were not fitted with fuel filters from the factory back then although most have since had them fitted
Registered User
Join Date: Jun 2002
Posts: 146
The XE does not have a fuel filter but I think all XF's do. Should be located on passanger side with rubber hose between the fuel supply line and fuel pump.
My carby September '86 XF sedan didnt have a fuel filter at all.. and as a result I got shite stuck in the carby on several occasions.

Problem solved by purchasing an inline fuel filter and simply inserting it into the line around the area where it comes out infront of the firewall, and before it goes into the fuel pump.
---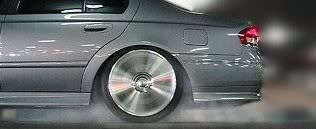 Xtreme 275.6 rwkw, 12.93 sec quater, Phoon CAI, Siemens Injectors, StealthFX BOV with
XBOX
entertainment.
Registered User
Join Date: Sep 2001
Location: Perth
Posts: 1,386
I thought that it was inside the actual carb. I know mine is on my 87 s pac. You need to remove a screw and then its behind it. If its like mine, then it would be a small piece of crap, which makes you wonder how it can last longer than a week!
---
EL driver...
No More Shaggin Wagon
Join Date: Jun 2002
Location: Port Augusta. SA
Age: 32
Posts: 286
Thanks guys.
I intend to pop the hood tomorrow and find the little bugger.
I'll tell you what i find...or don't
---
1996 EF2 XR6 Manual
The screen in the carby inlet is just a final resort its not a proper fuel filter. If you dont have one fitted get a inline as XF FALCON said will cost you about $6.00 ryco pn/Z198
ford pn/AFG33A
Registered User
Join Date: Jun 2003
Location: Melbourne
Posts: 140
Yeah, Carby XE's & XF's have a baby filter behind a plug at the front of the weber. The plug/bolt is right in between the Fuel return line and the solenoid, couple of quick turns and it's off & the filter pulls straight out. I agree with futura 97, it's useless, but I guess it helps in to have a fresh one in as they get clogged. Whack a ryco in the line and your laughing.
Currently Active Users Viewing This Thread: 1

(0 members and 1 guests)
Posting Rules

You may not post new threads

You may not post replies

You may not post attachments

You may not edit your posts

---

HTML code is Off

---