XF efi...what should i do
---
Im pretty new to this thread so hey coupla questions
Ive got a few ideas about my falcoon...
I just want a good note and a bit better performance for under $1000.
1. 2.5 inch exhaust and ..... brand extractors
How much new? How much second hand?
Does that void my insurance?
2. Lowering springs...
How much new and fitted? what brand, how low (driven everyday)
3. finally, respray (outta the question kinda)... How much for same colour? how bout diff colour...and whatta reckon of that blueprint colour on an XF?
thanks heaps
Registered User
Join Date: Sep 2001
Location: Perth
Posts: 1,386
1. I got priced a set of extractors and 2.5" exhaust for my car(xf) which was only $500. My mate had a 2.5" on his xf and it sounded mad!!

2. I've got lovells in mine at the moment and its pretty sweet. not as low as i would have wanted, but still gives a nice look to it. People say you should change your shocks as well, I guess its up to you really. All up for the springs and fitting you will probably look at around $300ish. The back is a piece o piss to do, so you can save yourself money there if you want.

Good luck mate
---
EL driver...
gday subsbligh35

1. I've got myself a Lukey system (2.5" stainless steel exhaust, Lukey muffler, and Lukey Extractors) and I rekon it sounds good. Goes much better, and cost me $500 including fitting.
About the insurance, im not really sure. Maybe someone ese will know.

2. I ended up chopping my stock springs in half, since I could not buy a set of springs low enough to satisfy me. Its pretty bouncy and im gonna have to buy some shorter shockies as they only have about 1 cm of movement in them before they bottom out.
The other set of proper Lovell low springs which I bought set me back about $120 a pair (not including fitting). They are a nice ride height, and they are just low enough for every day driving.. it doesnt scrape much and the comfort is better than the chopped ones.
Its also good to check the shockies condition at the same time. After 14 years the shockies arent in the best condition, and a pair is under $100.
With a workshop manual and a mate, you should be able to change the rear stuff no problems. The fronts a bit trickier, but shouldnt be a problem for someone mechanically inclined.

3. Im not real sure about the respray price. I suppose it would vary a bit? About the blueprint on the XF, ive never seen it before.. it may actually look real cool hey. When I get some spare time i'll try knock up a photoshop of it :)

Ciao.
---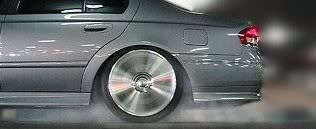 Xtreme 275.6 rwkw, 12.93 sec quater, Phoon CAI, Siemens Injectors, StealthFX BOV with
XBOX
entertainment.
Extractors
---
I installed a set on the XE EFI.
From my investigations only HM Headers make a set to suit the EFI.
The other brands appear to be only for carb versions.
I could not find anyone other than HMH who made an EFI version.

The carb version extractors do not provide enough room for the EFI airbox and this necessitates major re-work.

Go 2.5" all the way back with straight through mufflers and resonators.
---
The XR family ---->
Muzza: a XR8 AU seriesIII...bog standard :)
TBH: (the better half) drives an ED XR6 wagon (Mock Dev 4 160rwkw, JMM extractors, 4 electric windows, Ghia door panels in XR trim, rear head & arm rests in XR trim, Momo s/wheel with Cruise, EL thermos, EBGT wheels, etc) things to come soon = EECV upgrade.
Currently Active Users Viewing This Thread: 1

(0 members and 1 guests)
Posting Rules

You may not post new threads

You may not post replies

You may not post attachments

You may not edit your posts

---

HTML code is Off

---