different
---
Some of you may have seen this allready but I just found it......Looks good, different , awsome?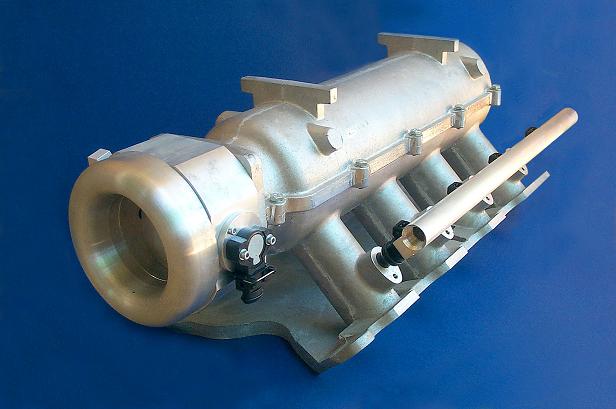 Re: different
---
Be ok for hp applications but not for low down torque
You would think that the rear runners would be down on air..?
---
FORD.... "POWER TO THE PEOPLE"...

Member of the "TKTDSGM " Group..
Re: different
---
How about this one???
Registered User
Join Date: Aug 2003
Location: perth
Posts: 661
Re: different
---
MMmmm,I gotta have me one of them.Who makes this setup? Looks like v8 supercar stuff to me.This would look awesome on a streetcar.
Re: different
---
More info... looks great and $$$$$
Registered User
Join Date: Jul 2003
Location: Melbourne
Age: 31
Posts: 129
Re: different
---
Yeah, where can i buy some of this stuff from? lol
Re: different
---
Its Pantera stuff from the US. Very Bloody pricey at nearly $7000US (and they say "low deck windsor", i thought panteras had clevos?)... but from the looks of it its bolted up from 3 bits of plate (head plates plus valley plate) and a bunch of castings... anyone interested in getting something like these made locally? What size? 2V?
Prolly cost $1200 in throttle bodies/trumpets/linkage arms, plus a grand in castings and machining? maybe $2500Aus?
http://www.pim.net/newprod601.htm
Re: different
---
id like to see you do one for 2500 aus GammaBoy... I think we will just have to stick with our carbies for a while yet...
---
HOLDEN
Holes
Oil
Leaks
Dents and;
Engine
Noise
FOR SALE: 1980 XD, Recently rebuilt 9" disc diff, with 3.25 gears, toploader with hurst shifter kit, 302C, DBA slotted and cross driled rotors, Fairmont interior with modified centre console, jellybean mags, reasonably good condition, driveline will handle 400+rwhp PM FOR PICS asking $3500
Re: different
---
Hmmm having thought about it, $2500 might be a lil optimistic, but $3000 should be doable...
Currently Active Users Viewing This Thread: 1

(0 members and 1 guests)
Posting Rules

You may not post new threads

You may not post replies

You may not post attachments

You may not edit your posts

---

HTML code is Off

---