Registered User
Join Date: Jul 2005
Posts: 17
289 rods
---
Hello... I'm planning a 289 engine build and was hoping someone could recommend a source of good quality rods... I don't really want to use 302 rods.
Also, if anyone has a spare 289 lying around... see my ad in the wanted section.
Re: 289 rods
---
How hard do you plan to run this engine. If you have a STD windsor setup just get them crack tested and resized fit good quality rod bolts and they should be fine for 7000rpm (without forced induction or nitrous). I have STD rods in my engine with nothing more than the above and I regularly push 7500rpm though I do admit i am playing with fire there.
---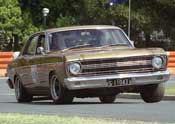 Registered User
Join Date: Jul 2005
Posts: 17
Re: 289 rods
---
The engine will be in a regularly driven street-car that will see track work. If I can safely rev to 7000 with prepped factory rods I'd probably be happy with that. I want to build an engine with good mid-range and top end, not just a torquer, as it will be in a light vehicle (Datsun 240z).

My apologies if the purists consider a ford engine in a Datsun to be sacrelige.

Does anyone know where to go for 5.155" aftermarket 289 rods? Or, if there is a longer rod combo that people are aware will work, please share your info. Thanks.
Re: 289 rods
---
I know this much. A 1" piston hieght and 5.70 rods (Chev pistons and rods) fit a 302 just perfectly but I haven't found after much looking for a simple order, recieve and fit combo for a 289 you could still get the 5.70 rods get your cank machined to suit but you would have to get some custom pin hieght pistons made up. Having said that I don't mind using the shorter rods in a 289 as it allows you to get away with using a fairly healthy cam and not turning the engine into an absolute pig. I have an XR with a flat tappet cam (.495/.520, 290/295) victor Jnr 750 holley and I manage to get around 280 -290 kays out of 60ltrs of fuel and while I have no power figures currently this engine has seen 470bhp with a slightly larger cam at about 6800rpm. but the best bit is it will still pull hard beyond that.

Save your money that you intend on spending on your rods (unless you are planning uber power and engine speed) and get your block torque plate honed.
I always plan my engine builds on this formula.
1. get the very best ring seal you can afford.
2. Get as much air in and out as you can afford too.
3. Never make a mod that impoves HP but compromises reliability.
What sort of track work do you plan on doing. if your like me and going around corners fast then be prepared to spend alot of time and or money fixing oil surge problems both top and bottom end.

You will quite happily rev to 7000rpm all day providing your factory rods are in good nik. as I said get them crack tested and if you are really paranoid the get them nitrided or shot peened or crynogised or what ever. get a good balance job and stick to your 7000rpm you shouldn't have any worries.
This is what I look at when assesing peek engine speed limits.
I figure i can get away with my short bursts to 7500rpm because they are breif and average engine speed sits at around 3500 - 7000rpm so the speeds aren't constantly high. If you are planing to do a nascar race or have a 6sp close ratio box like the V8SC boys do were enigine speeds are more like 5500 - 7500rpm then you will need bigger rods.
Unfortunatly other than going for custom made parts or searching for good condition HiPo bits at swap meets and the like finding gear (or and engine for that matter) is going to be a lot to ask for. If you plan and really pushing the engine a great deal and expect to run into trouble from time to time the seriously as much as I love 289s go for a 302 parts are so much easier to come buy at much better prices.
---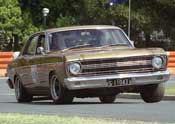 Re: 289 rods
---
I'm running the 289 rods on a 302 crank. The 30 thous oversize pistons have a shorter compression height, so I'm 0.1mm over deck. To make sure I have sufficient squish height I used monotorque gaskets. This gave me a rod ratio of 1.72.
---
Go the Brisbane Lions
Currently Active Users Viewing This Thread: 1

(0 members and 1 guests)
Posting Rules

You may not post new threads

You may not post replies

You may not post attachments

You may not edit your posts

---

HTML code is Off

---