Registered User
Join Date: Jun 2013
Location: Cincinnati
Posts: 2
New here and need some advice
---
I just recently got into classics. I have always wanted one but never got around to taking the plunge. I finally found what I though was a perfect first candidate. I bought a 1967 Cougar with a 70 302 and the original C4 trans with a 2800 stall and the original 8" rear with a low 3.xx gear. The engine is a mexican block ("hecho en mexico" stamped in valley). The heads are stamped 302 and "B" and I believe they are standard 2 bbl heads. Currently it has a 4 bbl holley 750 (way to big) on an edelbrock performer rpm intake . Cam is currently a Crane cam old school type (similar specs to comp thumpr). The valve springs are one step firmer than stock. Has factory lifters, factory rockers and factory push rods.
Before I purchased the car the P.O. rebuilt the bottom end with new piston rings, new bearings, new bolts. I am not sure if the heads were redone or not but looking in the intake ports there was definitely no work done to the ports themselves.
Now the problem. While driving, only putting 100 miles on the car after purchase, a lifter collapsed. The bottom of the lifter is destroyed and concaved from the cam lobe. I am sure the cam is done for at this point so I tore down to the motor to get the cam out.
Here is a pic of the lifter.
At this point I am looking to just get it back up and running. I didn't plan money for a performance rebuild in the first 6 months of ownership. Can I put a factory cam in and expect to get the 750 carb tuned to run? I don't really need to have the car jump off the line so if I have to roll into the throttle from a stop that is fine with me. This is never going to be a drag car (never say never) anytime soon. I want a cruiser for now.
Pics of Cougar when lifter let go and cause massive back fires.
Well, had time after work to get the cam out. I have seen wheels that are less round then the load where the lifter died. Also noticed that there was another bad lobe but the lifter was not completely dead yet. It did have some concave indent to the bottom though. All the other lifters looked like they were installed yesterday.
CAM is a Crane Fireball 294 pn 36-2583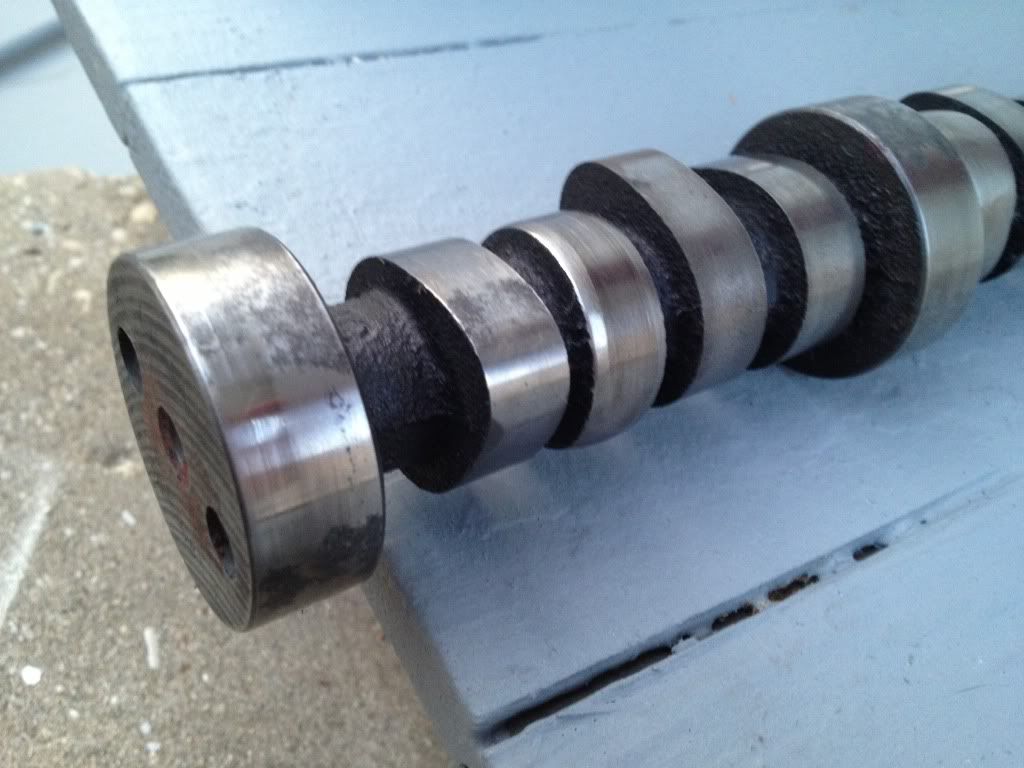 Any guesses what could have caused this?
What cam would be a good alternative to the crane I removed? It seemed to run great but I don't really have a basis since I only put about 100 miles on it.
Re: New here and need some advice
---
I can get you the spes, I think:
Wallace Racing - Camshaft Reference
Oil pressure/flow is usually the most common culprit. If you can afford it, switch over to a roller set up.
Nice car, by the way.
---
Ever notice that there's so many high performance parts available for GM products?

Did you ever think that maybe they NEED them?

Re: New here and need some advice
---
High mileage or lack of oil changes etc can all cause this. Sometimes the initial installation and breakin can play a part in this sort of wear too. High lift cams and extra strength valve springs also add to it all.
A new cam and a new set of lifters is needed and it needs to be correctly coated in the right lube for initial startup and new correct oil and filter.

Nice car though and I'm sure when all up and running correctly, you will enjoy it.
---
Lance
71 429SCJ Mustang
Registered User
Join Date: Jun 2013
Location: Cincinnati
Posts: 2
Re: New here and need some advice
---
Well, I got the engine put back together. Ordered the wrong water pump so I need to send the one I got back to summit and get a replacement. My car has a drivers inlet for the pump and I ordered a passenger inlet pump.
Currently Active Users Viewing This Thread: 1

(0 members and 1 guests)
Posting Rules

You may not post new threads

You may not post replies

You may not post attachments

You may not edit your posts

---

HTML code is Off

---