TotM: 351W Build-Up
---
This
Topic-of-the-Month
thing is something I'm gonna start up to try to bring out some of your ideas on how you'd build an engine. There are lots of guys who have the knowledge of rebuilding engines and resources to do so, but don't realize how much more performance they can get out of their Windsors because they simply haven't heard different ideas on how people would do things. So, here's the debut of the Topic-of-the-Month:
Here's what you're doing:
You're looking to build a naturally-aspirated, carbureted, 351W. Tell me how you'd build it (forged/cast; stroked/bored/stock; high compression/low compression; high-RPM runner/low-RPM puller; etc) and tell me why. Now, try to keep it reasonable. Let's try to keep the builds within budget, so that real ideas can be passed around that people can actually use when rebuilding their motors.
Remember
: I know this has the potential to turn into a big battle. We're all big boys and girls here, so let's act like it. No bashing on others for their ideas. We're here to exchange our ideas and experiences so we can all improve our mechanical intuitions and learn new theories on getting the best performance out of our Windsors.
That said, let's hear what you'd do!!
Re: TotM: 351W Build-Up
---
I'll start it off. I'm actually about to begin a 351W build-up and this is my plan. It's going into a 4x4 vehicle, so I'm aiming for low end torque. I'd be surprised if this thing ever even saw 4,000 RPMs.

Stock crank and rods- they'll hold up just fine!
New pistons- flat top design with valve reliefs
Heads- GT40 heads from a 1996 Explorer, ported and polished until I can see myself in them (maybe bigger valves, too)
Intake- Edelbrock Performer RPM
Carb- Edelbrock Performer (questionable off-road, but I have a friend who loves his in his 4x4)
I plan to spend the money and get a custom cam for my application, since I just can't settle for any that I've seen off the shelf. This entire build-up would still be under $1,500 budget, so it's very reasonable.

What would you do?
T-bird Circle Track Racer
Join Date: Jul 2005
Location: Western New York
Age: 51
Posts: 21
Re: TotM: 351W Build-Up
---
Hello
The Explorer heads are GT40P ?? right. You might need the matching Exaust manifolds to clear the spark plugs.
The best step is After market heads, They will breath better. Good intake & Exaust. The GT40P flow the best in stock heads, But you might have to open the Head bold holes for the 1/2in head bolts on the 351W.
I am looking for either GT40 or GT40P heads. I can't use aftermarket heads in the Factory stock Circle track class.
I race the only FORD at the track, I race on a 1/2 mile asphalt oval in a 1990 Thunderbird.
Paul --
Nm12tbirdracer@aol.com
See my car at:
www.tessier-racing.com
Re: TotM: 351W Build-Up
---
The P heads didn't come on Explorers until mid-1997. Before that were the regular GT40 heads. One could buy a pair for ~$400 in like-new condition and have them polished really well for <$300. The better breathing of the aftermarket heads would allow for better high-end power, but with torque, the primary focus is flow velocity (speed as opposed to quantity [volume]). I'm sure you know that, being a track racer.
The head bolt holes would, indeed, be the 7/16" variety, but a 1/2" drill bit would remedy that issue. I've done it before...
...and about the matching manifolds... have you ever seen a stock P manifold? That's why everyone runs aftermarket headers on P motors. However, I specified the plain GT40 for the sake of exhaust simplicity. I have P heads on the engine I'm installing and they're a pain in the ass for the headers.
A stock P manifold...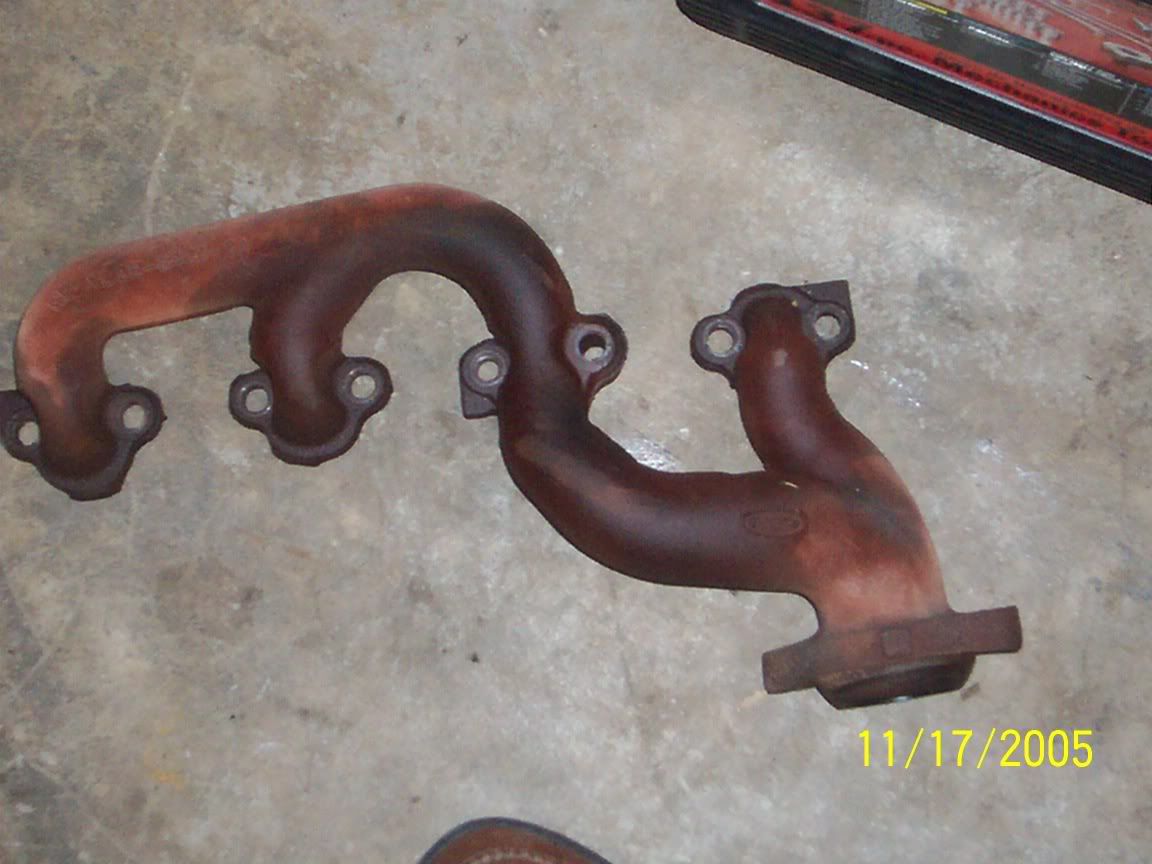 My engine almost completely assembled...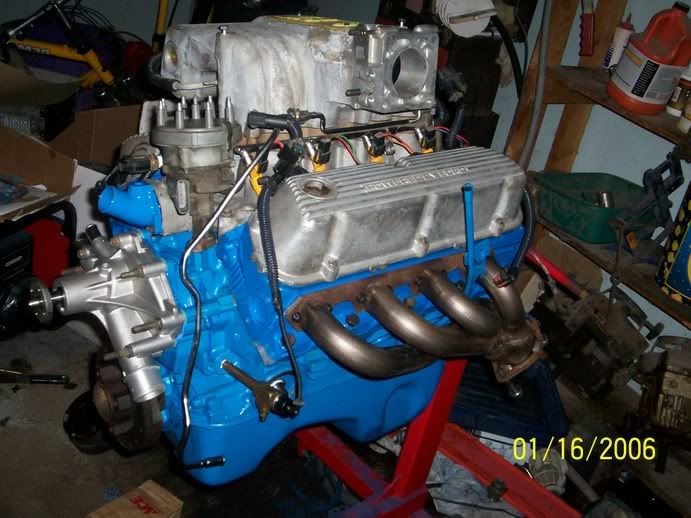 My engine with (billet steel) flywheel and FRPP KC clutch all mounted on the hoist and ready to roll...
Those are the FRPP P headers... which add another $240 to the bill for P-specific applications. Just a huge pain in the ass, really.
Re: TotM: 351W Build-Up
---
Hey Freshmeat--

Is the engine in those pictures a 351? I'm just wondering about the EFI setup you have on it, because it looks like a 86-93 5.0 setup, but I thought those wouldn't fit on the 351 because of different deck heights.

Nathan in MN
Re: TotM: 351W Build-Up
---
Nathan- that is a 302 out of a 1998 Explorer. It's not a 351... I posted the picture to show how the headers would fit on a P motor... and to brag about my nearly-complete engine. ha!

A 351 can use the GT40 or GT40P heads, but you'd need to drill out the head bolt holes to 1/2" instead of 7/16". Edelbrock and several other companies make EFI manifolds for 351s that would be a best route to take, since the stock EFI 351 truck intake manifolds are so freaking huge.
Currently Active Users Viewing This Thread: 1

(0 members and 1 guests)
Posting Rules

You may not post new threads

You may not post replies

You may not post attachments

You may not edit your posts

---

HTML code is Off

---