Windsor Manifold Help
---
G'day fellas,I am after some advice regarding which manifold to use on my fairly warm 351 Windsor. The motor is currently running straight gas and I want to go back to petrol, I have in my hot little hands a genuine GTHO Buddy Bar manifold and was wondering if this would be the go or is an aftermarket manifold ie weiand or edelbrock a better option.
Cheers Ben.
---
BACK WHERE I BELONG ...... IN AN XY
Re: Windsor Manifold Help
---
Workout the Rev-range you think you will be mostly between while driving and thrashing around the streets...then pick the matching manifold.It is also wise to match the rev-range of your cam to your Inlet Manifold choice.The wildest intake is'nt alway's the best on the street.Edelbrock Performer RPM is'nt a bad manifold for the street IMO...Goodluck !!
Re: Windsor Manifold Help
---
I can vouch for the Weiand Stealth manifold, myself. Great power from idle (600-800) to 7,000 RPMs. I enjoyed it (when I got to drive my friend's truck who bought the manifold from my when I parted out my motor). If you're looking to swap your cam, too, though... get the Edelbrock cam/manifold package. Great parts and the guesswork is already done for you. Just get the matching cam and manifold (then the heads, when you get bored
) and you'll definitely notice the difference.
Re: Windsor Manifold Help
---
I'm happy with an RPM Performer. Just watch brake booster vacuum line clearance on the fuel rail.
Re: Windsor Manifold Help
---
definatly the wiend stealth would have to be one of the best manifolds avaliable for the 351w regardless of what you do. Old man has one on his 351 racecar and it has good midrange torque and pulls hard to 7500rpm.
---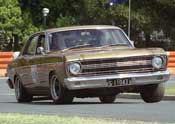 Re: Windsor Manifold Help
---
Ooh! Debate! Hehehe... either way you go, you won't be disappointed. I just can't account for your Buddy Bar manifold (isn't a Buddy Bar a peanut butter and chocolate candy?).

Keep us updated on this one.
Re: Windsor Manifold Help
---
The buddy Bar is worth good money to a Ph 1 HO restorer but they were design in the 60s , todays manifolds like the air gap/rpm for duel planes or victor jr , funnel web/parker for single planes are much better choises (later designs) , all you have to do is decide which one suits you engine /cam /rpm range and where it will spend most of its time race track or the street .
Currently Active Users Viewing This Thread: 1

(0 members and 1 guests)
Posting Rules

You may not post new threads

You may not post replies

You may not post attachments

You may not edit your posts

---

HTML code is Off

---