Registered User
Join Date: Nov 2006
Posts: 2
xp conversion to V8 - HELP
---
HI guys (and gals),
I just bought a ford XP and want to do the conversion to a 302 Windsor. Can anyone direct me to a site or something with specs so i know what i need to upgrade or change on the car in order to do this?
cheers
Re: xp conversion to V8 - HELP
---
5 stud upgrade is a must (centura, xp ute or sprint diff) along with tandem master cylinder (brakes) and boosted disc brakes on the front, 2 speed wipers, demister, lap sash seat belts etc
Appropriate engine mounts and bracing, same with trans mount, if auto a C9/8 is easier to bolt in than a c10.
Go for it
Registered User
Join Date: Nov 2006
Posts: 2
Re: xp conversion to V8 - HELP
---
thanx blue66coupe, thats a great help easy and informative ! so basically once ive completed these upgrades and the engine, i just search around for a engineer to give me the tick? and thats it?
Also what do u suggest i get the brake system(upgrade) off ? whats the easiest and cheapest?

Thanx for your help.
Cheers
Re: xp conversion to V8 - HELP
---
Brakes.
XR/xt falcon will work with some geometry mods...i beleive (butnot 100% sure) xp also had discs as an option.

On the engineers cert....that depends on which state you are in . XP came out with the 289 as option so its a boltin thing...similar to dumping a 351c into an XD. Just don't tell em its a 302 :)

Jas
Re: xp conversion to V8 - HELP
---
Yep XP's came from the factory with power assisted soild disc brakes (mine was one of em). Sorry no XP falcons came from the factory with V8's (as factory fit), some were installed in dealerships as a non factory option and most were 260's, Can't remember which dealerships did it though.

Consult with your selected engineer before starting the project as they all have their own idea's on how things should be done.

Just use a tandem master cylinder to split the braking systems, I used a 'swap meet special' master cylinder i think was HQ? and the original booster to operate on the front circuit. I used CRS drop spindles, which are nothing more than HQ stubs and custom steering arms, with some bearing spacers (in the kit) to use ford vented discs. DBA crossdrilled and slotted rotors look trick through the wheels and pull the old girl up from 200+ very well
Registered User
Join Date: Dec 2006
Posts: 1
Re: xp conversion to V8 - HELP
---
You can also use the complete stub axle and disc, caliper etc from an XF. Very easy and the entire brake setup is standard XF pads, discs etc. Just need a cone bushing for the lower ball joint.

Need to remove approx 10mm from the tie rods to remove the bump steer. This is a setup that shoebox in Melbourne has been doing for years that works really well.

The conversion kit that I payed 300 buck from the rod shop got thrown in the bin. Don't waste your time. It's a dogs breakfast. There is a very tidy crossmember that was fabricated by shoexbox's mate that is only $180 and looks identical to the ones used in the dealership 260 installs. It also bolts up without having to force anything.

This conversion is extremley simple.

I've seen both a cleveland and a boss, and a 351 windsor in an xp/xm. It can be done but there's no room at all and it ends up being a horrible convertion. The cleveland had the towers tapped in, as did the boss. The 351 ran cast manifolds which killed any ability to make decent power.

The rrs stuff is good, mine uses the tower notching, struts and steeering rack. If you can afford it it will be the best money spent on the car.

Making the windsor make power is no challenge, getting an xp/xm etc to drive not like a boat is another story. Steering is the most difficult to make nice.

If you drive a modern car with a rack and get into the 65, 66 it's really hard to put up with.

The xp/m's are great cars to do up. They hold value too.

Heaps of parts if you know where to find them. Even brand new original. 40 year olf ford packaging!!!

Good luck,
Registered User
Join Date: Jul 2004
Location: Geelong
Posts: 21
Re: xp conversion to V8 - HELP
---
Just seen this thread & thought I'd relay my experience.
I have an XM coupe running a 5.0efi & 5 speed man.
The brakes, markdlowe is right on. I have the same setup on my car & it's really good. XA(?) dual master, bolted direct to firewall, remote VH44 booster up under the driver's side guard just behind headlights.
Had John Taverna chassis in Melb fabricate/modify an 8 3/4" Mustang diff to suit.
Engine mounts -
don't use the CRS units
, engine sits too high & too far forward, meaning you cannot run an engine fan cos you'll cut your rad hoses off. Use the original 63 Falcon (US) V8 mount setup complete. Sits motor perfectly in engine bay & is a direct bolt-on as the US cars at that stage had identical dimensions.
Radiator - I've used an AU unit. Have to drill 2 holes in top of your front chassis rails to suit bottom pegs. Use AU factory upper mount brackets bolted to radiator support. By doing this you can use factory AU rad hoses, just shorten the ends to suit shorter XM/P engine bay. For a recovery bottle/air purge, used a remote mounted unit from a Camira (not shown in pic) mounted just higher on engine bay wall than rad inlet. I'm using the factory 5.0 engine belts & fan and all fits like a charm. The fan shroud is an XF unit trimmed to suit the AU rad.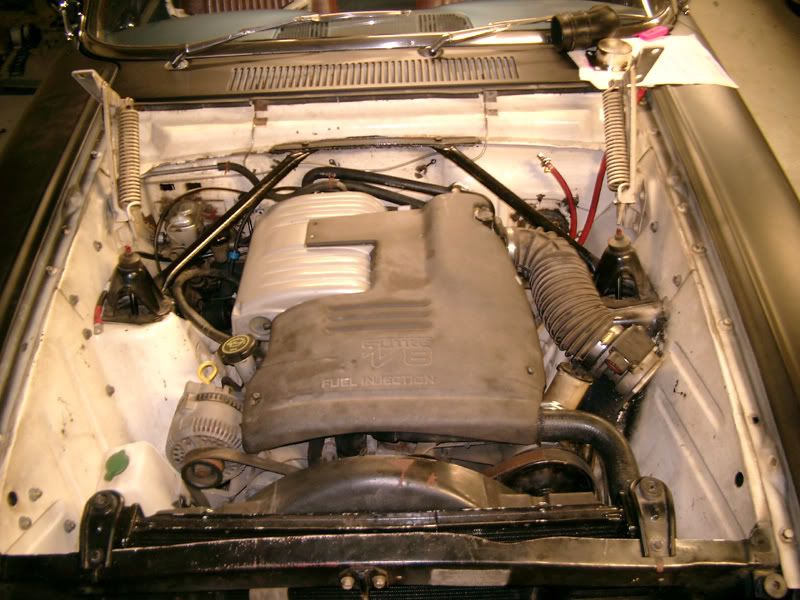 You'll notice the shock tower braces modified. This was done when using the CRS mounts as it cocked-up the position of the engine & I couldn't fit the upper efi intake. With the US mounts this would not be a problem I think.
Relocated the battery to the trunk, to allow me to keep the AC compressor & PS pump "just in case" I go RRS & aiir-con. Air cleaner is a pod type mounted on engine bay side-wall.
Car is on the road & drives beautifully.
Hope this has been some help :)
Re: xp conversion to V8 - HELP
---
Originally Posted by fordxp534532
HI guys (and gals),
I just bought a ford XP and want to do the conversion to a 302 Windsor. Can anyone direct me to a site or something with specs so i know what i need to upgrade or change on the car in order to do this?
cheers
Just about finished a conversion , we added a full set of chassies rails , had that done at $2k fully installed
Dropped a 351C /383 in with trick c4 and 3k stally, made the mounts based on e series ( what we had) modded the existing x member and swapped the front end for an L300 and centura rear setup , all with engineering and sailed through , now to add the lpg and go play .
What ever you do have fun and good luck .
XP Builder
Join Date: Dec 2009
Posts: 1
Re: xp conversion to V8 - HELP
---
Hi guys - just wanted to say thanks for posting this info.. even now it is great to look back on and see what I need to do. XP ute - what out.. here comes the V8.
Registered User
Join Date: Mar 2010
Posts: 1
Re: xp conversion to V8 - HELP
---
Looking to do a similar conversion to the efi windsor just interested in which tranny would be the best setup for the car at the moment its 3 on the tree manual but is it best to do an auto conversion. If so whats best and what needs to be done?
cheers
Matt
Currently Active Users Viewing This Thread: 1

(0 members and 1 guests)
Posting Rules

You may not post new threads

You may not post replies

You may not post attachments

You may not edit your posts

---

HTML code is Off

---