390 Project
---
After Christmas I'll start building a 390 for my 63 1/2 Galaxie hot rod/cruzer...3 on the tree w/3.50s...it will be flat top pistons, choppy cam, 2X4s, headers...I need to know what heads will make good street power and be easy to find and not break the bank....Will common 390 heads like C8AE-H work with a little work???? thanks .......Well I have these heads now...what's the best to work with??? C8AE-H, C7AE-A, C1AE.........?
Registered User
Join Date: Sep 2005
Location: USA
Posts: 321
Re: 390 Project
---
C1AE heads are the earlier low riser heads and have ports a little larger than the C7-C8's. What 2x4 intake are you going to use? That can also help determine which is the better way to go head wise. But normally the larger port LR heads are the way to go. If you plan to put in bigger new valves, seats, guides and some port work watch your costs. Sometimes it's close to the price of new aluminum Edelbrock heads.
Re: 390 Project
---
Thanks for the reply, it's an Offenhuaser..thats about all I can tell you....I will be installing larger valves...
Re: 390 Project
---
That Offy intake is a good intake eccept for one flaw....it's only good for high revs,rpm's!! Because it is a single plane intake, sucking from two carbs, there is NO bottom end torque. My 428 is built very radical and overcame the bottom feeding Offy, but for an engine that your building, it's not practical.
I know this because I have the very exact intake... I replaced it with a C7ZX-9425A med riser intake and I have a lot more bottom end torque now. This intake is a dual plane intake.
You can use your Offy and it will work...but in the long run you might not get the results that you want. if you can sell it, and get some exta money, Tony Branda sells the aftermarket 2-4 med riser, it's the same design as the 427 C7ZX-9425A.
The C3AE 2-4 are low riser intakes that work very well also and not so hard to find and considerably cheeper.
As far as the heads the C8H will give you more compression as they are closed chambered heads, but they won't be matching at the ports, especially with the Offy pushing a lot of air and then into a small velocity port on the head. A lot of head porting and bigger valves to get that power that you want. You can run them but I would try to find a good set of tall port heads, even with no porting what so ever they will still breathe better.
Here is a link to some Ford parts
Ford casting ID numbers and part identification info for Mustang Shelby parts
Re: 390 Project
---
Let me see if I have this, the C1s are low risers with a little bit larger intake ports, the C7s and C8s are meduim risers and have a tad smaller intake port....Looks like to me the C8s with CJ valves and a little port work would work great on a street cruzer.....
Registered User
Join Date: Feb 2012
Posts: 1
Re: 390 Project
---
I just had to reg and login to see this Offy that is
" it's only good for high revs,rpm's!! ". NOT!
That Offy is a piece of junk. In the Big FE Intake Comparo it was at the bottom of the pack, always.
As kdtrucker said the C7ZX-9425A is a great intake.
There are many great intakes both single 4 and dual 4 for the FE.
The Offy is not one of them.
It does not matter what heads you have that intake will always be at the bottom of the pack.
Read Jay Browns book at fepower.net
The C7 and C8 heads are considered smog heads and have a lower exhaust port by about a 1/4" than earlier heads. The C1's do have a taller intake port, but taller is not always better.
Look at the port on a Med Riser or an Edelbrock FE head and they are smaller
but flow more.
The best head for the money today is the Edelbrock.
With a good valve job and a clean up of the ports they will pull past most iron FE heads ever made. Even Cobra Jets. And they cost about the same as you spend on a full tune up on a set of C8's.
Cost is always a factor and it's easy to say you need this or that.
Run what you can afford, but don't expect much from that Offy. jmo
Here are a couple of high rpm FE intakes. mine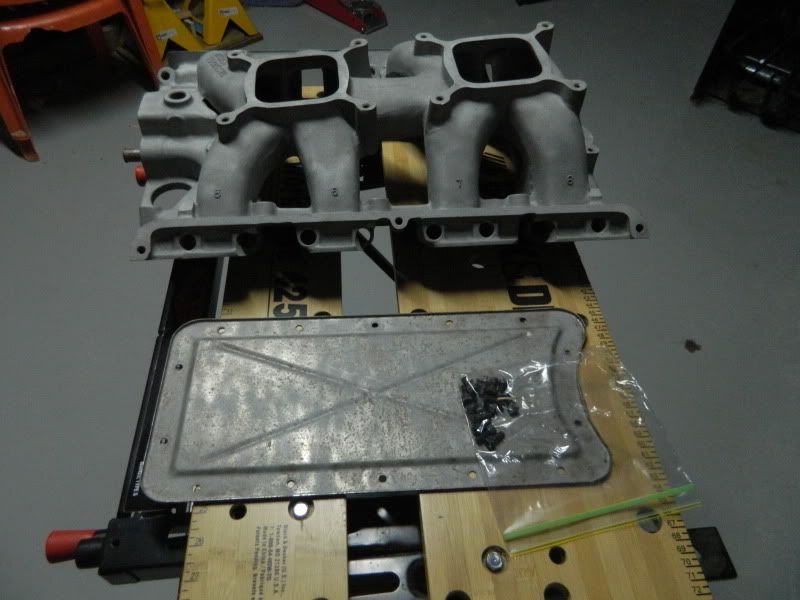 Currently Active Users Viewing This Thread: 1

(0 members and 1 guests)
Posting Rules

You may not post new threads

You may not post replies

You may not post attachments

You may not edit your posts

---

HTML code is Off

---