19's on XR
---
Has anyone fitted 19 inch rims to the cars and experienced any bad tyre wear or front end issues.
I'm ordering an XR Turbo and thinking about fitting 19's but I have some bad feedback about going to a large rim.
Re: 19's on XR
---
nope. im thinkin bout 20's now. but apparently cant get rubbers for loaon my ute.
MySpace
---
MKII Turbo 6spd - MKIV Supra TT 6spd
sazzxr6t
Join Date: Jan 2008
Location: Perth
Posts: 4
Re: 19's on XR
---
hey mate i got an BA mkII xr6 and its got 19" gt-p rims on it... and iv had no probs it seems to be loving life more then ever :D
Re: 19's on XR
---
I got 19" GTP's too and they fit no worries with 245 rubber all around, and very low suspension :)
---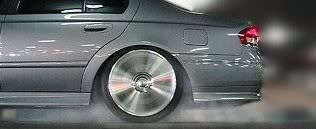 Xtreme 275.6 rwkw, 12.93 sec quater, Phoon CAI, Siemens Injectors, StealthFX BOV with
XBOX
entertainment.
M R X R 6
Join Date: Jul 2008
Location: wollongong
Posts: 1
Re: 19's on XR
---
hey guys sorry im new here but to let yazz know i got 20' rims on my xrd and perfect handeling and the tyres are all good
Re: 19's on XR
---
i also run 20's on my xr and it's one inch lower than stock turbo's.. 245/30/20..
---
163rwkw.. 14.4 @ 95.67mph.. EF 5spd 3.45 Lsd..
Currently Active Users Viewing This Thread: 1

(0 members and 1 guests)
Posting Rules

You may not post new threads

You may not post replies

You may not post attachments

You may not edit your posts

---

HTML code is Off

---