Registered User
Join Date: Jan 2007
Posts: 3
New to model A
---
well first off id liek to say i am a new member. i currently have a 1980 Chevy Chevette and a s-10 pickup. (fuel savers
) ive never owned a ford until now.
and second of all i just got my grandfathers old model A (i think) 1929 ford pickup. its been sitting on his farm for sometime now and i asked him about it and if i could have it and he said yes. i only have one older pic of it but it will do. can anyone tell me anything about it from that pic?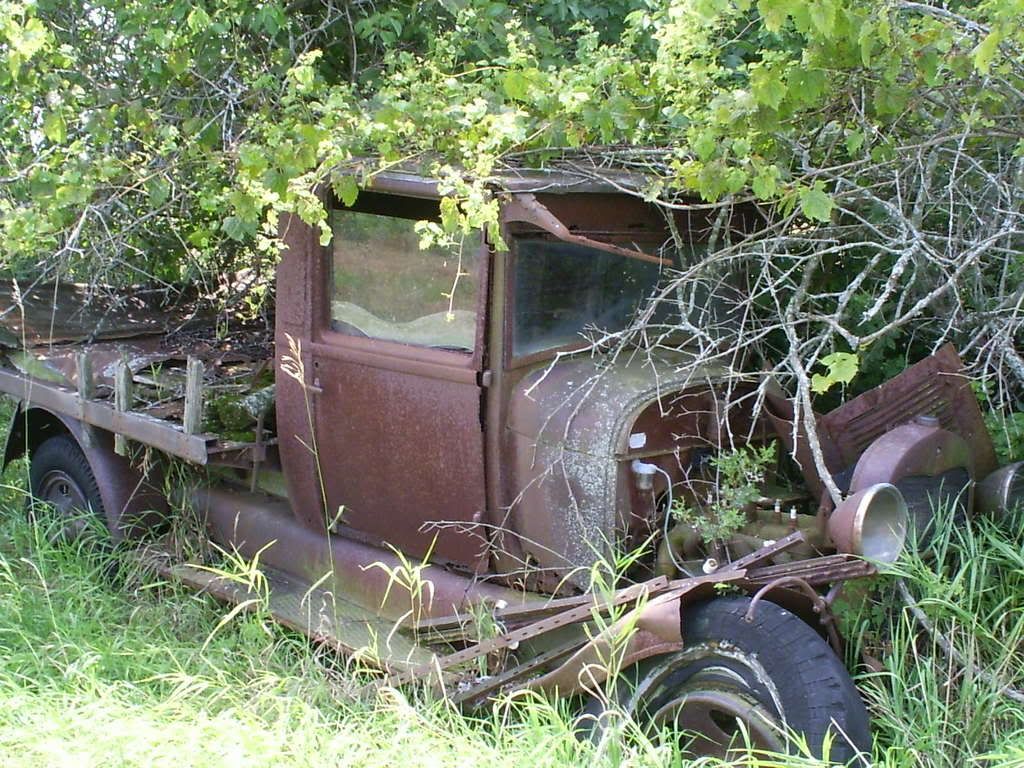 obviously it needs alot of work but im up to the challenge cuz the frame was still very much solid last time i checked
but i currently have no place to store it. so i would have to get it out of the mud and my grandfather said i could store it in his tool shed (farm sized combine shed) untill i have space. but i want to get the engine out and possibly the tranny so i can be rebuilding those while i make more room.
so my question is how do i get the engine and tranny out?
Re: New to model A
---
Quite frankly, if you have to ask, it's probably beyond your abilities to do and restore. If you pay someone, it will definitely set you back some big bucks. If nothing else it could be fun for you to mess with. Here's a link to what a 1929Ford truck can look like.
1929 Ford Model A Pickup Truck, Classic Car Pictures
Registered User
Join Date: Jan 2007
Posts: 3
Re: New to model A
---
yea im not lookign to get this think looking nearly that good. mostly just running and driveable for the time being. i know there will either be lots of sheetmetal work or buying of parts, but who says i have to get it done in a month? im looking at several years the way things look now. first objective is to make room for the complete teardown/painting/rebuilding, then to accualy go to town and get it in running/driveable condition...body work is one of the last things on my list. i think of restoring a car to be one huge model kit that someone lost the instructions too...
Registered User
Join Date: Dec 2005
Posts: 55
Re: New to model A
---
why not do something like this .It handles great was cheap to build and we like it
Registered User
Join Date: Jan 2007
Posts: 3
Re: New to model A
---
looks like you did an excelent job on it, but i want to get it to the closest stock look i can. no offence but i see way to many hotrods/ratrods made outa them. ive only seen like 3 or 4 stock ones. i want something different. and of course im not going to set any land speed records with the stock setup but you just dont see that much anymore and in reality, who can get a good look at a car truck if its whizzing by. :D

oh and i found out by posting on other forums that mine is a 1929 Model AA stake bed truck. The Model AA is like the heavy duty version.
Re: New to model A
---
Congrats on the truck. Whatever you decide to do with it, have fun. You'll definitely learn alot. Post us some pics as you progress.
Registered User
Join Date: Dec 2005
Posts: 55
Re: New to model A
---
I think you may be right with what you say about restoring it I would prob do the same .The one in the pic I sent was rusted or non existent in the bottom 18" but good luck with yours they are a beautiful truck when done up all the best with it cheers Dave
Currently Active Users Viewing This Thread: 1

(0 members and 1 guests)
Posting Rules

You may not post new threads

You may not post replies

You may not post attachments

You may not edit your posts

---

HTML code is Off

---