Registered User
Join Date: Jun 2009
Posts: 1
66 Galaxie 500 XL upgraded with 460 engine
---
I recently purchased a 1966 Galaxie 500 XL that "had" a 390 in it. When I purchased the car, the engine was already removed from it. After looking around, there are no 390s in the area. I came across a 1978 F-150 with a 460 and C6 trans that I was thinking about purchasing for the Galaxie.
I plan a total engine rebuild, but does anyone knwo of any problems I might come across with bolting it into that Galaxie.
Thanks for any advice.
Re: 66 Galaxie 500 XL upgraded with 460 engine
---
The first thing that comes to mind is your suspension. Your 390 suspension may not
hold up your 460 and transmission. It will but might be a little bouncy. Not exactly sure
but i think the 460 weighs 726 lbs. and that is not with the transmission. I know the 460
will not " breath " properly with a 390 exhaust system. It will run but not recommended.
In the long run the 460 is a hell of a lot better motor than the 390. Better gas mileage.
Get er done. I think the motor mounts are different, Maybe . can't remember.
Good luck.
Registered User
Join Date: Aug 2009
Posts: 4
Re: 66 Galaxie 500 XL upgraded with 460 engine
---
Threads old but I hope this info isn't too late...
The above info is FALSE! There is a ton of misinformation on the internet that continually gets repeated about the engine weights. The 460 is a newer LIGHTER design then the FE's. I think the problem with those published weights is how the engines were weighed, some with exhaust manifolds, water pump, carbs, even all the accessories, some without, some with various combinations.

I dropped a 460 in my '67 that was originally a 289, I bought standard 390 springs and the car road too high and just a little too stiff.
I eventually dropped on aluminum SCJ heads and Edelbrock intake and needed to cut somewhere between a half and 3/4 coil off the springs to get it down.
Eventually I wound up selling the motor to a friend, on his way home with it he stopped at work and weighed it, carb to oil pan, fly wheel to water pump (no headers/manifolds) it weighed 518 lbs. I know for sure the heads saved 35 lbs each, Ford SVO's claim I also verified myself) and I'd guess the aluminum intake saves 20-30 lbs. That puts an all iron 460 around 625 lbs.
Re: 66 Galaxie 500 XL upgraded with 460 engine
---
Good post GalaxieJeff.
Welcome to the forums
Registered User
Join Date: Aug 2009
Posts: 4
Re: 66 Galaxie 500 XL upgraded with 460 engine
---
On to your original question, what kind of problems. Well, obviously you'll need the 460s accessory brackets and motor mount kit, Crites and Total Performance make them and probably some others.
They give you a custom adapter so the engine will line up properly with the motor mount, and they also include that, which I believe was a regular Torino 429 mount. I did the swap back in '96 so the details are a bit fuzzy.
Also Lincoln exhaust manifolds will not clear the steering box and the motor mount adapters. Crites and a few others sell headers made for this engine in the old Galaxie chassis. When I put mine in the headers were on back order and I was impatient, I tried Hooker Super Comps for a '70 'stang (2.125" primaries into 3.5 collectors!) Those needed some tweaking to fit, it was a PITA. If I were to do it again I would get the proper headers.
Registered User
Join Date: Aug 2009
Posts: 4
Re: 66 Galaxie 500 XL upgraded with 460 engine
---
Almost forgot, a pic of the engine installed....
In this one, the angle isn't the best but you can see it sits up a little (you can also see one of the header tubes)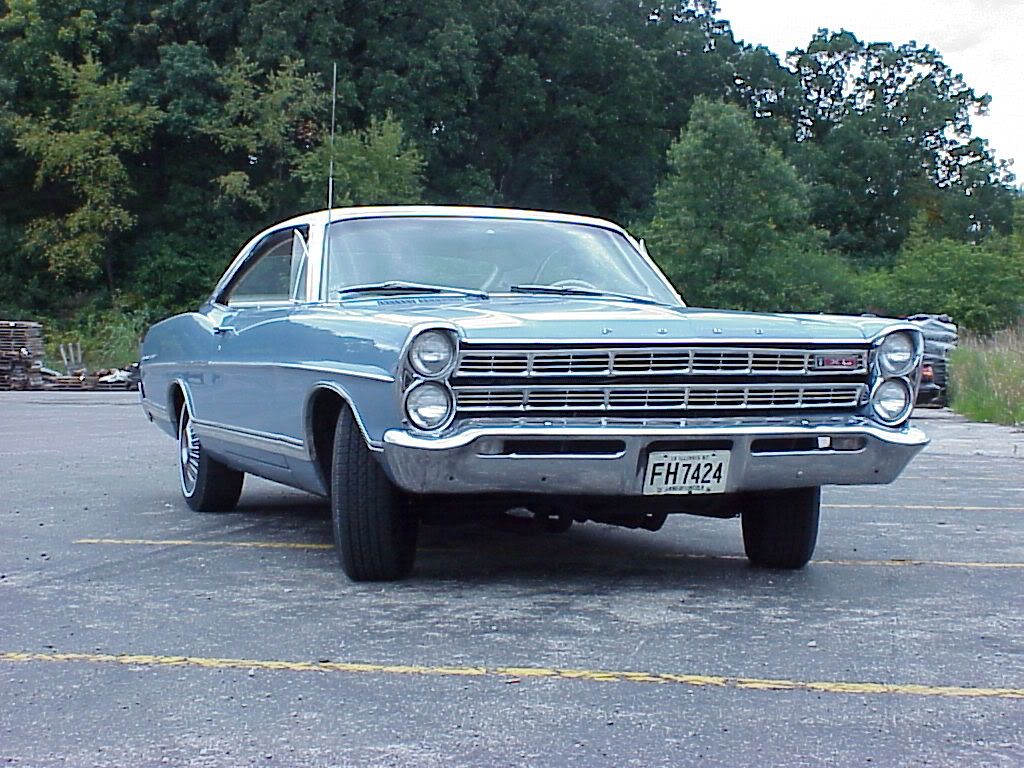 And an action clip from the drag strip, watch the front end rise when the light turns green, the springs being too stiff had a good side effect, weight transfer, this was on 235x75-15 whitewalls! I was getting 1.9 short times with them, extremely good for the hp and skinny tires.
Currently Active Users Viewing This Thread: 1

(0 members and 1 guests)
Posting Rules

You may not post new threads

You may not post replies

You may not post attachments

You may not edit your posts

---

HTML code is Off

---