f150 (large)
---
Did this chop the other night, probably my favourite chop yet.
Tell me what you guys think.
Re: f150 (large)
---
looks tough
---
R33 GTS-T Nissan Skyline
Re: f150 (large)
---
nice ps. looks phat.
---
'Dec 03 BA Falcon XT - Tint | Cruise | 17" Alloy Wheels | BA SR Kit | | SSS Auto | Front Power Windows | Scuff Plate Inserts | 2.5" Mild Steel System | Pacemaker Headers |
////Alpine 600 Watt 12" Sub | Lanzar 1000 Watt 4 Channel Amplifier |
Possible Future Mods
- Cornering Lamps
- Colour coding Sidemoulds, Mirrors and Front Grille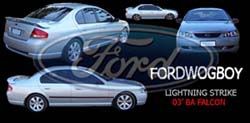 E-series mutantette
Join Date: Mar 2004
Location: Soon to be Adelaide!
Age: 31
Posts: 1,890
Re: f150 (large)
---
looks sweet good work
---
'93 ED GLi Falcon
White, auto, performance 16's,
Pioneer DEH-P4650 MP3 H/U, Pioneer 6's.
Sub on the way!
Future mods: Speed Holes!

Registered User
Join Date: Oct 2004
Posts: 20
Re: f150 (large)
---
Its one nice chop and it looks tops. The only question ive got............how do you get the machine outof that terrain? lots of under carraige damage!

Only jokin its a real good effort! 3 cheers to the chop work
Re: f150 (large)
---
Looks good, but I got 1 crit the background is motion blured and your wheels are still!
---
Takin it to 7
turnin it to 11
Originally Posted by some wise man
It may be your sole purpose in life is simply to serve as a warning to others.
Re: f150 (large)
---
Thanks, yea i know about the background, im still learning how to change them, might re do it when i figure it out. The for the resources too big pete, learnt so much from them.
tough XF
Join Date: Apr 2003
Location: mildura
Posts: 487
Re: f150 (large)
---
where the hells the pic
---
154rwkw xf fairmont 6

http://www.red-line.tk
Re: f150 (large)
---
dunno where it went, and i cant edit that post for some reason?. Ahh well here it is again
Currently Active Users Viewing This Thread: 1

(0 members and 1 guests)
Posting Rules

You may not post new threads

You may not post replies

You may not post attachments

You may not edit your posts

---

HTML code is Off

---