Falcon GTHO Phase III
---
Well heres a photoshop of my car! Its totally generated free hand and tediously airbrushed but is not completely finished.
It is not a photo of any kind but rather my understanding of pure graphics presentation.
Doesnt it look sweet and is in the right forum, or maybe ill put it in the X rated hardcore muscle section.
Its one cool machine! A legend!
http://img.photobucket.com/albums/v6...vensho/sho.jpg
Re: Falcon GTHO Phase III
---
i tell ya what for 'freehand' that is pretty good. would like to see it finished. did you use any thing that was from pics at all or is it 100% free from any pics?
---
HSV
Herpes Simplex Virus

GAME OVER!
Falcontastic.
Join Date: Jun 2002
Location: Bendigo,Victoria.
Age: 40
Posts: 6,039
Re: Falcon GTHO Phase III
---
Look's good mate, well done.
---
AU II XR8
Herrod mod's,mmmn.
XW Wagon 221-2V,
Laser a maser.
Re: Falcon GTHO Phase III
---
Geez that must've taken ages . . . looks great.
---
GTHO Falcon Legend.
---
The initial drawing was a pen and ink drawing. (free hand).This was used as a framework or outline only.
I scanned this into the computer. From here it was a hand on approach of using all kinds of tools brushes and other options.
At first i thought it wont work at all and nearly gave up on it! But after a while of more patience it started to come together and i started liking it more and more but cant wait to upload it to this site.
Im excited by its result! I didnt want to over do it because it will become a photo and it would defeat my capabillities and would seem just a photo replica.
Thats why im glad i uploaded it now so you can see its not a photo!
I think i can get it to almost to photo quality to some extent but after all that effort it would seem pointless. A photo would be easy but what ive got here aint. Its pure magic!
Ill get better at it as i do more experimenting. To fiddle is to produce the best fiddle and thats what ive done in more ways than one!
have fun Ford Guys! and i hope theres some nice girls too!
Re: Falcon GTHO Phase III
---
dude keep at it and make it photo quality. at least youll know that you have done the best that anyone can do. when people sit back and say "thats a photo" it will give you a nice pleasent feeling as you know its not. good work!!
---
HSV
Herpes Simplex Virus

GAME OVER!
Registered User
Join Date: Dec 2004
Age: 41
Posts: 2
Re: Falcon GTHO Phase III
---
Very nice!
Re: Falcon GTHO Phase III
---
Awesome work mate. Well done!
Looks like my older brothers first car (minus the GT'ness)
Died a sad death in our back year as i was growing up.
---
Congratulations. You are still alive. Most people are so ungrateful to be alive, but not you. Not anymore.
Re: Falcon GTHO Phase III
---
that is a top effort, keep at it you will be very pleased with the end result
---
'Dec 03 BA Falcon XT - Tint | Cruise | 17" Alloy Wheels | BA SR Kit | | SSS Auto | Front Power Windows | Scuff Plate Inserts | 2.5" Mild Steel System | Pacemaker Headers |
////Alpine 600 Watt 12" Sub | Lanzar 1000 Watt 4 Channel Amplifier |
Possible Future Mods
- Cornering Lamps
- Colour coding Sidemoulds, Mirrors and Front Grille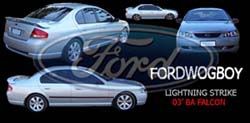 Currently Active Users Viewing This Thread: 1

(0 members and 1 guests)
Posting Rules

You may not post new threads

You may not post replies

You may not post attachments

You may not edit your posts

---

HTML code is Off

---