Lancer Wagon Chop
---
Hey guys,
heres my latest effort, its not a ford but i thought id post it anyway
seems like im the only one who post stuff up on this forum!
Mods:
Wheels, paint, roof Chop, 2 door conversion, lengthened doors, smoothed glass, billet grill, lights, intercooler, spoilers, background, mirrors, tint, smoothed, lowered & more
took about 2 hours
original
chop
enjoy.
---
Registered User
Join Date: Sep 2004
Posts: 62
Re: Lancer Wagon Chop
---
looks hot. maybe try putting the evo bonnet on? and sharpen up the grill a bit. but excellent all the same
Veteran Ford Member
Join Date: Oct 2003
Location: Dazed And Confused...
Age: 35
Posts: 3,143
Re: Lancer Wagon Chop
---
Looks awesome Pete
Re: Lancer Wagon Chop
---
i was gonna say the same thing cheaman
looks good pete
---
R33 GTS-T Nissan Skyline
Re: Lancer Wagon Chop
---
nice chop pete
---
'Dec 03 BA Falcon XT - Tint | Cruise | 17" Alloy Wheels | BA SR Kit | | SSS Auto | Front Power Windows | Scuff Plate Inserts | 2.5" Mild Steel System | Pacemaker Headers |
////Alpine 600 Watt 12" Sub | Lanzar 1000 Watt 4 Channel Amplifier |
Possible Future Mods
- Cornering Lamps
- Colour coding Sidemoulds, Mirrors and Front Grille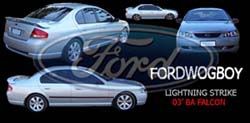 Re: Lancer Wagon Chop
---
Those wheels are fuc#en mad!!

BTW: The spotties look like the new "performance" head lights for the AU Falcon.
---
Originally Posted by Sundeep
Eh Yagz, suck my left teste mate I'll have boost for $1k, even if it is only 1 pound.
Check my ride,
HERE
Re: Lancer Wagon Chop
---
Big Pete, you have talent. You should be designing cars for car companies or working in a body shop, sitting with owners designing individual cars.
Registered User
Join Date: Oct 2004
Posts: 20
Re: Lancer Wagon Chop
---
Gee i thought i was pretty good but your definately one wizard with the chop. Thats one good job. How vlong did it take to do that?
Currently Active Users Viewing This Thread: 1

(0 members and 1 guests)
Posting Rules

You may not post new threads

You may not post replies

You may not post attachments

You may not edit your posts

---

HTML code is Off

---