Landcruiser with 40" rims
---
---
Blood Orange XR6 Turbo - Auto, Premium sound, Lowered, FPV GT Wheels, Tint, Alarm
Just give me an excuse...
Join Date: Oct 2002
Location: struct melbourne hallam;
Age: 37
Posts: 3,949
yeah i saw it too...how bad does it look, even for a photochop :)
---
Truly the deepest kiss one can feel, and the one most sought after, is the one you will not survive....
Holy FARK!
---
"When I joined the marines all they gave us was
two sticks and a rock
! And we had to
share the rock
between the whole platoon!"
-----------
H2 pwnz j00 foo.
Not real look thru the back wheel
Still looks good all the same
Falcontastic.
Join Date: Jun 2002
Location: Bendigo,Victoria.
Age: 40
Posts: 6,039
That looks like shit,sorry not my cup of tea.
---
AU II XR8
Herrod mod's,mmmn.
XW Wagon 221-2V,
Laser a maser.
I don't think that's a photoshop actually. A few pics of this vehicle with those rims were posted on the 4WD Monthly forums a little while ago. Looks like an absolute shocker, it's just wrong. 16 inch tyres maximum, with minimum 35 inch muddies would be more like it!

Alex
Ive got a riceburner dvd with all kinds of stuff in it, and theres a video that someones taken walking around that car parked where it is.
---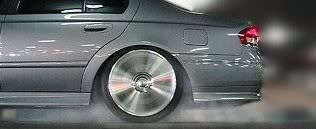 Xtreme 275.6 rwkw, 12.93 sec quater, Phoon CAI, Siemens Injectors, StealthFX BOV with
XBOX
entertainment.
I must be blind but it looks to me that you can see straight thru
the rear wheel arch. Have a look
Currently Active Users Viewing This Thread: 1

(0 members and 1 guests)
Posting Rules

You may not post new threads

You may not post replies

You may not post attachments

You may not edit your posts

---

HTML code is Off

---