Registered User
Join Date: Nov 2002
Location: Nth Qld
Posts: 29
Crappy Tyres
---
Done just over 25000km in my BA V8 Ghia and the tyres have had it. They slip all the time and are really bad when they get a bit wet.
Went in today to see what new rubbers i can put on it, staying away from the crappy Dunlop Le Mans that are currently on it, tyre guy said i should have got at around 35000km out of them. Oh well.
Going to fork out $300 each for some Pirelli P7000 poweregy.
Let you know how they go. Really disapointed with the Dunlops though.
Re: Crappy Tyres
---
Are they 235/45/17s or 225/50/17s? If they are the 235, then try the Hankook Ventus K104 at around $190 each, or the Kumho Ecsta 712s for around the same price. They are a good, cheap, performance tyre.
---
__________________________
AU1 XR8 Auto
147.9 rwkw
(approx 215 fwkw)
AU2 Wagon HAD Auto
17s, Pacemakers, 3" Intake & Pod filter (The Family Hack)
Member of:
FPV-XR Club ACT
AUFalcon.com
ATPS (honorary)
---
Last edited by JC-XR8; 10-12-03 at

08:36 PM

.
Re: Crappy Tyres
---
haha, last place i went to had no idea the hankook Ventus even existed even though another store of the same chain in sydney put the tyres on.
i've got 1 Hankook ventus K102 and 1 Hankook ventus K104 on the rear of my car
apparently the K102 is no longer available (doubt it considering its advertised in one of the latest Motor/Wheels magazines) but anyway they've been pretty good on my car.
---
1995 EF II Falcon GLi: Heritage Green, 4spd Auto, AUII 17" Rims, Custom BA Front Bar, Lowered, Gas Research LPG, Clear Indicators, JVC MP3 Headunit, Phoenix Gold 6.5" Splits, Coustic 481QE Amp, Clarion 12" sub, Leather Seats, Power Window Conversion, 3.45 LSD, Pacemaker Comp Extractors, 2.5" Exhaust, Mandrel Bent Intake, High Flow Filter, Wade 1004 110 cam.
In Progress: BA XR Side Skirts, BA XR Rear bar, BA Shifter Handle.
Re: Crappy Tyres
---
I didnt know Dunlop still made Lemans????
Re: Crappy Tyres
---
Originally Posted by Joker
Really disapointed with the Dunlops though.
Dont take this the wrong way mate, but it's probably caused by your right foot !
Re: Crappy Tyres
---
Joker - just reading some of your older threads, and wondering how the Ghia has been for you since you picked it up... I'd love to hear an update on what's improved, what hasn't, etc.

Cheers!
---
Now powered by
PCOTY WINNING
SR20DET - 32% engine weight, 37% capacity, 50% cylinder count
Clicky clicky
here
for previous ride! I still miss her!
Registered User
Join Date: Nov 2002
Location: Nth Qld
Posts: 29
Re: Crappy Tyres
---
Ok just got her back from the rubber shop :)
Got Pirelli P Zero Nero 235/45/17s. Look a bit low profilish too, looks good. They travel well too. Set me back $275 each.
Dave_au: nah mate, pulled a few skids and line lockies in her
, but the fronts were more worn than the rears and they have never been rotated.
Mr Sparkle: ill give you a full run down of my Ghia shortly.
Now too see if these smoke
j/k
---
Last edited by Joker; 10-13-03 at

01:13 AM

.
Re: Crappy Tyres
---
If your fronts were badly worn, im guessing you like to corner hard quite often? that chews up the fronts big time i think :)
---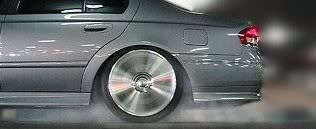 Xtreme 275.6 rwkw, 12.93 sec quater, Phoon CAI, Siemens Injectors, StealthFX BOV with
XBOX
entertainment.
Re: Crappy Tyres
---
go visit
www.quickfit.com.au
. Under internet specials they have falkens for $175. $10 i think for fitting and balancing. I think you have to print the advertisement from the net to get their specials.
Currently Active Users Viewing This Thread: 1

(0 members and 1 guests)
Posting Rules

You may not post new threads

You may not post replies

You may not post attachments

You may not edit your posts

---

HTML code is Off

---