hey all i'm new :)
---
Hey everyone !
just a msg to everyone to say hi. I've been coming to this site heaps over the last few months so i figured hey why the hell not join?
i just bought an AUII black Marlin ute and love it heaps. had to get rid of my EL falcon though which was my beloved first car and was wicked but i'm dealing!
Have not done anything major to the ute yet but will be putting in Pioneer 3-ways and installing Pioneer sub between the two seats this christmas. so far i'm keeping the ford 6 stacker but it's been skipping when the car get's hot (coz it's black i s'pose...?) Does anyone else have this problem? would it be better to switch to a different CD player? my brother has an AUII xr8 with the same cd player and he has had it replaced 3 times for different reasons... does not sound good.
Any help would be awesome!
---
Cassie
pics of my ute
HERE
Re: hey all i'm new :)
---
Hey,

Welcome!

I had a few problems with the same 6 Stacker in my AU III XR6 ute... eventually got Ford to replace it under warranty but you can buy exchange units for a few hundred dollars so im lead to believe from your local dealer.

Nice ute btw!!
Re: hey all i'm new :)
---
Welcome,

hope you get the cd player sorted.

Enjoy your stay here on the forums
---
Our new ride - Narooma Blue Forte BT1 06/2002 AU3
My Falcon is here
AU1 Fairmont Galaxy Blue (Company Car)
Brisbane Car Detailers
We share your passion for cars
Re: hey all i'm new :)
---
Welcome to the Forums!!!
Sounds like a nice ute youve got there!
Enjoy!
---
Ben
Re: hey all i'm new :)
---
Thanks guys :)
Will think about getting a replacement... the ute has an extended new car warranty on it. yay for me!! just worried about having the same problem again. Thought of maybe getting a pioneer head unit as well when i've saved up a bit more...
---
Cassie
pics of my ute
HERE
Re: hey all i'm new :)
---
Welcome the the forums.

Those Stackers are a pain in ass, hope they fix it up for ya.
Some burnt cds have trouble reading also.

Cheers
E-series mutantette
Join Date: Mar 2004
Location: Soon to be Adelaide!
Age: 31
Posts: 1,890
Re: hey all i'm new :)
---
hey welcome to the forums
nice to see some more chicks on this site
:) have fun and enjoy
---
'93 ED GLi Falcon
White, auto, performance 16's,
Pioneer DEH-P4650 MP3 H/U, Pioneer 6's.
Sub on the way!
Future mods: Speed Holes!

Re: hey all i'm new :)
---
welcome to the forums, nice ute too :)
depends on the cds, burnt CD's have some trouble playing.
The ba cd players are just as bad.
Enjoy the forum

Cheers Dave
---
'Dec 03 BA Falcon XT - Tint | Cruise | 17" Alloy Wheels | BA SR Kit | | SSS Auto | Front Power Windows | Scuff Plate Inserts | 2.5" Mild Steel System | Pacemaker Headers |
////Alpine 600 Watt 12" Sub | Lanzar 1000 Watt 4 Channel Amplifier |
Possible Future Mods
- Cornering Lamps
- Colour coding Sidemoulds, Mirrors and Front Grille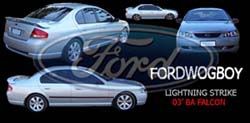 Currently Active Users Viewing This Thread: 1

(0 members and 1 guests)
Posting Rules

You may not post new threads

You may not post replies

You may not post attachments

You may not edit your posts

---

HTML code is Off

---