Registered User
Join Date: Jan 2004
Posts: 10
Tyre pressures
---
Can someone suggest a suitable tyre pressure for my BA Fairmont Ghia? It has 17" wheels fitted with Dunlop Le Mans 225/50ZR 17 LM702 tyres. Ford on their tyre placard recommend 30psi front and back(cold). When I took delivery of the car all tyres were inflated to 35 psi. The reason for the question is that the front tyres are wearing such that it looks like the tyres are under inflated(wearing on both edges) I am thinking of increasing the pressure to 40psi(280Kpa) on the front and leaving the back at 35psi. I have only done 12k on the tyres and will not get much more than 25k at the rate they seem to be wearing.
Am I on the right track?
Registered User
Join Date: Jul 2003
Location: Brisbane
Posts: 165
Re: Tyre pressures
---
Interesting, I run 36psi,( nitrogen) in my BA XR8 and have no wear and have 22K on the clock. Rotated the tyres front to back ever 10K, and the Dunlops to my surprise are quite good.
Re: Tyre pressures
---
Yeh my old man only got 22,000 kms out of the same tyres on his car, that was with easy driving. Hes got about 12,000 out of the bridgestone replacements but they still look like the day he had them fitted.

Those Dunlops are garbage..
Re: Tyre pressures
---
Hey Macdougall,

Do a search for this as it's been discussed many times and you'll find all the information you need.

I run 38 psi all round in mine and they are wearing great.
---
My Car's Website:
Click Here
Sept 03 BA XR6 Turbo, Silhouette, T5, APS Unichip, BPT short shifter & Momo bits, FPV pedals, Custom Leather, 18" Wheels, PBR sports calipers, Window Tint, Typhoon CAI, Side stripes.
Registered User
Join Date: Feb 2003
Posts: 83
Re: Tyre pressures
---
Does anyone know of the correct tyre pressures for the Xr 17" wheels.
Local tyre store says that 32psi is way to low and that 38psi should be the correct pressure.
People running the tyres at the pressure stated by the Ford tyre placard has resulted in splitting of the tyre carcass and a recall of some tyres.
Any one heard anything?
---
Options: Beaded seat cover, mud flaps, side wind deflectors, plastic dog with wobbleing head, on parcel shelf. "New":Exhaust and windscreen washers with LED's.
Re: Tyre pressures
---
I run 32psi and the tyres look like they are always low,
I only did this because thats what it says on the door label, and i dont wanna pump them up to 38 coz if i hit a pot hole or something it'll probly give way.
So 38psi is the way to go ?
---
2004 BA XR8 UTE,Blueprint,18's,5 Speed Manual.
BOSS 260 - Can't Get Enough Of This.
Registered User
Join Date: Jul 2004
Location: Frankston, VIC
Age: 33
Posts: 110
Re: Tyre pressures
---
Yep ive heard about 38psi is the go! Better wear, fuel economy, and handling.. do it!
---
XRlent-6
1998 EL XR6 - Dark blue, JMM Dev 1 kit, Lowered, 17" CSA Avengers, Momo Steering Wheel, BMC Air Filter, Panasonic MP3/WMA Headunit, Pioneer 6x9s, 132rwkw
Re: Tyre pressures
---
I always have 40psi in my GT.
Cheers John
---
"FPV & XR Owners Club of Victoria"
If you have an XR6, XR8, T-Series or FPV vehicle (GTs) why not join.
Motorsport,Show n Shine,Cruise days,Factory tours,Special events
FPV and XR Owners Club of Victoria
www.fpvxrclub.com
Extra's Leather seats, Sunroof, Premium Sound, Satellite Navigation, Reversing Sensors,
Re: Tyre pressures
---
I have SR i6 auto with 17" alloys. Run 38s all round, The two fronts are like new but one of the rears is just reaching end of life at 35,000km, so will replace the two rears in the next month or so.

I guess i would get better tyre wear if i had traction control or LSD...
Note to self: "must NOT spin wheels..."
I like how the car feels at 37-40.. any softer and its soggy and harder and its too harsh.
Re: Tyre pressures
---
I run 32-33psi all round most of the time im driving with no load and the car handles better but of course if ive got a car load of people ill take it up to about 38 psi. only reason i dont go above 32-33psi is because of the bad roads the tyres would wear a lot if i had the tyres at that pressure. So far i've had 8,300Kms out of my Dunlop Le Mans 225/50ZR 17 sometimes quick spirts from the lights, or maybe tyre spin around a corner, but with traction control hopefully ill get into the high 20K's before i have to change.
---
'Dec 03 BA Falcon XT - Tint | Cruise | 17" Alloy Wheels | BA SR Kit | | SSS Auto | Front Power Windows | Scuff Plate Inserts | 2.5" Mild Steel System | Pacemaker Headers |
////Alpine 600 Watt 12" Sub | Lanzar 1000 Watt 4 Channel Amplifier |
Possible Future Mods
- Cornering Lamps
- Colour coding Sidemoulds, Mirrors and Front Grille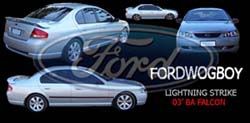 Currently Active Users Viewing This Thread: 1

(0 members and 1 guests)
Similar Threads
Thread
Thread Starter
Forum
Replies
Last Post
Tyre pressures?

jemmex

Australian Falcons

31

05-23-04

03:34 AM

18" tyre pressures?

Q777

Suspension | Wheels&Tires | Brakes

8

11-07-03

03:46 PM

215/60/16 Tyre Pressures

casrms1450

Suspension | Wheels&Tires | Brakes

4

08-16-03

04:50 AM

New F1 tyre

Falchoon

Ford Racing Across the Globe

2

02-19-02

11:01 AM
Posting Rules

You may not post new threads

You may not post replies

You may not post attachments

You may not edit your posts

---

HTML code is Off

---