Registered User
Join Date: Jul 2005
Posts: 55
What are your favourite racing Fords?
---
If you suddenly had the ability to aquire five famous Ford racecars, what would they be? , heres my list;
1)Allan Moffat's 1971 bathurst winning series production GT-HO Phase 3.
The most famous HO which dominated the 1971 Hardie Ferodo 1000, not even a beer carton could stop neither it, nor Moffat.
2)Allan Moffat's Coca Cola Mustang Boss 302. If you've ever seen it, you'd want it. 101 race wins from 151 race starts. Wheels magazine described it as 'sex on wheels', damn straight!
3)Ian 'Pete' Geoghagen's 600bhp Superfalcon, one of two built. Well who wouldn't want a 600hp GT-HO?
4)Ian 'Pete' Geoghagen's '67 Mustang Notchback. Nearly unbeatable, Pete got it VERY sideways.
5)Marcos ambrose's 2003-2004 (and maybe 2005?) V8 supercar championship winning Pirtek Falcon. i always wanted a V8 supercar, not a bad race history either.
What would your list be?
Re: What are your favourite racing Fords?
---
1. Moffs 69 trans am by far.
2. 67 - 68 trans am mustangs were super tough and super simple, basic cages, very little in signage and no silly gimicks just pure unmuffled racers.
3. The 64 falcons Gardner raced in the 60s
---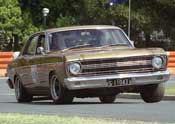 Registered User
Join Date: Aug 2002
Location: melbourne
Posts: 194
Re: What are your favourite racing Fords?
---
The Dick Johnson True Blu XD Falcons 1980/81 because otherwise I would not be a Ford Fan

When I watched Bathurst in 1980 and saw all the money that was being pledged to Dick I thought that these Ford people are great (I was about 8 at the time)
Currently Active Users Viewing This Thread: 1

(0 members and 1 guests)
Posting Rules

You may not post new threads

You may not post replies

You may not post attachments

You may not edit your posts

---

HTML code is Off

---