Registered User
Join Date: Aug 2004
Posts: 22
XR Spoiler
---
Hi
Just wondering is the XR spoiler the same as the high arch spoiler that is available form ford?
The reason I ask is that I have seen a few XTs with a spoiler, not the bootlid spoiler but the high arch and they just dont seem to be a high as the XR spoilers.
Re: XR Spoiler
---
from what i have seen the spoilers from the factory on the xr are different to the high arch spoiler, they are the same height, just with the xr spoiler it is flat on the top. Where as, with the high arched spoiler there is a slight recess on the top and side.
---
'Dec 03 BA Falcon XT - Tint | Cruise | 17" Alloy Wheels | BA SR Kit | | SSS Auto | Front Power Windows | Scuff Plate Inserts | 2.5" Mild Steel System | Pacemaker Headers |
////Alpine 600 Watt 12" Sub | Lanzar 1000 Watt 4 Channel Amplifier |
Possible Future Mods
- Cornering Lamps
- Colour coding Sidemoulds, Mirrors and Front Grille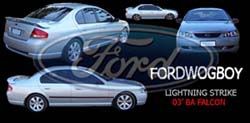 Re: XR Spoiler
---
Definitely different spoilers.
---
Editor: Street Fords Magazine - Issue #1 on sale MARCH 2005
E-mail: jr@streetfords.com
Co Founder: 3FB Inc.
To see my old BA Falcon XR6, click
HERE
Re: XR Spoiler
---
There are 4 different BA spoilers

Theres a neat little low arch spoiler seen on lot of xt and fairmonts etc
Theres the High Arch spoiler, which comes with SR sports body kit or seperately
Theres the XR spoiler, and theres the GT spoiler whish is a touch bigger (lol)

THE XR spoiler is more a smooth curve across the car and rounded off at the ends where the high arch spoiler is squared with distinct "end plates".

I think the BA (non XR) with no side or rear skirts looks funny with high arch, but nice with the low arch. But the High arch looks great with the complete sports/SR kit (like mine..grin).

I have see na few XTs etc with XR wings tho, and some XRs with Gt wings..LOL
each to their own.
Currently Active Users Viewing This Thread: 1

(0 members and 1 guests)
Posting Rules

You may not post new threads

You may not post replies

You may not post attachments

You may not edit your posts

---

HTML code is Off

---