New diff time!
---
Ok guys my diff needs replacing badly. Its got massive backlash in it since the transmission was fixed, and after a burnout or two (see signature) its making a nice soft thudding sound as i drive, yay!
Sooooo Im after LSD this time, and i dont mind leaving it drums at the back as ive heard its a bit of a pain to change from drum to disc. Can you get LSD drum diffs?
My mate said to just get the centre and axles from like an EF/EL diff and it should go straight into my diff housing..etc? Is that correct?
Otherwise should i just pick up an LSD drum diff out of the paper and hope that its ok condition?
Im after a lower ratio than the 2.77 also.. something like 3.02 would be nice for slightly better take offs!
Whats your suggestions? I dont want to spend heaps also, so a custom job is out of the question :)
Thanks!
---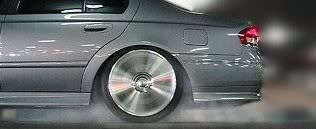 Xtreme 275.6 rwkw, 12.93 sec quater, Phoon CAI, Siemens Injectors, StealthFX BOV with
XBOX
entertainment.
Re: New diff time!
---
I have an LSD centre that needs a rebuild, it's out of an EA, so your 25 spline axles should fit. You can have it for a carton. It should fit your diff housing, I think they are all the same. Its currently got 2.77's on it I think, but I have also got a set of 3.23 gears (another carton).
As far as rebuilding it goes, ring around, maybe see Aldo at AD's off erindale road.
Currently Active Users Viewing This Thread: 1

(0 members and 1 guests)
Posting Rules

You may not post new threads

You may not post replies

You may not post attachments

You may not edit your posts

---

HTML code is Off

---